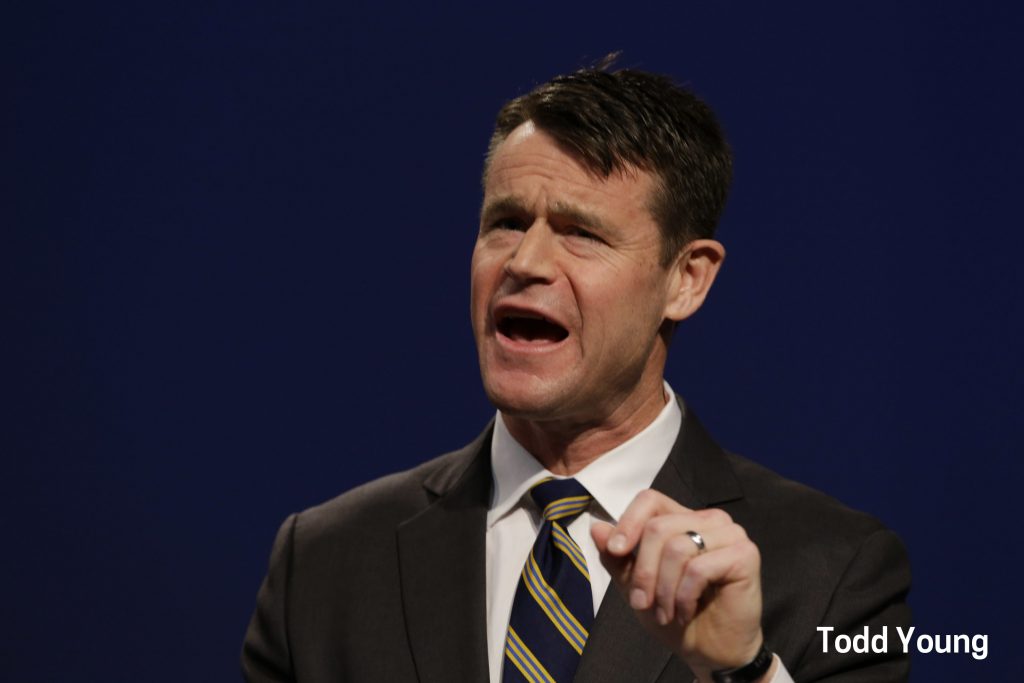 Indiana Republican voters chose Rep. Todd Young as their U.S. Senate nominee on Tuesday, opting for his pragmatism over a tea party-backed congressman who boasted of his obstructionist stance in Washington.
Young, 43, will now face Baron Hill in November's general election, the same Democrat he ousted from Congress in 2010 when he rode a tea party wave to Washington.
The Indiana race could have national implications as Democrats seek a net gain of four Senate seats to retake the majority from Republicans.
The GOP primary to succeed retiring U.S. Senator Dan Coats featured increasingly biting exchanges between Young and Rep. Marlin Stutzman, despite both campaigning as stalwart conservatives with similar policy platforms.
Coats introduced the man he hopes will be his successor Tuesday night at the Hilton Indianapolis Hotel & Suites, where Young celebrated his victory.
"Todd's got the stuff," Coats said.
Coats also encouraged the crowd in the Victory Ballroom to unite the party as the general election nears.
"We are one team," Coats said. "We believe in one way of going forward."
Emily O'Neal, an MBA student at Butler University and a volunteer for Young's campaign, said Tuesday night that she supported Young because she liked his leadership in the 9th District, which includes her hometown Martinsville. She said a strong turnout at the polls helped Young beat Stutzman decidedly. Young was carrying 64 percent of the vote with about half of the vote counted.
Young's campaign nearly foundered at the start when Democrats and Stutzman complained that he had failed to collect enough voter signatures from one congressional district to qualify for the ballot. An Associated Press count found Young three signatures short. But the state election board deadlocked 4-4 along partisan lines, which allowed Young to stay on the ballot.
"Tonight's primary result shows what happens when political insiders and third parties swoop in to save a 'say and do anything' politician who broke Indiana election law and was undeserving to be on the primary ballot," the Indiana Democratic Party said Tuesday in an emailed statement. "While Todd Young believes buzzwords will help him win elections, Hoosiers saw the real Todd Young after he blamed anyone but himself for not collecting the minimum 500 signatures requires by state law."
During his campaign, Young presented himself as a pragmatic former U.S. Marine who is more interested in getting things done than lobbing verbal bombs. Stutzman portrayed himself as an outsider and small-town farmer. He also played up his membership in the House Freedom Caucus, a Republican faction that wanted to confront Democrats and made the GOP-controlled House so unruly that former House Speaker John Boehner resigned.
Indianapolis resident Lisa Hunnicutt said she voted for Young because of his military experience.
"Both candidates are great, but that put me over the top," Hunnicutt said, adding that she made her decision after Eric Holcomb dropped out.
Both Young and Stutzman crisscrossed the state making appearances at GOP events and diners, but most of the campaign was fought over the airwaves through negative ads. The nonstop TV blitz was dominated by Young, whose ads accused Stutzman of being a career politician who put his own financial interests first. A smaller number of Stutzman-backed ads with a science fiction theme portrayed Young as a robot politician who votes the way party leaders tell him.
Mike McDaniel, chairman of the  Republican Party of Indiana, credited Todd Young's big win in large part to superior fundraising.
 
"He's managed his resources as well as any candidate as I've seen in a long time," McDaniel said, comparing Young's campaign to that of Mitch Daniel's first run for Indiana governor. "He spent his television money wisely, he raised his name, he effectively forwarded his ideas and he moved around the state spreading his message."
 
McDaniel said Young's brand of conservatism resonates with Indiana voters.
 
"He's a conservative, but he's not angry about it," McDaniel said.
Young had a nearly 2-to-1 edge in fundraising while racking up endorsements from groups such as the U.S. Chamber of Commerce. He also received financial backing from a group with ties to Senate Majority Leader Mitch McConnell.
Young served as a Marine intelligence officer. He has an MBA from the University of Chicago and is married to the niece of former U.S. Vice President Dan Quayle.
Coats and Young both discussed the upcoming November battle with Democrat Baron Hill.
 
"I think it's time we send one final message to Baron Hill," Coats said, reminding the crowd that Young and he both defeated Hill in prior elections.
Young said he was pleased to have won the race against Stutzman, but doesn't plan on taking a break from the campaign. He joked about how his wife suggested he give his campaign staff at least one day off.
"It's just halftime," Young said. "We still gotta play the second half."
"Baron Hill and I just happen to disagree on a number of important issues," Young said as the crowd chuckled.
Please enable JavaScript to view this content.