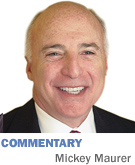 Gentlemen. Republican Primary Candidates: Each of you asked us to advance your quest to become the most powerful leader in the world. By your actions in Indiana, none of you deserve our endorsement. One of you had to win the Indiana Republican primary. Too bad. All of you demeaned Indiana.
John Kasich. You dumped us. You conspired with Ted Cruz and swapped us for Oregon and New Mexico. You divided primaries like the Corleones parcel the numbers rackets on the streets of New York. When you agreed to cease campaigning in Indiana you cheated us of an opportunity to enjoy a full and complete role in the presidential dialogue, and you diminished Indiana's short reign on the world stage. It was a contemptible compact.
You are an avowed conservative but the closest thing we had to a moderate, reasonable Republican. You have the most experience, too. (I would have had to overlook your shabby treatment of Planned Parenthood, but I might have done that.) I could have voted for you before you dropped out—not now, John.
Ted Cruz. We may be just Hoosier yahoos from Indiana but we are not stupid. We are flattered you chose to make your vice presidential running mate announcement in Indiana. But c'mon, you think we don't own television sets. We watched the presidential debates. Carly Fiorina flamed out in a firestorm of negatives. Your desperate strategy to capitalize on Trump's negative rating with Indiana women voters may have had some merit but you chose the wrong gal. We told you this already. Fiorina is so last year.
Remember 2008? John McCain was a favorite to out draw Barack Obama in Indiana until he chose Sarah Palin as his running mate, a lady who exposed McCain's bad judgment. Ted, you see a similarity here? And that deal with Kasich—Indiana citizens are not chattels. You went down on both counts and now you're out.
Donald Trump. Hoosiers are not as pliable as you think. Did you believe that when we made the important decision as to who would be the Republican presidential candidate endorsed by Indiana, we were going to follow the advice of a basketball coach? Bob Knight is one of the most recognizable names in Hoosier lore, a legendary coach, but you shortchange us. We are not taking advice on presidential candidates from someone whose areas of expertise are the full court press and the motion offense. Now that you are the presumed nominee, I half expect your next visit to include such luminaries as Goofy and Mickey Mouse. Perhaps you think we will take political advice from anybody? Big mistake, Don.
You have new ideas and you are not beholden to the Kochs or anyone else. You are running a successful national campaign. If you secure the nomination, come back to Indiana with some thoughtful policies. I cannot vote for someone whose foreign policy is, "I'm going to bomb the ___ out of ISIS" and whose legacy will be a "beautiful wall."
Democrats Bernie Sanders and Hillary Clinton are not exactly "Indianaphiles" either. Sanders appeared almost entirely on college campuses and tried to bribe our students with free tuition and other free stuff we cannot afford. Clinton made sure we didn't get to know her—two visits to Democratic strongholds and one quick cup of coffee the day before the election. If she had shown just a little more love she might have won in Indiana. She should keep that in mind in the general election.
Gentlemen. Republican Primary Candidates: Do not shortchange Indiana, the home of President Benjamin Harrison, numerous vice presidents, and two of America's foremost statesmen: Richard Lugar and Lee Hamilton. Our recent governor, Mitch Daniels, would have defeated all of you had he not declined to participate in your sleazy circus.•
__________
Maurer is a shareholder in IBJ Corp., which owns Indianapolis Business Journal.  His column appears every other week. To comment on this column, send e-mail to mmaurer@ibj.com.
Please enable JavaScript to view this content.