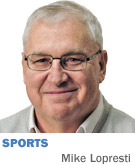 Our guest today is a member of the SGA. Sports Gods of America. That's the organization in charge of doling out fates in our arenas and on our playing fields. He's agreed to do a Q&A, to discuss the current situation of Paul George and Andrew Luck, as long as we don't divulge his name.

Q: Good to see you; thanks for doing this.

A: No problem. It's a nice change from answering endless questions from all the cocky Cubs fans, who think their ship is about to come in. Boy, are they going to be upset when ... well, never mind.

Q: Speaking of ships coming in, even though we don't even have a dock in Indianapolis, are we going to see that happen soon for Paul George and Andrew Luck? They're the hottest names we have, and their chances won't last forever, you know.

A: All we can say is, have patience.

Q: Patience? You've been telling the city of Cleveland that for about a century. What more does George have to do? He executes a reasonable playoff rendition of Michael Jordan, and you guys have him losing to a team from Canada. Thanks for the no-call on the last Pacers possession, by the way. In the NFL, that would have been pass interference.

A: We just dumped that on the officials. Now, as for George, it's understandable that everyone is getting a little antsy. But here's some history you should know:

You mentioned Michael Jordan. You realize it took Jordan four years to win a playoff series? His first NBA Finals trip didn't come until his seventh season.

Then there's Steph Curry. He didn't even get into the playoffs his first three seasons. His team won one postseason series his first five years. Now, Golden State averages one loss a month.

Or Reggie Miller. His name is splattered all over the Pacers records book, but do you recall that Indiana didn't win one single playoff series his first six seasons? The Pacers didn't get to the Finals until Miller's 13th year in the league.

Q: So you're telling us it takes time?

A: Time, and help. Scottie Pippen arrived in Chicago in Jordan's fourth season; you know the rest. Reggie and the Pacers finally got past the first round of the playoffs when Rik Smits developed and capable supporting actors such as Derrick McKey and Antonio and Dale Davis showed up. They made the Finals when Jalen Rose was added to the mix. Larry Bird needs to find more weapons, now that he's not busy sharpening the guillotine for Frank Vogel. Simple as that.

Q: Same for Luck, I suppose?

A: Right. Peyton Manning played six seasons before he won a playoff game for the Colts. Three years after that, he won the Super Bowl. But not before the defense was fully loaded, and he had center Jeff Saturday in front of him on Sundays. Bottom line, the best of them need help. We are not responsible for getting incomplete puzzles to the championship round. You can't talk of destiny until you have the goods. One of our bylaws.

But we have noticed the Colts are trying to upgrade Luck's protection. They drafted offensive linemen last month like the Union drafted infantry in 1863.

Q: So we just have to wait for you to smile upon them?

A: As I said, George just finished his sixth season. Luck is beginning his fifth. So don't get too exercised if we're taking our time, because we usually do. LeBron James was not even in the playoffs his first two seasons. I could go on and on. And we have our own gaffes, kinda like NBA officials. Just not as many. We're still embarrassed about never getting Ernie Banks to a World Series, or Gene Keady to a Final Four. We have a whole department working on Northwestern landing an NCAA Tournament berth. No breakthrough yet.

But sometimes we work wonders. We're pretty proud of Butler in 2011. That took some overtime.

Q: Anything else we should know about the road ahead for George, now that his season is over?

A: Here's a curious thing. All the guys we mentioned had to go through several coaching changes before they thrived in the postseason. Reggie Miller was on his fourth coach— not counting interims— when he finally won a playoff series for the Pacers. Jordan was on his third, Curry is on his fourth.

Q: And now, Vogel is gone.

A: That was Bird's call, not ours. We don't fire coaches. We're gods, not bloggers or talk-show hosts or team presidents. You could see it coming from Bird's comments about Vogel after the season ended. It was like watching Michael Corleone plant the kiss of death on Fredo in Godfather II. Well, it's Larry's team. But if the roster isn't good enough next season, don't look at us. That's all on him. We just bestow good fortune, and we just haven't been quite ready yet for Paul George, or Andrew Luck

But we never say never.•

__________

Lopresti is a lifelong resident of Richmond and a graduate of Ball State University. He was a columnist for USA Today and Gannett newspapers for 31 years; he covered 34 Final Fours, 30 Super Bowls, 32 World Series and 16 Olympics. His column appears weekly. He can be reached at mlopresti@ibj.com.