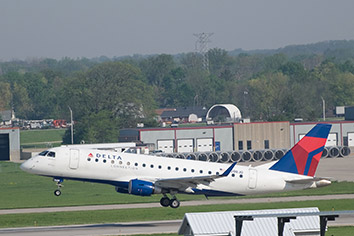 It's a deal that could mean a way out of bankruptcy for struggling Republic Airways Holdings Inc. But whether the exact terms will ever be revealed remains unclear.
On May 3, a bankruptcy judge in New York approved a settlement that allows Republic, the Indianapolis-based airline contractor that slid into Chapter 11 reorganization in February, to set more favorable terms with Delta Air Lines, one of its biggest customers.
At stake is the financial strength of Republic Airways, a company that has called Indianapolis home since the early 1990s and employs 1,600 people. Nationally, it has 6,000 workers; does business with some of the nation's largest airlines; and has slots at major airports, including LaGuardia in New York and Washington's Ronald Reagan National.
Republic Airways is the parent of Republic Airlines (which flies as United Express and American Eagle) and Shuttle America (which flies as United Express and Delta Connection).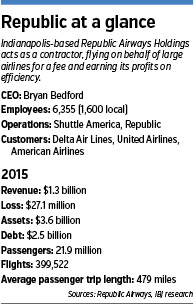 The company's finances have been slipping, and it blames the inefficient, smaller jets it flies under contract to some customers. It wants to fly larger jets, which are more efficient, and it wants to get paid more money to do it.
Last year, Republic lost $27.1 million on revenue of $1.3 billion. Its stock is trading for about 83 cents a share.
The court filings in the case are voluminous, but many of them are heavily redacted, with page after page largely blacked out or completely blank.
Some of the other parties have objected to all the secrecy. A shareholder group representing more than 37 percent of Republic's non-insider shares made that point in an April 14 filing in U.S. Bankruptcy Court in the Southern District of New York.
"This information has not been publicly disclosed and has been designated by [Republic] as confidential and for 'professional eyes only,'" the group said. "Public stakeholders are therefore completely unaware of what is actually happening here."
Republic has said it needs to keep trade secrets and other certain information private for competitive reasons.
Bankruptcy law allows courts to keep such information under seal, but judges have discretion as to what to make public. In 2014, the judge overseeing the bankruptcy of Apple Inc. sapphire-glass supplier GT Advanced Technologies Inc. unsealed documents that showed the company's strained relationship with Apple.
But last year, a bankruptcy judge denied a request to unseal financing details on Health Diagnostic Laboratory Inc., a Virginia company that struggled after settling a civil investigation with the Justice Department over whether its payments to doctors amounted to kickbacks.
In Republic's case, the settlement allows the company to wind down the use of the unprofitable, 50-seat jets it uses to fly passengers from small airports to Delta's large hubs. Instead, Republic can use larger jets and charge Delta an "increase in reimbursement rates" for flying passengers.
Delta also will provide $75 million in liquidity to Republic to support the restructuring plan.
The agreement wipes away a lawsuit Delta filed against Republic last fall. Delta had claimed Republic failed to supply a full schedule of Delta Connection flights as promised, forcing Delta to find replacement flights and occasionally rebook passengers and issue refunds.
The settlement, which Republic said it expected to become effective May 6, could lead to similar agreements between Republic and two other main customers, American Airlines and United Continental.
But how it will all shake out for Republic, air passengers, creditors and shareholders is hard to gauge, as terms of the agreement remain confidential.
Republic declined to comment when asked how much it plans to increase rates to Delta or other airlines. It also did not answer questions seeking details on other parts of the settlement.
Republic's unsecured creditors, which are owed millions of dollars, initially objected to Republic's proposed settlement with Delta.
In an April 15 filing, the creditors pointed out that Republic appeared close to reaching a deal with United as well, and everyone involved should wait to see what that would be, calling United and American "equally (if not more) important pieces of the … restructuring puzzle."
Brett Miller, an attorney at Morrison & Foerster in New York who represents Republic's unsecured creditors, said in an interview that his group withdrew its objections after reaching a resolution on several items with Republic and Delta.
Asked to comment on what changes he had won, Miller declined to offer specifics.
"That was, like, 10 days ago, and I don't even know what I had for breakfast yesterday," he said.
Another party, the U.S. Attorney's Office for the Southern District of New York, had objected to Delta's giving $75 million to Republic, calling it improper and possibly "unlawful." The U.S. Attorney's Office did not return telephone calls from IBJ.

Boyd
Republic filed for bankruptcy in February, claiming a national shortage of pilots made it difficult to meet commitments to its customers.
Now, some observers think the settlement will give Republic a fighting chance to increase revenue and stem losses after it stops using its money-losing small jets.
"This is good news for Republic," said Mike Boyd, president of Boyd Group International, an aviation consulting firm in Evergreen, Colorado. "I think they have a great chance to dig themselves out of this hole."•
Please enable JavaScript to view this content.