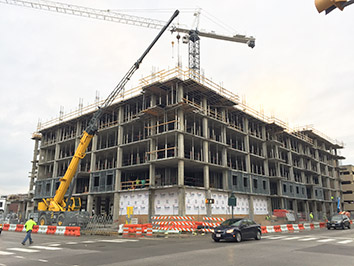 Four student apartment projects totaling more than 1,000 units are either under construction or in the works near IUPUI, as developers race to capitalize on the university's transition from a commuter to residential campus.
IUPUI also is getting in the game. The school is building the $45 million North Hall, which will open this fall and serve 700 students—the first-ever newly built residence hall on the campus founded in 1969.
The off-campus housing projects, which together will cost more than $100 million, will double the existing inventory of options available to students. Considering many units house up to four beds, downtown soon could be crawling with more college students.
"The student properties are all doing well, so it's a pretty strong market," said George Tikijian, senior managing director of local apartment brokerage Tikijian Associates.
Recent downtown developments targeting students include 9 on Canal at 335 W. Ninth St. along the Central Canal, The Avenue at 930 W. 10th St. near Indiana Avenue, and The Tyler at 1201 Indiana Ave. Others are Stadium Lofts and Stadium Flats, both on the grounds of the old Bush Stadium on West 16th Street, and Central State Mansion on West Washington Street at the former Central State Hospital site.
No new private projects will be finished in time for the fall semester. But 2017 is shaping up to be a big year for downtown student housing development.
West Lafayette-based Trinitas Ventures' $40 million project at the northeast corner of Michigan Street and Capitol Avenue is under construction and on schedule to open next August, said Travis Vencel, the company's vice president of development.
The 11-story development will feature 193 units, up to 7,000 square feet of small-shop space, and a parking garage being built on a surface lot.
Locally based Annex Student Living LLC expects to break ground this month on the Annex at 10th along West 10th Street just west of the White River. Plans for the $32 million, six-story project call for 248 units.
And Louisville-based Investment Property Advisors, the developer of 9 on Canal, hopes to start construction in early summer on a $37 million second phase that would add 194 apartments and more than 15,000 square feet of retail space along the canal.
An even bigger project is just beginning to weave its way through the city approval process. Athens, Georgia-based Landmark Properties has so much confidence in the market that it's proposing to build a 12-story, 400-unit tower on a triangular parking lot bounded by Indiana Avenue to the west, West Michigan Street to the north, and North Capitol Avenue to the east.

Morrison
Landmark is buying the parcel from Flaherty & Collins Properties, which once had earmarked the site for a second phase to its adjacent Axis at Block 400 project anchored by a Marsh grocery. Landmark received a zoning variance May 10 and next will seek design approval from the Regional Center Hearing Examiner. If all goes as planned, the property could be ready in 2018.
Developers seem certain the downtown market can support the growth.
"That is a lot of beds coming online at the same time," Annex CEO Kyle Bach said. "But when we investigated the market, we knew about the Trinitas project and the [IUPUI] dorm, and we were still just 2 percent of the capture rate."
Bach based the calculation on the fact that IUPUI has 24,000 full-time students, including 22,000 undergrads. Total enrollment is 30,000.

Tikijian
Developers have no control over who rents their units, of course. But piling up to four beds in an apartment and charging rent on a per-bunk basis helps differentiate their buildings from traditional apartment projects. For students, more roommates equates to cheaper rent.
"You don't get too many non-students interested in a four-bedroom," said Chase Sorrick, a co-owner of 9 on Canal developer Investment Property Advisors.
At The Avenue, for instance, a single-bed studio rents for $1,200; a four-bedroom unit fetches $850 per bed.
Depending upon how many students occupy a unit, apartment rents for an academic year are competitive with room-and-board costs. At IUPUI's University Tower, the former hotel converted into a 560-student residence hall in 2013, rent for the last academic year ran roughly $7,000. That compares with $7,650 over nine months for a four-bedroom at The Avenue.
IUPUI has no plans to build another residence hall after North Hall opens but will assess the need, said Tom Morrison, IU vice president for facilities and capital planning.
Morrison expects the dorm will prove popular with students, given its location northeast of University Tower in the heart of campus. He doesn't think off-campus housing will pose a threat.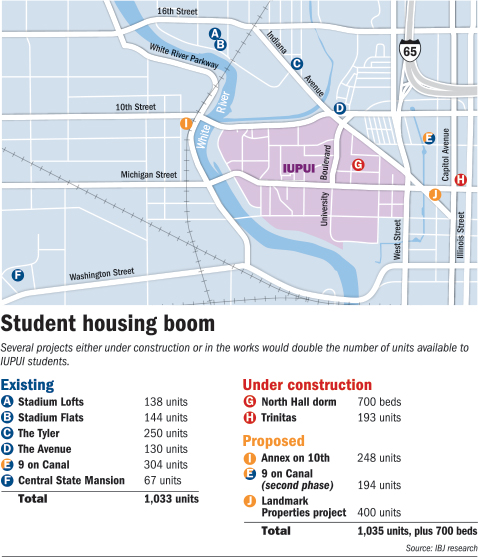 "They are banking on a demographic that not only is IUPUI students but professional students and young people," he said. "They might be casting a wider net."
Indeed, Investment Property Advisors, developer of 9 on Canal, found interest in its project extended far beyond IUPUI students.
The developer thought 9 on Canal's proximity to the Indiana University School of Medicine two blocks away might draw a lot of older students, so it gambled on building one- and two-bedroom units only.
The gamble paid off. But Investment Property Advisors didn't foresee 9 on Canal's attracting so many young professionals. In response, it ditched plans to furnish all units and instead began offering a non-furnished option.
The development now is 94 percent occupied—only half of whom are students.
Investment Property Advisors has no plans downtown beyond the second phase of 9 on Canal. Yet Sorrick remains bullish on the market.
"I think there's still a need for quality student housing," he said, "so I'm not sure the new developments are entering an already-saturated market."•
 
Please enable JavaScript to view this content.