As the co-working trend spread rapidly throughout Indianapolis the past four years, most shared workspaces carried a similar message and catered to the needs of startups.

But more recently, hubs designed for not-for-profits have joined the local craze as social leaders see opportunities for new or cash-strapped organizations to save money on office space and collaborate with groups in similar positions.

A small space provided by Christian Theological Seminary opened up about a year ago and a co-working facility named Launch Cause opened in April.

Shattuck
"It's a super popular model. It almost can't fail because it keeps people from having to get long-term leases," said Steven Shattuck, co-founder of Launch Cause and chief engagement officer for Indianapolis-based donor management software company Bloomerang. "It's super flexible."

The two open office spaces are part of a small but growing group. The number of not-for-profit centers, where several organizations have private offices in the same building or same floor, grew 85 percent from 2012 to 2015, according to Denver-based The Nonprofit Centers Network.

But only 8 percent—or about 31—of those centers were considered co-working spaces.

Katie Edwards, associate director for The Nonprofit Centers Network, said some not-for-profits require more privacy than co-working allows, which could be why only a handful of such spaces exists. But she expects the number to increase.

"Shared space isn't always the solution for everyone," Edwards said. "Usually, the sweet spot is that smaller nonprofit."

Bryan Orander, president of Charitable Advisors and board member for Launch Cause, said not-for-profits can benefit in the same way small businesses do—the collaboration might look different, but it's the same energy.

"Most nonprofits look like small startups," Orander said. "If someone is starting a nonprofit on a kitchen table, their first thing isn't going to be to sign up for office space … but we could think of this as a bridge between your kitchen table to a full office."

Shattuck said he got the idea for Launch Cause after visiting a not-for-profit incubator in Lincoln, Nebraska. He founded the space with Bloomerang CEO and co-founder Jay Love.

"I thought it was such a cool idea because there's tons of co-working spaces, right?" Shattuck said. "But there are none for nonprofits."

Launch Cause occupies the 6,800-square-foot second floor of the new headquarters for Bloomerang near Fort Harrison, which opened in November. Bloomerang constructed the building with the intention of growing into it and renting out the extra space in the meantime.

Brenda Freije, founder of CTS' Hub for Innovation, Vision and Entrepreneurship—or HIVE—said she also saw co-working as a way to utilize unused space at the seminary, where she serves as vice president of networking, recruitment and admissions.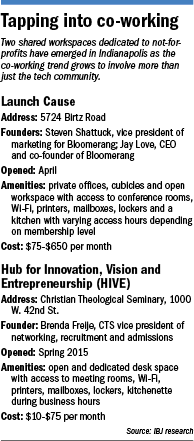 "I knew there was a need," Freije said. "When you have a small nonprofit, it can be very isolating to work out of your house."

Shattuck said Launch Cause is occupying its space for free the first year and then will likely do a revenue-share agreement with Bloomerang. The $90,000 cost of building out the space is being paid for through membership fees and sponsorships.

The space includes 14 private offices, 22 cubicles and an open area with tables, chairs and couches. Wi-Fi, printing and mail services are available, along with access to two conference rooms. Memberships range from $75-$650 per month.

Launch Cause has close to 20 members so far, and Shattuck hopes to have 75 by the end of the year.

Megan Murphy, lead founder of proposed charter school Circle City Prep, is one of the first Launch Cause members. She said she joined as a way to have an office in an area close to where the school could be located and enjoys the communal atmosphere of co-working spaces.

"You're not passing out your business cards, but you are meeting people over water jugs," Murphy said.

HIVE has seven members, and Freije said she could probably add one or two other organizations before considering the space full. Members have access to Wi-Fi, open workspace, meeting rooms, a kitchenette, lockers, printers and mailboxes. Memberships cost $10-$75 per month.

The space is open to non-faith-based organizations, but Freije said all members so far have had at least a faith background.

Launch Cause is open to not-for-profits at all levels, including those that haven't received 501(c)(3) tax status yet.

"Even if you're a nonprofit that's really established and you have a space, if you have employees that live far out, this could be like a second office," Shattuck said. "So it's not just brand new organizations."

Shattuck is also open to having members in the for-profit sector that could provide services to emerging not-for-profits, such as an accounting or a law firm or marketing company.

"It would be nice if it was like a true village, where you have maybe the nonprofits starting out in the co-working and the cubicles, and then surround them by people who can hang out and help them," Shattuck said.

He said he wants to be able to provide resources for not-for-profits and potentially start a statewide association someday. Indiana has a chapter of the Association of Fundraising Professionals and the Indiana Nonprofit Resource Network run by United Way, but no formal statewide organization dedicated to supporting the not-for-profit community.

"This is almost a launching pad," Shattuck said.

Orander said co-working spaces dedicated to not-for-profits, like HIVE and Launch Cause, have potential to be successful, but it's too early to tell.

"Most days, it's still kind of quiet around there," Orander said about Launch Cause. "I'm anxious to see it move forward and build some energy, and I hope it does."•