Kite Realty Group Trust is planning to turn the retail center on the southwest corner of 116th Street and Rangeline Road in Carmel "inside out."
The more-than-half-vacant retail strip known as The Corner could be redeveloped into a mixed-use project with multistory buildings along the street and parking tucked behind the structures, according to documents filed with the city of Carmel.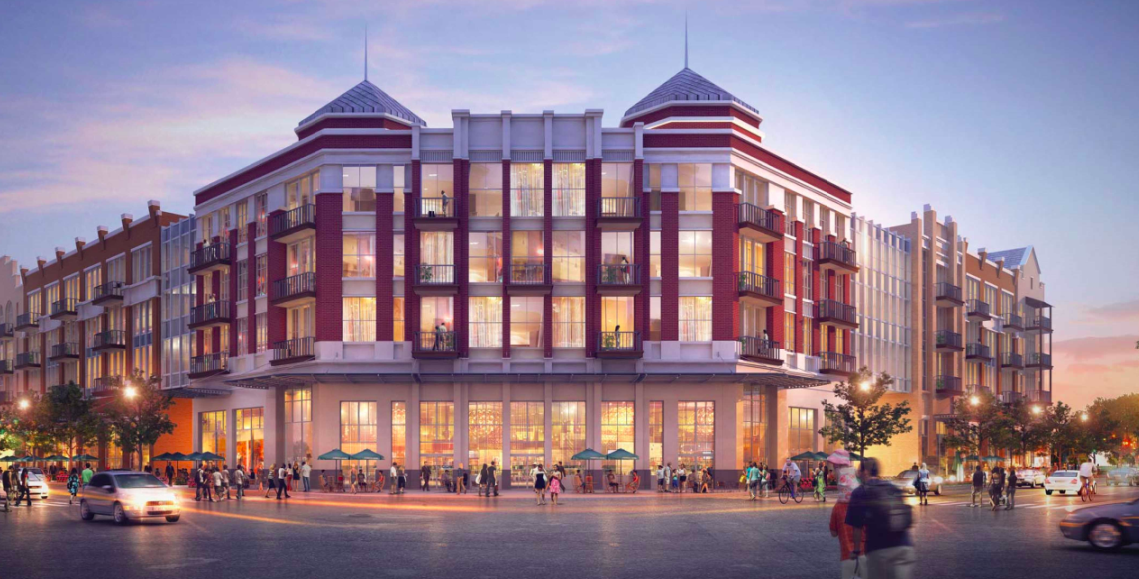 In a filing with the Securities and Exchange Commission, the Indianapolis-based real estate investment trust estimated the project would cost $15 million to $20 million.
In a meeting with Carmel planning officials at a technical advisory committee meeting Wednesday morning, Kevin Buchheit, a land planner with law firm Krieg DeVault LLP, described the plan as an "entirely new look to that southwest corner." 
Mark Jenkins, senior vice president for Kite, said the development would include as much as 30,000 square feet of ground-level retail space and 250 to 275 residential units on upper floors. He did not specify whether they would be apartments or condominiums.
Planning documents and site renderings show multiple four-story buildings with retail along 116th Street, including a building with a drive-thru; parking in the center of the property; and residential structures on the southwest side of the property. The residential development would include a pool and fitness center, according to planning documents.
Kite is requesting a rezoning of the property that would allow a combination of residential, retail, office, entertainment, restaurant and institutional uses.
CEO John Kite initially revealed the company's intentions to de-lease and empty out the existing center during an earnings call Feb. 5.
Current tenants include MacKenzie River Pizza Co., BMO Harris Bank, In Vogue consignment shop, Kimmel Shoe Repair and Smart Stop Cleaners, but the businesses occupy only 43 percent of the available 42,500 square feet of space.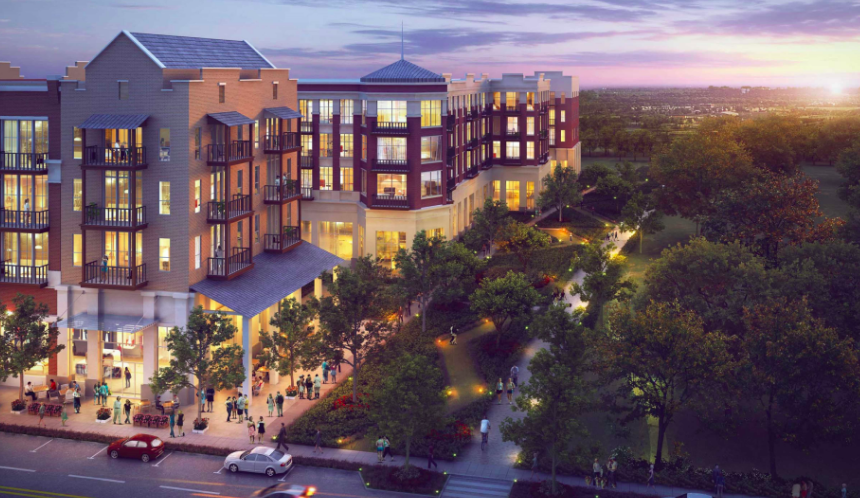 Development experts have said a revamp of the property is probably in Kite's best interest because the center lacks an anchor tenant.
In 2012, Kite redeveloped the adjacent property known as The Centre. The makeover included increasing the square footage and adding new tenants such as specialty grocer Earth Fare, Walgreens, Panera Bread, Verizon Wireless and City Barbeque.
The project and rezoning request still require approval from the city.
Please enable JavaScript to view this content.