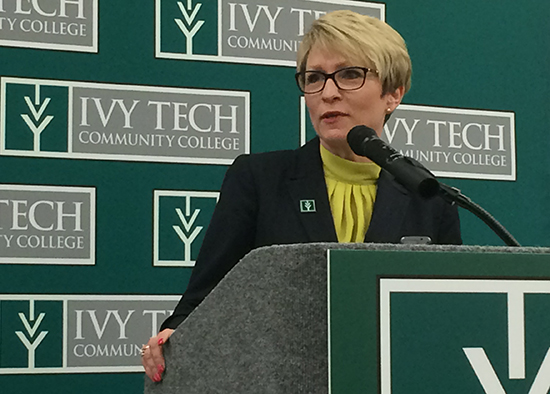 Former Indiana Lt. Gov. Sue Ellspermann imagines an Ivy Tech Community College where future employers visit students on the first day of classes—creating a connection that pushes those students to complete their programs, knowing there's a job at the end of the road.
Ellspermann, a Republican, was unanimously approved by the board of trustees Wednesday afternoon as Ivy Tech's next president. IBJ first reported Tuesday that she would become leader of the state's community college system. She wasted no time in diagnosing the statewide system's challenges and proposing ideas to move forward.
"I look forward to taking the reins and working alongside you to develop new approaches and refine strategies to meet this tremendous demand that ensures student success and that the workforce needs of employers are met," Ellspermann said at a Wednesday press conference filled with Ivy Tech chancellors and administrators.
Ellspermann, who said her role as president will be about "blowing barriers out of the way" to help faculty and staff implement change, will start July 1, replacing retiring president Tom Snyder.
She said her key focuses will be on increasing the number of Ivy Tech students who complete their degrees—and do so on time—as well as aligning the school's programs with Indiana's current and future workforce.
"We have a lot of work to do if we're going to meet the needs here in Indiana," Ellspermann said. "We are not satisfied with the full-time student completion where 1 in 4 full-time students (finish) in four years. We may not reach 100 percent but we cannot rest until most of our students are reaching that completion on their expected timeline."
Ellspermann will be the ninth president of Ivy Tech. Snyder started in 2007 and was paid $300,000 for the job last year. It is not yet clear how much Ellspermann will be paid for the job and how long her contract will last. Negotiations on her contract will begin now and will come up for a vote at Ivy Tech's board meeting in June, according to board chairwoman Paula Hughes.
Ellspermann stepped down from her role as lieutenant governor in March. Gov Mike Pence encouraged her to apply for the Ivy Tech job and wrote a recommendation letter for her, stating: "Sue embodies everything it means to be a leader." She dismissed the idea that there was a rift between the two of them and said her decision to seek the role was about her passion for higher education.
Throughout the process, Ivy Tech board members faced skepticism that the decision to choose Ellspermann was a foregone conclusion, but they stressed that they followed a fair and open process.
Ellspermann joked that she recommends students "don't interview for a job like I did." She also said she would treat the job as a "nonpartisan" role and disavow politics.
Board member Steve McMillan said the search team did an "exemplary" job, and that the decision was the "most difficult hiring decision I've made in my 40-year career." The search netted about 30 applicants and was eventually narrowed down to three finalists.
Ivy Tech board member Steve Schreckengast said Ellspermann was the best choice "to take on all of the opportunities and challenges that Ivy Tech has right now."
"Her legislative background is very important," Schreckengast said. "I think her educational background and private sector experience is important. She knows every bit of the state, from Evansville to Gary."
Besides her career in politics, Ellspermann also served as the founding director of the Center of Applied Research and Economic Development at the University of Southern Indiana. She also has classroom experience teaching at USI, University of Evansville and University of Louisville. She also has private sector experience in industrial engineering, including time early in her career with Frito-Lay in Dallas, Texas, as a production and shipping supervisor and plant industrial engineer.
She mentioned her classroom experience at the press conference, saying that she could relate with Ivy Tech's large workforce of part-time faculty members. She said she believes the faculty do a great job, but could benefit from more support.
"I still think part-time faculty is a good thing," Ellspermann said. "I think I did a darn good job. They do a tremendous job."
Business leaders cheered the announcement, saying that Ellspermann will be able to adequately address Indiana's workforce needs.
"We have open jobs but can't find the employees who have those skills required for the jobs," said Al Smith, the chairman of JPMorgan Chase & Co. "That's where Ivy Tech comes in. We think workforce development should be a big focus of what their mission is, to train our citizens for the jobs that are available in the state."
House Speaker Brian Bosma said Ellspermann's experience and passion will be a "tremendous asset" for Ivy Tech.
"Our state's community college plays a critical role in bridging the skills gap and strengthening the workforce pipeline—especially as more employers look to fill high-skill positions," Bosma said in a statement. "I'm confident Sue will lead this great institution in a positive direction and I look forward to our continued work together in her new role."
Former Indiana Gov. Mitch Daniels, now president of Purdue University, also praised her selection.
"There is no advance Indiana needs more than a more effective Ivy Tech," Daniels said in a written statement. "In Sue Ellspermann, Ivy Tech has recruited a courageous leader and problem solver (she's a Purdue engineer, after all!) to help us close the gap between the jobs that are eager to come here and the skills of the workforce that wants and needs those jobs."
Please enable JavaScript to view this content.