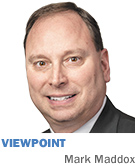 On most election days, you can find me working the polls. Although these 14-hour election job days can be grueling, I enjoy watching my fellow citizens exercise one of their most important rights.
It's democracy in the raw, democracy in action. It's a day that gives us a sense of community, like we are one people deciding our collective futures together. If you look closely at fellow voters at your polling place, you can see some great stories.
This one old-timer drove himself to the polls, which is no small feat for a guy in his 90s. His gait was slow, and he shuffled as he walked in the building. I immediately noticed his U.S. Army ballcap and his two hearing aids, and he held in his hand his Army picture identification.
This World War II veteran was back in the polls on an Election Day, exercising one of the important rights he and his buddies had risked it all for 70 years ago. He had made it back for one more election. I hope we see him again in November.
My favorite voter came holding the arm of her mother in the early afternoon. This shy young woman had serious physical and mental disabilities. I wondered if she was going to actually vote herself or just accompany her mother for the experience.
A few minutes later, she was in the voting booth circling the candidates of her choice. Right after she fed her ballot into the voting machine, it registered her vote. She then exclaimed, "Mom, I voted!" She yelled that a few more times as Mom escorted her out of the building. She was by far our most excited voter of the day.
For some couples, Election Day is a dating experience. They do everything about the voting process together: Sign in, vote side by side, and feed the ballots into the machine. They might go to lunch or run errands before or after the big event.
My favorite couple was in their 80s. He voted first and fed his ballot into the machine. Right after she fed her ballot, he took her hand, something it looked like they had been doing for 60 years. They walked out of the building together, holding hands, supporting each other with great coordination. If the other weren't there, I think the balance of the remaining spouse would be permanently lost.
First-time voters are the best. My fellow workers and I always gave a round of applause every time a new voter signed in. We had numerous high school seniors casting their first votes. Lots of pictures (and a few selfies) were taken all over the polling place. You could see some of our young people growing up on the spot, as they were now permitted to cast a vote for president of the United States.
My favorite new voter was the young woman who knew her own heart well enough to request a different party primary ballot than her mother. That took some serious guts, which I suspect this young woman had in spades.
I hear federal judges say one of the best parts of their job is swearing in new citizens. These people have usually dreamed of being an American, studied hard and passed their citizenship exam. What the judges don't see is when that new citizen gets to vote in his or her first election.
Those voters feel like full-fledged Americans when they get to the polls to vote for the next president. Usually grinning broadly, they tell us this is their first vote as an American, drawing applause, too.
My favorite new citizen voter was the elderly widow whose American husband had just passed a few months before. She now had to learn to do so many things on her own without him. She lacked confidence about her ability to vote by herself.
After completing the process like a pro, she fed her ballot into the machine. She did just fine and could check off another item she had mastered on her own.
To all my favorite voters, I applaud you and thank you for brightening my very long day. Helping people like you will keep me coming back to my favorite place on Election Day.•
__________
Maddox, a former Indiana securities commissioner, is managing partner of Maddox Hargett & Caruso.
Please enable JavaScript to view this content.