Don Wettrick is disrupting the traditional educational system.

He expects the 60 students in his innovations class at Noblesville High School to fail. If they aren't willing to fail, they won't succeed in his class.

The year-long course, which Wettrick introduced at NHS in the fall of 2014, gives students the time and freedom to pursue practically anything they want.

It's not a study hall, nor is it a coding class. It's a class where students learn how to think.

They work independently on their projects, which have included directing theater productions, recording podcasts, launching a program to train babysitters how to handle children with disabilities, and building an engine.

Wettrick provides advice and guidance when needed, but he strongly encourages students to network with professional mentors.

His method is gaining attention. He regularly travels to give speeches on educational innovation; he published a book called "Pure Genius: Building a culture of innovation and taking 20 percent time to the next level"; and he won the 2015 Indiana Innovation Award presented by Centric.

As his students filed into the classroom one morning in April, Wettrick asked for updates.

"When are you shipping that package?"

"Are you printing today?"

"Does anyone need anything from me? Great! Go!" Wettrick said.

The students scattered to tweak website designs, shoot video, and fly a drone.

"This honestly looks like a pretty regular day."

A different way to teach

Wettrick spent about 10 years teaching middle school English—and he hated it.

"I love education," Wettrick said. "I don't like the current system."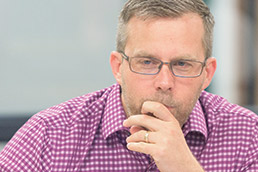 Don Wettrick: "I love education. I don't like the current system." (IBJ photo/Eric Learned)
Then a few years ago, Noblesville Schools administrators were re-envisioning the education system, and Noblesville High School Principal Jeff Bryant reached out to Wettrick about a job opportunity.

It was the perfect fit.

Wettrick started in February 2014, and the class was offered that fall. He spends the first six to seven weeks in a traditional teaching role, then turns the students loose.

Wettrick rarely rejects ideas, but asks questions to weed out weaker proposals. Usually, the students figure out what isn't going to work.

"It'd probably be easier for him just to go, 'No, that's not a good idea. You can't do it,'" Bryant said. "It would save the kids trouble. It'd save Don headaches, but it's part of the process."

Wettrick's method isn't cast in stone. He regularly refines the teaching process, including experimenting with five or six different grading methods so far.

"My first two years were a holy mess," Wettrick said. "It was a great start, but each year gets incrementally better."

So far, his group has traveled across the country to meet other innovators at Google, Facebook and small startups in California and has video-chatted with several entrepreneurial leaders.

Wettrick is also in the process of creating an Innovations Center through a partnership with the city of Noblesville to provide an off-site location where students can work.

"I'll have kids that come in over break," Wettrick said, "because it's no longer class."

Spreading the passion

Wettrick can't hide his passion for this non-traditional teaching style, and he wants to replicate it at other schools.

"It's almost unfair if you're not doing this as a school, which is why I want this class in every high school and the beginnings of it in every elementary and middle," Wettrick said. "And I'm not going to stop until that's done."

He doesn't want to eliminate English, science or math from school curriculums, but he's frustrated by the strong emphasis on test scores and Advanced Placement classes.

"What about the kids who freaking started a company? What about the students who helped people on food stamps eat healthier?" Wettrick said. "That's not measured. … Screw that."

He wants schools to enhance a student's education by dedicating time for innovation, even if the results can't be evaluated in a chart.

Bryant described it as finding the balance between traditional school subjects and independent thinking.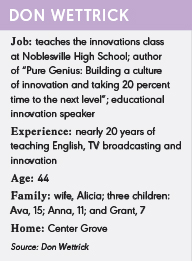 "I'm not saying we've completely found it here at Noblesville, but I think we've taken the risk to try to," Bryant said.

Wettrick hopes his class can prove standardized testing is not the only way to measure success and that even students who have low GPAs are still smart.

A recent Harvard University report that was endorsed or had contributors from other elite institutions across the country recommended placing less emphasis on standardized testing scores during the college admissions process.

"The tide is shifting, and we're ahead of the curve," Wettrick said. "All of a sudden, they're starting to talk about it. We've been doing it at Noblesville for some time now. That gives me hope."

Accepting failure

It's not an easy class.

The students flow through what Wettrick calls the "crisis curve," which starts with blindly thinking they can accomplish anything, moves to doubting they'll be successful, then continues the downward spiral to believing it's not even worth their time.

If they're successful, they'll figure out what's possible and have a plan for how to accomplish their goals.

"A lot of the projects fail to some degree, and we're OK with that," Bryant said. "It takes the kids sometimes a while to be OK with that because we've schooled them in school. We've told them failure is wrong."

Senior Bradford Wolf is finishing his second year in the class, even though he wasn't asked to return after his junior year because he spent most of it stuck in the crisis curve.

"He was among my worst," Wettrick said.

Now, Wolf has a year-old online children's book publishing company called The Storybook Factory. Wettrick describes him as being "on fire."

"I didn't do too well," Wolf said of his first year in the class. "It's a new way of doing school. You can finally do what you want to do, but how do you do it?"

Most of the students switch projects or change ideas throughout the year. It's made some realize what kind of career they'd like to pursue and helped others figure out what they're not interested in.

When they figure it out, Wettrick will do what he can to make it happen. He obtained 3-D printers for the school and set up a small recording studio in an unused room. He frequently reaches out to professionals to speak to the class or a specific student and allows students to travel off campus during class time.

"If it isn't abundantly clear, I love them," Wettrick said. "The world needs to see what they're doing."•