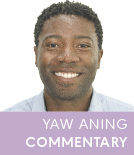 The relationship between diversity and innovation is often hard to define. Most leaders accept that there are benefits to having a diverse workforce, but proving and quantifying direct impact is difficult.
Yet, several studies show diverse groups are more innovative than homogenous ones.
According to a 2013 Harvard Business Review article, employees at companies that exhibit a diverse workforce are 45 percent likelier to report that their firm's market share grew over the previous year and 70 percent likelier to report that the firm captured a new market.
Business professors at the University of Maryland and Columbia University researched the top firms in the S&P 1500 and found that firms with female representation in top management saw the value of their firms increase $42 million, on average, from 1992 to 2006.
And a 2015 McKinsey & Co. report found a linear relationship between financial performance and ethnic diversity among U.S. companies: For every 10 percent increase in racial and ethnic diversity on the senior-executive team, earnings rise 0.8 percent.
While these facts are clear, some of the world's most innovative companies continue to have a significant lack of diversity. Why is that?
Some of these challenges can be explained by the culture-fit paradox. In the early days of a new company, the recruited team resembles the founders because the team is recruited from the founding team's network. In most cases, that network is filled with like-minded people. The first few hires set the culture, and to preserve that culture, leaders hire based on a candidate's ability to fit within the culture that has formed.
Whether on purpose or by accident, a homogenous team is built.
Hiring strictly for culture fit has far-reaching implications. One study by professors from the University of California Berkeley reviewed the hiring practices of hundreds of Silicon Valley firms. The study found that firms that hired on cultural fit, as opposed to skills or potential, were more likely to survive, and more likely to get to IPO. But after IPO, these firms grew slower than ones that hired on skill or potential. The rigid culture that was formed made it difficult to adapt to change, and they struggled to innovate thereafter.
The basic explanation of this phenomenon is that hiring based on cultural fit breeds groupthink. If a team is homogenous, its members will more likely arrive at similar conclusions in thought. Conversely, dissenting opinions lead groups to look at problems and evaluate solutions differently.
My consulting firm, Sticksnleaves, is a web and mobile product innovation agency, and one of our cultural values is diversity. Our clients rely on us to create breakthrough technology for a diverse set of end users and customers. We found that having representation on our team that was similar to the target audience for which we were building dramatically improved our ability to understand and solve its problems. We empathize rather than sympathize with end users, and see stronger user adoption of the products we build.
When a team member has similar experiences to a company's customers, the entire team better understands that customer. In fact, a team with a member who shares a customer's ethnicity is 152 percent more likely than another team to understand that customer, according to Harvard Business Review.
When we noticed this occurring, we decided to move away from strictly merit-based hiring approaches, and started recruiting candidates based on their ability to challenge the prevailing opinion and assumptions we use to build new tech products. We hire individuals not just for the individual's strengths, but also for the ways in which the individual enhances our team. We believe the team that will innovate over time is one that has broad, unique and diverse people collaborating. This change in mind-set has helped us grow and innovate more effectively.
Creating an inclusive culture makes everyone feel comfortable sharing "out of the box" ideas. This culture must be cultivated by leadership. The Center for Talent Innovation noted that, without leadership's fostering a diverse culture of sharing, women are 20 percent less likely than straight white men to win endorsement for their ideas; people of color are 24 percent less likely; and members of the LGBT community are 21 percent less likely.
Leaders who encourage diverse voices to share their opinions are twice as likely as others to unearth valuable insights, and employees are 3-1/2 times as likely to contribute their full innovative potential. The cost of exclusion is missed market opportunities. Diverse teammates might better understand unmet needs in overlooked markets.
Our advice to firms that want to avoid the culture-fit trap and build an innovative firm is to factor in diversity from the start. Hire employees based on their ability to enrich the existing culture rather than how they fit into it.•
Aning is co-founder of the product consultancy Sticksnleaves.
Please enable JavaScript to view this content.