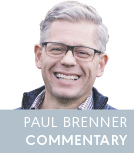 Listening to local FM radio is free. You tune in at home, work, in your car—and now on your FM-enabled smartphone—and there it is: live local radio.
The broadcast medium has been around since the 1940s. While the penetration of radios took 30 years to grow to more than 50 percent of the population, today, billions of FM radios are accessible by consumers, with 93 percent of the American population listening weekly. Industry revenue is nearly $17 billion annually.
But station consolidation in the 1990s and 2000s caused debt levels to outgrow current revenue potential. In the late 2000s and early 2010s, flat revenue has greatly influenced the capital structures and operating income of the industry.
The question is, if you own and operate radio stations, should you consider technology disruption and the effect of change on your legacy industry? Should you assume that your beloved radio industry is so well-established that simply adapting to and incorporating new technology features is acceptable? Or is disruptive, larger-scale change required?
Legacy businesses are difficult to change for many reasons. Self-preservation is a common rationale, particularly for broadcast radio owners who believe local radio always will be a strong business that throws off a consistent amount of cash. Yet behemoths like Apple, Facebook and Google are investing heavily to take advertising share in innovative ways. The growth of pure-play streaming providers disrupts our business on a daily basis. This is the wrong time for broadcast radio to believe its position will go unchallenged.
Trying new things and taking risks requires investment. Broadcast radio is limited by capital constraints that put everyone in the industry at a collective and individual disadvantage. Businesses in the midst of flat or declining revenue are in the most challenging position to invest in and push for change. Big ideas like HD Radio or FM-enabled smartphones require major investment to make them work.
For radio broadcasters, evolution and disruption take vision, patience and an endless amount of communication. Change leaders like Jeff Smulyan recognize that, to win over others in the industry, they can't seem too radical. Fellow broadcasters are willing to support ideas they can relate to but not concepts that are far outside the box and require a complete re-education.
A case in point is the Emmis-led initiative to activate FM chips in smartphones to provide authentic radio listening via NextRadio. This is a major disruption effort that will economically grow listenership, but it's also one that's easy for legacy broadcasters to understand and embrace. By building on existing platforms as the starting point, change agents can keep legacy thinkers engaged and interested.
Emmis Communications Corp. has owned and operated radio stations in the United States and around the world for more than 30 years. As operators, we are high performers with consistent results. As innovators, we are at the top of the heap among peers.
Emmis leaders are change agents for positive disruption. They're surrounded by many others in the industry who, for various reasons, don't see reasons to change, have their own ideas, or perhaps lack the resources to lead change.
Radio must continually redefine the value proposition of terrestrial broadcast radio and use that information to pursue ideas that might in the short term disrupt business but in the long run will protect the industry's viability and fuel growth.•
Brenner is an Emmis Communications Corp. executive focused on technology innovation. He serves as president of NextRadio/TagStation, which provides terrestrial radio and enhanced digital content to mobile devices.
Please enable JavaScript to view this content.