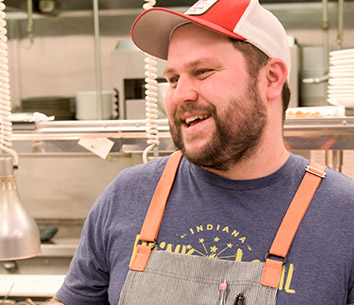 No, of course pickled mackerel is not the main ingredient in Alan Sternberg's Maple Leaf Duck Breast. But it was the starting point for the innovative entree, a mix of modern and classic techniques designed to accentuate the season with an earthy combination of colors, textures and tastes.
The 29-year-old chef recently landed on the James Beard Award semifinalist list for Rising Star Chef of the Year (the only Indiana chef to earn that distinction). His 2014 takeover of the kitchen at Cerulean, in The Alexander hotel at CityWay—after stints with The Local Eatery & Pub and Mesh on Mass—led to a resetting of the menu with an emphasis on fascinating flavor combinations.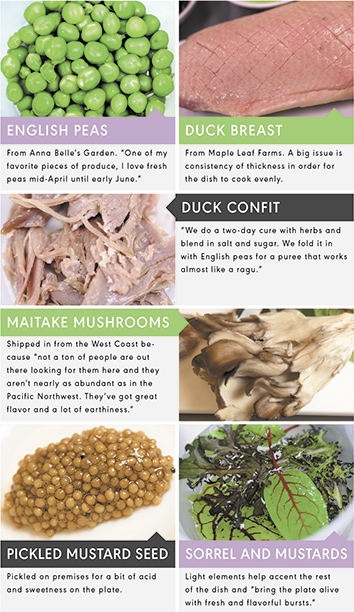 For insight, we asked him to annotate the creative process of birthing a single dish—including its fishy origin.
Looking for a way to enhance pickled mackerel, Sternberg was working on a pea mousse that he wanted to make stable at room temperature. He used iota carrageenan (from seaweed), whipped it with egg white powder, and eventually added peas and mushrooms to the salty-sweet fish dish.
Practical considerations soon took over. He doubted whether the dish could be consistent enough—or if he could really sell it to customers. Duck, however, is a staple on the Cerulean menu and, for Sternberg, "It clicked that the peas and the duck and the mushroom all made sense together."
While the locally sourced duck is the centerpiece, the creativity is showcased in the sauces.
"We handle our sauce work differently than a lot," the chef said. "The celery root puree has the feel of being made with cream but we wanted to make it lighter so we use a little grape-seed oil to smooth our puree and give it a luxurious mouth feel. The pea puree is folded with fresh English peas and duck confit to make a ragu of sorts that sets up nicely and permeates with pea flavor without being heavy. There's also a red wine jus that we make with reduced chicken stock because it's lighter and helps carry the flavors better than a traditional veal sauce base."
The whole dish is presented with grilled maitake mushrooms and plated in an unpretentious, organic way. But that's not all.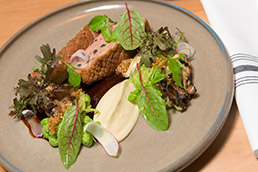 Maple Leaf duck breast incorporating three sauces, Chef Sternberg emphasizes taste and texture. (IBJ photo/Eric Learned)
"There's bursts of pickled mustard seed to help balance the dish and garnished with pea shoots, sorrel, shaved radish and baby mustards to bring the plate alive with fresh and flavorful bursts."
For maximum impact, he suggests cutting a piece of duck and dragging it through the various elements.
"There's a little burst with the mustard seed and the peas, the mushrooms are meaty, the puree is smooth, the duck confit gives it a little bite. … I want them to mix and match."•
Please enable JavaScript to view this content.