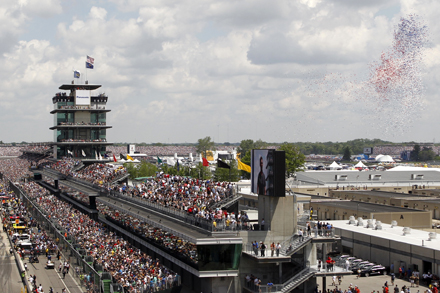 All the local excitement generated by the 100th running of the Indianapolis 500 didn't translate into higher national television ratings. But the first local live telecast of the race since 1950 received huge viewership.
Nationally, the race's overnight rating was 4.1, which equates to about 4.73 million households, according to Nielsen Media Research. That's down from a 4.3 overnight rating last year. Like last year, the race aired on ABC.
The national rating peaked at 4.8 as the race concluded between 3:15 p.m. and 3:30 p.m. A more detailed accounting of the rating is expected later Tuesday, ABC officials said.
Indianapolis was the highest rated TV market for the live airing of the race with a 33.6 rating, according to Nielsen. That equates to 360,530 households. 
It marked the first year the Indy 500 aired live in central Indiana in 66 years. Last year's tape-delayed telecast on WRTV-TV Channel 6 scored a 12.9 rating.
Indianapolis was the runaway leader in local ratings for the live race. The other top five markets were Milwaukee (8.4), Dayton (7.6), Cincinnati (7.2) and Knoxville (6.6).
WRTV re-aired the race Sunday night and again Monday afternoon, but the ratings for those broadcasts could not be obtained Tuesday morning.
Despite the disappointing national TV rating, the local rating beat WRTV's projections.
Local ad buyers on Thursday were projecting ratings for the live broadcast just above 25, which would mean about 268,250 central Indiana households would be tuned in. Ad buyers said they thought that number could climb to as high as 325,000 central Indiana households.
An ad buyer on Thursday told IBJ that WRTV officials were projecting a rating for the tape-delayed broadcast to be nearly 18, which means about 190,000 households would tune in. 
The race was sold out for the first time in more than 20 years, according to Indianapolis Motor Speedway officials. According to a source close to the track, about 238,000 tickets for reserved seats were sold and another 75,000 for the infield.
Derek Daly, a former professional race car driver and longtime racing analyst for WISH-TV Channel 8, said the dip in national ratings is concerning.
"A low rating is a symptom, not the problem," Daly said. "The problem is not enough people nationally care about this race or this series. IndyCar needs to increase their focus on understanding why not enough people care."
Despite having an American winner this year–with other Americans battling at the front of the race–Daly thinks the series needs to do more to "build American storylines."
"That takes years to build up," he said. "It won't be built up in one race or even one season."
Doug Boles, president of Indianapolis Motor Speedway, was heartened by the monumental local viewership.
"That will help us maintain our energy level heading into the 101st," Boles told IBJ on Tuesday.
"I'm a little surprised we didn't increase some nationally," he said. "At this point, I have no idea why it didn't go up. When the final numbers come in we'll look at it market by market to see what happened."
Please enable JavaScript to view this content.