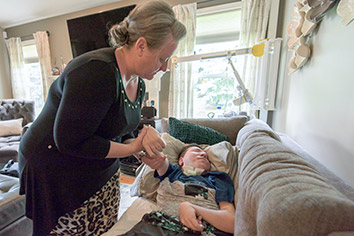 Beth Ailes leaned over her patient, a 44-year-old man with cerebral palsy lying on his mother's living room couch, and inserted a suction catheter into his tracheotomy to clean his airways.
"Almost done," she said, after a few seconds. "Do you feel better?"
Ailes, a licensed practical nurse, often does this up to 20 times an hour, along with giving medications, tending an abdominal feeding tube and keeping an eye on vital signs, for up to 12 hours a day. For this she earns $18.25 an hour from her agency, Tendercare Home Health Services.
But that nurse-patient relationship could run into problems. Indiana is about to sharply reduce Medicaid reimbursements for home health care providers, a move some agencies say could hurt staffing, operations and patient care.
Starting July 1, the state's Family and Social Services Administration is set to cut Medicaid reimbursements 5 percent for licensed practical nurses, along with 8.4 percent for registered nurses, 7.9 percent for home health aides, and up to 6 percent for therapists and pathologists.
That would save Indiana $17 million a year in funding. But it would also cut revenue an average of 6 percent for more than 200 home health agencies around the state that get reimbursed by Medicaid for providing home care for the sick and disabled.
Providers say the decreases will cut into profit margins, which some agencies say already are in the low single digits. Tendercare, with 450 employees and annual revenue of $17.6 million, said it has a profit margin of 2 percent, which the coming cuts could wipe out.

Deitchman
"This puts my margins at zero," said Leslie Deitchman, owner and president of Tendercare, near Binford Boulevard and East 62nd Street. "I'm looking at every way to cut overhead."
Right now, she doesn't plan to cut wages for nurses, therapists and aides, some of whom have been with her for decades. But future raises will be tough to hand out, she said, and it will be a challenge to retain nurses while hospitals are offering signing bonuses and higher wages. Three of her nurses recently left to take hospital jobs.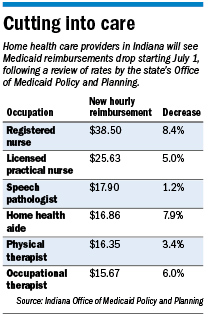 The state said it is lowering the rates because provider costs actually have decreased. It said it recalculates rates every year based on cost reporting done by individual home health care agencies. Once the numbers from each agency are reported and organized, the state determines the median number for each staffing category, along with overhead costs, to determine the reimbursement rate for the following fiscal year.
"The methodology used to calculate these rates has been in place since 2008," FSSA spokeswoman Marni Lemons said.
But the cuts are being met with disbelief and anger by home health care providers, who wonder how they are supposed to make ends meet, with reimbursements falling and costs seeming to rise every year.
"This sort of boggles your mind," said Evan Reinhardt, executive director of the Indiana Association for Home and Hospice Care, a trade association. "There's no sector in the health care world we're aware of where costs have gone down, much less by 6 percent."
He wonders whether some agencies filled out the cost reports incorrectly and somehow skewed the results.
"We've had really no education on the cost-reporting process," he said. "It's a fairly involved, confusing thing to go through. And these agencies don't have the resources to go out and get the accounting experts to do some of these things."
'Growing tremendously'
Home health care is often touted as the future of care for the chronically ill and disabled. It offers nursing and rehabilitation care for a fraction of the cost of hospital care, while allowing patients to remain in their homes. Traditionally, that has been seen as a victory for both families and payers.
And it has been growing by leaps and bounds. Home health care jobs in Indiana grew 30.7 percent from 2000 to 2009, to 14,219, according to a study by the Center for Business and Economic Research at Ball State University. The number of establishments grew 32.5 percent over the same time.

Devaraj
"It's been growing tremendously for the past decade," said Srikant Devaraj, the study's primary researcher.
Much of that is due to the graying of baby boomers, who need more care as they enter their 70s, he said. But it's also due to pressures on health care providers to treat patients where costs are low—meaning away from hospitals and around-the-clock institutions—unless they have acute illnesses or serious diseases.
Even so, the costs remain considerable. Last year, Medicaid spent $268.7 million in Indiana for home health—up 47 percent from five years earlier.
Reinhardt said his members are going to have to develop a more diverse revenue stream "or close their doors altogether."
This is just the latest round of Medicaid reimbursement cuts in recent years. In April 2010, the state cut reimbursement rates 5 percent to avoid a budgetary shortfall, and later extended the reduction through 2013. On Jan. 1, 2014, the state cut the rates 3 percent, which lasts through 2017.
Now, home health providers are bracing for the latest round of cuts, which will be even steeper.
One-on-one
For some nurses, including Ailes, the cuts mean raises are few and far between. She started working at Tendercare in 2000 at an hourly rate of $15, and has seen that climb only $3.25 an hour in 16 years.
Her days are long: 10 to 12 hours, but she is thankful she can work one-on-one with a patient, rather than in a nursing home, where she might earn up to $25 an hour, but have to care for more than a dozen patients.
At this house off of East 56th Street, just a few blocks from Fort Benjamin Harrison State Park, she tends to the needs of Ross Susens, who had a traumatic birth more than four decades ago, and can't take care of himself. He doesn't speak, and spends hours a day on his back. His family believes he might have brain damage.
On his bedroom wall are autographed photos of former Indianapolis Colts quarterback Jim Sorgi and astronaut David Wolf.
"I've taken care of him for 16 years," Ailes said. "He's like part of the family. I can give so much better care to one person than to a whole floor of patients."
Nurses care for Ross, day and night, about 90 hours a week. Medicaid picks up the entire cost—more than $2,000 a week, or about $117,000 a year.

Donna Susens
Ross' mother, Donna Susens, works full time as a mortgage banker. Her husband died when Ross was 5, and she hasn't remarried. She has no other family in Indianapolis.
"If we lost home health care, I would quit my job and stay home with Ross," she said. "I wouldn't put him in an institution."
Institutional care in a long-term-care facility would likely cost more than home health care, to cover the high expenses of staffing and facilities.
Lemons, the FSSA spokeswoman, called home health agencies "an important provider" to serve patients in the community "instead of more costly care in hospitals or nursing facilities."
She added: "Indiana Medicaid is always monitoring access to care to ensure all members have access to necessary and appropriate services."
Medicaid now reimburses Tendercare $25.63 an hour for licensed practical nurses. Of that, the agency pays the nurse $18.25.
When a nurse calls in sick, Tendercare will sometimes pay another nurse overtime to pick up the shift. But with the reduced reimbursement, that might not be financially feasible much longer, Deitchman said.
Deitchman started the agency with her husband, Jim, 22 years ago. Together, they have built it into one of the state's largest. The agency's staff works with more than 200 patients around central Indiana, including babies on ventilators and disabled adults with feeding and breathing tubes.
Labor is the agency's largest single expense, but also its biggest resource. Now Deitchman wonders whether the reimbursement cuts will just keep coming.
"It's going to affect my patients and it's going to affect [employees'] jobs," she said. "I just see a downward spiral."•
Please enable JavaScript to view this content.