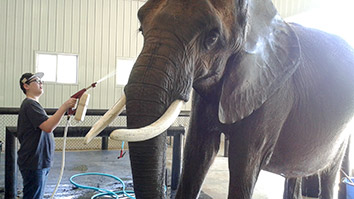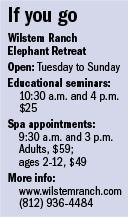 Florida residents Makia, Lovie and Lou first visited the French Lick area last summer.
Eschewing stops at such tourist attractions as the West Baden Springs Hotel or the French Lick Resort and Casino, they instead spent a few weeks being pampered and wandering in the great outdoors nearby at the 1,100-acre Wilstem Ranch.
The trio—all African elephants retired from circus life—has returned in 2016 for a longer stay at Wilstem, where all three now serve as star attractions for an interactive, informational jaunt for those staying at the resorts and a stand-alone attraction for others looking for an unusual day trip.
Those with long memories might recall that Makia, Lovie and Lou aren't the first elephants in these parts. The property was once owned by Ed Ballard, who held a large interest in the Hagenbeck-Wallace Circus. He sold out just before the Depressionbut kept the property, where President Franklin D. Roosevelt hunted pheasant and boxing great Joe Lewis trained.
It changed hands a few times before being purchased in the late 1980s by entrepreneur Jerry Fuhs, a former manager for Merle Haggard, Hank Williams Jr. and other musicians. He cleared riding trails, stocked the ponds, had the buildings—including a 10-bedroom lodge—restored, and built an attraction to parallel the growth of nearby West Baden and French Lick. Recent additions include ATV tours and zip lines.
At the elephant retreat, visitors can take part in what's billed as a one-hour educational seminar or go for the two-hour spa treatment, which adds an hour of pachyderm pampering. That means you take turns washing down these magnificent beasts, scrubbing their hides, and giving their toenails a mineral wash, all under the watchful eye of their owners.
Cynics might see it as akin to Tom Sawyer getting his pals to whitewash fences for him. But here the work is tied in with education, with the owners teaching about elephant history, dropping fun facts (trunks have more than 10,000 muscles—which is easier to believe when seeing them maneuvering at close range), and reminding overzealous photographers that elephants can do serious damage by grabbing a camera.
To be clear, this isn't a theme-park-like experience—don't expect stunts or bells and whistles (OK, there is a fun harmonica moment to show how long an elephant's breath can last). But spending this much time in such a low-key environment certainly leads to greater empathy for these as individual creatures with distinct personalities.•
Please enable JavaScript to view this content.