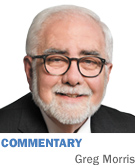 Many people will tell you that, if they could choose only one food item to eat, it would be pizza. I'm a pizza connoisseur. I love a good pizza. A Pizza Alla Quattro Formaggio from Bazbeaux is the best!

So, I took note in May as Bazbeaux Pizza celebrated its 30th anniversary. I remember the original Broad Ripple location as a favorite media haunt. Back in my wild-and-crazy radio-business days, my media friends consumed a lot of Bazbeaux pizza and beer.

Bazbeaux owner and co-founder Jeff Berman and I spent some time together recently. We reminisced a bit about the old days, but also discussed the restaurant's continued success. In fact, 2015 was Bazbeaux's best revenue year. With only three locations, that shows a lot of stability and growth over 30 years.

Bazbeaux's success is due to many things, but let's start with the innovative and great- tasting food. IBJ just published an entire issue based around innovation. I submit that Bazbeaux was one of Indy's earliest food innovators, back before people talked about innovation. In 1986, Chicago, Los Angeles and New York were serving up innovative pizzas. But in Indy, we were still stuck on sausage, pepperoni and mushroom (not that there's anything wrong with that timeless and tasty combination).

Berman had a vision for something different. Something that would make Bazbeaux Pizza known as the best pizza in Indianapolis for decades running. Back then, who around here had heard of a pizza on a wheat crust with eggplant, mushroom, fresh tomato, fresh basil and goat cheese? By the way, you can still get this pizza today; it's the Genova.

Bazbeaux's dough and sauce are homemade creations. You get a lot of fresh ingredients for your money. And you don't have to get something fancy or off the beaten path. Bazbeaux's number one seller today? Pepperoni! But, if you want something more exotic and adventurous, you have plenty of choices. The servers are knowledgeable and attentive. The atmosphere accommodates both adult-only and family outings. And the price won't break the bank.

Berman had worked about every food-service job available before launching Bazbeaux, including line cook, waiter, bartender and part-time manager. Then at the ripe old age of 29, on May 12, 1986, Berman started Bazbeaux near the Broad Ripple fire station in a house once occupied by the town gravedigger.

It didn't seat more than a couple of dozen people at first. But there was a big deck in front, and that was the place to be when weather permitted. Later, an enclosed area was added at the rear with a garage door to let the fresh air inside during the summer. The kitchen expanded, and Bazbeaux was off and running.

From those humble beginnings, Berman three years later opened a location on Massachusetts Avenue. It was a great location then and, after a recent move across the street, it's a great location today. I know from experience the Mass Ave store does a big corporate-delivery business, along with walk-ins. Businesses find it's a great choice for treating staff or for casual client lunches in the conference room.

Then, exactly 20 years after launch, in May 2006, Bazbeaux opened in the heart of the Carmel Arts District on Main Street along the Monon Trail. The Carmel location with its large outdoor seating area has been a big draw.

Besides the Carmel and Mass Ave locations, Bazbeaux also moved its Broad Ripple restaurant to a building just steps from its original digs. It's interesting that moves over the years have been next door to or across the street from the original locations. Berman knows a winning location when he sees one.

I asked him if there will be any new Bazbeaux locations in the future. Although nothing definitive is on the drawing board, he said he's giving expansion serious consideration. Who knows? Maybe a new Bazbeaux is coming your way. Here's to another 30 years of making Indy's best pizza.•

__________

Morris is publisher of IBJ. His column appears every other week. To comment on this column, send email to gmorris@ibj.com.