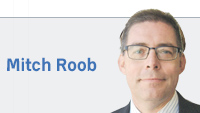 Memorial Day got me thinking about our so-called war against terror, soon to be 15 years long without signs of a quick conclusion. No American under the age of 20 can remember a time we were not at war.
Until I turned 30, the USA was locked in a Cold War with the USSR. Children and adults were palpably fearful of annihilation as many are afraid of terror today. American soldiers died in Korea and Vietnam as they have died in Afghanistan and Iraq.
Yet there is a difference. When the "West" was aligned against the Soviet Union, we were told we were fighting a battle to liberate those living under the yoke of communism. Be it the poor living conditions brought about by an unworkable economic system, the prohibition on free speech, or the fact that religion was actively discouraged, the Cold War seemed about something more than just the survival of the United States.
History suggests that World War II was seen with similar zeal, particularly in fighting Nazi Germany. A generation before, Wilson brought us into World War I to fight for liberty—not just our own, but every nation's right to self-determination.
Many historians suggest Lincoln's decision to sign the Emancipation Proclamation changed the context of the Civil War from being about states' rights to an overt war of liberation from slavery. The Northern soldiers had a cause greater than themselves.
The difference here is the Bush Doctrine, which seemed to suggest that a nation or group that posed a clear and present danger to the United States should be destroyed if it could be destroyed.
This is not unwise. It is also not ennobling. In 1805, Stephen Decatur did it to the Barbary Pirates. Schwarzkopf and Patrius did it in Iraq. We won the battles or war—but lost the peace.
Perhaps Americans have grown weary of being the world's policeman and of nation-building.
Perhaps it is hopeless to think we can do anything but contain radical Islam and think only of containing the religious fever that drives it, hoping it cools over the next couple of decades as have many such fervent risings of the past.
Perhaps our nation's government and our nation's churches have articulated a moral reason for this battle that is bigger than simple self-preservation. Unlike previous generations that relied on Mathew Brady, Ernie Pyle or Walter Cronkite to give that articulation a clear and convincing voice, today it might be too hard to get past the puppies on Facebook for any serious discussion. But I think not.
We are told Islam is not our enemy. This I accept. We are told it is a small group of intolerant zealots who seek our demise. This I accept. 
But how are western governments and non-governmental organizations trying to win the hearts and minds of the the next generation? How will those few "intolerant zealots" not find ready converts to perpetuate their way of thinking? Do we really want the sons and daughters of those who fought in Desert Storm and Enduring Freedom fighting the same Iraqi families, generation after generation?
For Americans to be successful, we need a moral as well as self-serving principle. I applaud the latter, but long for the former as well.
Here at home it is election season, when we should discuss such matters. I'll be waiting.•
__________
Roob, executive vice president at Keramida Environmental, has run Indiana Economic Development Corp. and Family and Social Service Administration. Send comments on this column to ibjedit@ibj.com.

Please enable JavaScript to view this content.