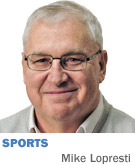 WEST LAFAYETTE— It is a Wednesday morning in the Boilermaker Aquatic Center. The pool is crowded with dozens of splashing young swimmers, while over at the diving well, two men work on the gravity-defying skills they hope will carry them to Rio. A strange confluence it is. At one end, summer camp. At the other, visions of the Olympics.

They stand on the 10-meter platform together, for they are partners in medal dreams, and partners in the synchronized diving event. David Boudia: Gold medalist in platform diving and bronze medalist in synchronized diving in 2012, a Purdue product who is 27 now, has a wife and a little girl. Steele Johnson: taller and younger, a Purdue student turning 20 next week, who is hoping for his first Olympics, and who struggles with memory loss that he long hid from the world. We'll get to why in a minute.

They are preparing for the Olympic Trials at the Indiana University Natatorium on the IUPUI campus that start June 18. Then, presumably, Rio, for they have been among the best in the world at what they do, since they became a team in 2014. Mirror images going off the platform. Well, almost.

"It shouldn't work," Boudia would say of this combination after practice. "If you look at us, he's 6-1 and I'm 5-9."

Their road to this summer together is an interesting one. Years ago, they were in the same swim club, and 17-year-old Boudia would pick up 10-year-old Johnson and drive him to practice.

Johnson on Boudia: "Big earring in, blacked-out rims, loud music, driving fast down the highway. Think of your stereotypical high-schooler."

Boudia on Johnson: "He didn't really say much when he was 10 years old. He played on his Game Boy all the time. For me, it's hard to wrap my mind around that he was just learning how to dive, and now I'm diving with him trying to make the Olympic Games."

Johnson is the wide-eyed kid, Boudia the gold medalist vet whose life has grown full since 2012. After practice this day, he talks about the changes.

"Once I hit the podium in London, that's the pinnacle. You've reached the biggest stage and you've won the biggest thing that you can ever do in your sport. It actually didn't make me hungrier; it kind of made me think, 'Why do I continue to do this?'"

"In 2012, it was just me competing. Now it's totally different. I'm a husband, I'm a father. ... I think that's what has been so difficult leading up to Rio, trying to find that balance between doing my job well here at the pool and also doing my job well at home."

The gold medal?

"Sitting on a box in my office, just chilling," he says.

But make no mistake, he wants to win again. He fell in love with the Olympics as a 7-year-old, watching the Atlanta Games on television. In a way, Johnson's young enthusiasm has helped rekindle the flame. Meanwhile, Boudia's calm wisdom has helped his teammate through the moments when, as Johnson holds up a clinched fist to explain, he lets the sport get to be too much.

"He can sense when I've got an open hand, and when I'm clinching tight on to everything," Johnson says. "We have the same perspective on life, and the same perspective in and outside of the pool."

That includes being strong in faith, talking openly of their belief that if they dive for God and others in their lives, the stress will be less and the results better. It is a creed shared deeply by their coach, Adam Soldati, who this day sits by the diving well, instructing with a hand-held microphone.

"We don't want this all to be about us," Soldati says after practice. "We want it to be much bigger than just our own glory. That's going to cause all kind of tension and put a weight on these guys that they're not intended to bear."

Gravity is the constant reality for the diver. Throw yourself off a platform three stories in the air, and you know what must come next. Splash. What happens during the precious seconds in between can define a career and create a legacy. Both athletes have stories that show the demand of their sport. Boudia was terrified when he first tried the 10-meter platform.

"I think if you put any sane person up on 10 meters, they're going to freak out. I was no different. I'm 33 feet up in the air, looking down three stories and trying to flip as well," he says. "It was to the point where it was paralyzing ... It was only because I didn't know the mental game of the sport.

"Looking back, being scared was probably the best thing that could have happened to my diving because now I understand how to push past something that paralyzes you."

Back then, he would draw pictures of every movement of his dives, to understand them more, be afraid of them less.

Johnson's tale is starker. When he was 12, he tried a 3-1/2 reverse dive at the IU Natatorium—he was too young to do it, he now says—and pulled his shoulders too far back on takeoff. His head struck the platform.

"A mild concussion, and a cut from here to here," he says, drawing a line from one temple across the top of his head to the other. "My coach got in and held my head together until the ambulance got there. John Wingfield saved my life."

Johnson was back in the pool in a month, but something had changed. He can promptly give you the exact date of the accident— Jan. 21, 2009— but lots of other things have vanished into the darkness.

"Honestly, I don't remember much before 2008. I didn't take any effort after the injury to work at this memory-loss issue. I just kind of hid it from everyone the past few years. If you tell me something two weeks ago, I probably won't remember it. It's getting better, but a lot of stuff before 2008 I kind of have an issue with."

He did not tell his parents of his memory problem until a couple of months ago. Soldati, asked how often they have discussed it together, gives a succinct answer. "Zero."

In 2012, Johnson started taking daily videos of his life, now puts them on YouTube, and has 9,500 followers. There was a purpose to how it began. Johnson wanted video images to remind him of the moments his memory had misplaced, such as a concert in 2013. "I know I really enjoyed that day, and I can go back and watch it."

About that reverse 3-1/2 ... "My favorite dive," he says. He has earned perfect 10s on it in competition.

Practice is over. A nearby clock with "Countdown to Rio" above it continues ticking—58 days, 10 hours, 3 minutes, 57 seconds ... 56 ... 55. Two Indiana divers draw ever closer to the Olympics, convinced they know the best way to get there, and do well. Soldati explains the danger of being overwhelmed by the pressure of the chase.

"I think it's probably the biggest challenge when you're going into the Olympic Games. There's no surprise why a majority of Olympians experience some sort of depression when they're done ... We hold onto this Olympic dream and we value it in an inappropriate way. We believe it's going to give us things it doesn't give us. And if you don't keep it in the right perspective, it can bury you."

Dive for others, love one another, keep the faith. "That's what protects us from getting pounded by the Olympic quest," Soldati says.

Oh, and try not to hit your head.•

__________

Lopresti is a lifelong resident of Richmond and a graduate of Ball State University. He was a columnist for USA Today and Gannett newspapers for 31 years; he covered 34 Final Fours, 30 Super Bowls, 32 World Series and 16 Olympics. His column appears weekly. He can be reached at mlopresti@ibj.com.