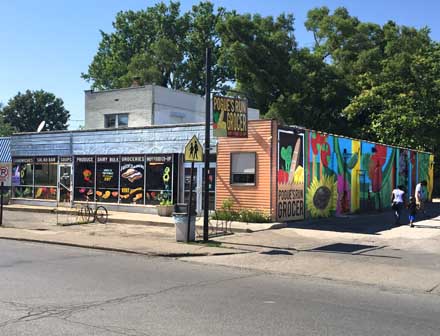 Pogue's Run Grocer on the city's east side is exploring a move to newer and larger space a few blocks away.
Indy Food Cooperative, which operates the not-for-profit grocery store at 10th and Rural streets, would take space in Clifford Corners, a mixed-use apartment, condo and retail project to the east of the grocery. It was finished in 2013 as part of East 10th Street revitalization efforts.
The cooperative opened Pogue's Run in 2011 in a 75-year-old building at 2828 E. 10th St. The cooperative, which boasts more than 1,000 members who pay a one-time $150 fee to belong, leases 4,000 square feet in the former Lane TV building. It's the only food cooperative in the city.
By moving to Clifford Corners, Pogue's Run Grocery would expand to 7,000 square feet and ultimately could own the space by building equity from monthly lease payments, said Joni (pronounced "Johnny") Albright, president of the Indy Food Cooperative's board.
Riley Area Development Corp. owns Clifford Corners. The space that the cooperative is exploring currently is vacant. If all goes well, the grocery could be there by the end of next year, Albright said. Its current lease commitment, which runs until 2020, would need to be worked out with building ownership.
But Albright cautioned that cooperative directors are simply considering the idea of moving.
"We're just looking at it," Albright told IBJ. "It's got to make fiscal sense."
The wheels are at least in motion, however. A meeting is set for June 20 to gather member input. And earlier this month, Riley directors passed a resolution to include the grocery on the community development corporation's application for federal community development block grant funding to help finance the store's construction.  
"I think you'll agree that this has the potential, not only to take us to the next level, but to solve many of the issues that we know have held us back and have been stumbling blocks from the very beginning," Albright told cooperative members in a letter.
The age of the building and its restrictive size have hindered the grocery's ability to adequately serve its membership, she said. Pogue's Run has built a reputation for providing local, fresh and organic food to a neighborhood that does not have a full-line grocery store.
The grocery is well known for its soups and sandwiches, Albright said, but its deli space is extremely small.
"If we still had space where our heart is, on East 10th Street, and at the same time get more space to expand our deli operations, it would probably improve our profit line," she said.
The new space also would fulfill the cooperative's goal of having on-site education space or a community kitchen, Albright said.
   
Members of the cooperative receive discounts and other benefits, but the store also is open to the public.
Pogue's Run Grocery is open from 9 a.m. to 8 p.m. daily. It has 15 full- and part-time employees.
Please enable JavaScript to view this content.