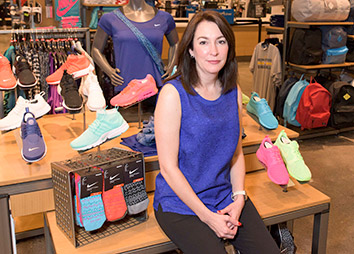 Melissa Greenwell, 49, joined The Finish Line Inc. in 2008 as vice president of human resources and was promoted in February to chief operating officer, part of a transition to new leadership at the Indianapolis-based retailer of athletic apparel.
After experiencing a tumultuous holiday season, in which sales suffered due to merchandising and inventory problems, the company is looking to right the ship, with Greenwell playing an integral role.
IBJ: As chief operating officer, what are your main duties?
GREENWELL: What I'm most focused on now is really learning and contributing to these parts of the business that I have not been directly responsible for. It's a great opportunity for me to re-engage on the operations side of the business. I've always been a solid business partner, and obviously supply chain and IT are very significant. That's different when you're in a role that has more direct accountability for those functions. There's a lot of technology and supply chain challenges and evolution that needs to take place to keep up.
IBJ: How would you describe your climb up the corporate ladder?
GREENWELL: It's never easy; nobody's climb is easy. For me, I was not focused on the climb itself. Perhaps lots of people are, and I'm not criticizing that ambition. For me, it was a result of me looking for how I could add value and help the business be productive. It's been more of a result of just focusing on that as opposed to what the next title was.
I had great mentors in my career, too. That made a huge difference. Really early in my career, one of my first opportunities to have a management role, I was really young. So throughout my career I have had really good mentors who have always encouraged me to step forward and contribute to scenarios even when I wasn't the expert.
IBJ: What are your thoughts on whether glass ceilings exist?
GREENWELL: I think that it is easy for people to surround themselves with people who are just like them. It's easy for that to happen because we do that sort of subconsciously. Executive leaders often don't think hard enough or challenge themselves to look outside their network. That's how introductions and referrals happen. I really do think that's a big challenge, or cause, or component of the glass-ceiling phenomenon, that we just don't look hard enough for talented people who are different than we are.
IBJ: How does a company maintain morale through times of change?
GREENWELL: I've had experience with several scenarios where cost-cutting needed to happen. I think, to keep the organization's morale up, you have to be more selective and focus on your top talent and make your investments there and do all the things you need to do to retain them.
Communication is the other piece. You can't communicate enough in general, but when times are tough you need to over-communicate.
IBJ: We hear the debate about a pay disparity between men and women. How real is it?
GREENWELL: It's real. I'm in the process of publishing a book that is about the importance of gender balance and senior leadership. That book is really aimed at CEOs that are in decision-making roles. That will be out at the first of the year.
The gender gap in pay—that is one of those topics that is real. However, my personal belief is, it's not intentional and it is tied to the fact that—or heavily influenced by the fact that—as a gender, men in general will ask for the promotions and the increase in pay more frequently than women will. Women wait to be invited or to be recognized for their skills and contributions. If that's the case, women will always be late to the party.
IBJ: Any aspirations of becoming a CEO?
GREENWELL: I'm not necessarily looking for the title, but I definitely am looking for experiences and opportunities to learn and grow. If that leads to a CEO path someday, so be it, but I wouldn't call it out as a specific goal.•
Please enable JavaScript to view this content.