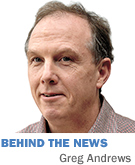 An Atlanta-based activist investor that had blasted Noble Roman's Inc.'s management and called for the company's sale has reversed course and cashed out most of its $5.2 million investment at a steep loss.

It's not clear why the Privet Fund is throwing in the towel after amassing 14 per-cent of the stock over the past two years. Privet officials couldn't be reached, and Noble Roman's CEO Scott Mobley said the fund did not share its thinking with him.

Securities and Exchange Commission filings show Privet sold 1.9 million Noble Roman's shares in March, April and May, reducing its ownership below the 5 percent threshold requiring public disclosure.

The average per-share price Privet fetched was 63 cents, and it sold some of the shares for as little as 48 cents. It had scarfed up the shares in 2014 and 2015 at an average price of $1.73 apiece.

Privet's Ben Rosenzweig had said on a Noble Roman's conference call in November that he was a devout believer in the company's plan to expand by selling freshly made take-and-bake pizzas in grocery stores nationwide.

Scott Mobley
But he also argued that Scott Mobley and his father, Executive Chairman Paul Mobley, were the wrong team to try to execute the plan given the company's years of ups and downs, which included repeated announcements of growth targets they later missed.

In a letter to the board in December, Privet accused Paul Mobley, 75, of "incredible underperformance" and said "management has spectacularly failed to deliver on anything."

The Mobleys have brushed off the repeated attacks.

"Some groups organize around creating controversy, and they seek to exploit that controversy," Scott Mobley, 52, told IBJ last fall. "I don't really see a point in legitimizing it by going into any rebuttal."

While the Mobleys might be pleased to have such a combative shareholder out of the picture, it has come at a steep cost. The fund's dumping of a glut of shares of the thinly traded stock onto the market has further depressed the company's stock price.

The stock, which opened the year at $1.03, slid as low as 43 cents this month before rallying to 67 cents. At that price, Noble Roman's has a stock market value of almost $14 million.

The company, founded in Bloomington in 1972 and now based in Indianapolis, operated more than 75 stand-alone pizza restaurants during its heyday in the 1980s.

In the late 1990s, with the pizza wars intensifying across Indiana, Noble Roman's shuttered dozens of locations and shifted to a new concept—franchised outposts in nontraditional locations such as convenience stores, military bases and bowling alleys.

While that's become a solid business, with some 800 franchised locations, lately the firm has been trying to juice growth via two other avenues—by franchising stand-alone take-and-bake pizza stores and licensing groceries to sell fresh pizzas.

Noble Roman's is making real headway with the grocery strategy. The company said it has reached agreements expanding from 11 to 29 the number of grocery distribution centers carrying the product.

"These new distributors represent thousands of additional retailers as potential new targets to sign up and implement the company's licensed deli pizza program," the company said in a statement last month.

Expansion of the stand-alone take-and-bake pizza outlets has been bumpier. Paul Mobley suggested he wanted to have 70 take-and-bake stores by the end of 2015. Instead, it had just 17, and that was down from 22 that were open in late 2014.

The Mobleys have acknowledged the concept needs work. One change they've tested is in-store baking—an offering Scott Mobley said has been well received by customers and might lead to a new moniker for Noble Roman's Take-n-Bake stores.

Despite the troubles out of the gate, Scott Mobley said in a press release last month that opening more of those stores represents the company's greatest long-term opportunity for "value generation."

Rosensweig was a skeptic of the stand-alone stores.

"It just seems like guesswork," he said on the November conference call. "How do we know if you guys know how to build a stand-alone franchise operation?"

The firm focuses on franchising and licensing partly because it lacks the fat profits or borrowing power to expand aggressively on its own. In the first quarter of 2016, Noble Roman's earned just $347,448 on revenue of $1.8 million.

Regulatory filings suggest management has little financial breathing room. Noble Roman's borrowed $175,000 from the Mobleys at 10 percent interest in December to fund working capital, and the company has at least $1.2 million in debt that comes due in March 2017 it will need to refinance.

"We want to refinance so that we can make good use of the capital structure for the company. Also so we can press these [growth] opportunities a little further and faster," Scott Mobley said.•