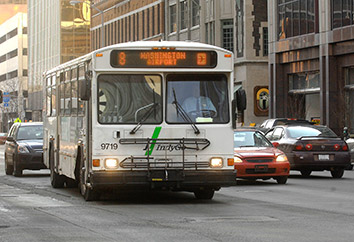 In its raw form, a data set can be an overwhelming jumble of information.
But seen through the lens of technology, this same data can help solve important civic problems.
That's the thinking behind the Indy Civic Hack, which on Thursday named two teams as winners of its 2016 competition. The announcement took place at IndyGo's new transit center at Delaware and Washington streets.
The event, now in its third year, challenged groups of tech-minded participants to use public data to solve one of two transit-related challenges.
In one challenge, contestants were asked to create a tool that would encourage use of both IndyGo bus service and the public bike-sharing service, Indiana Pacers Bikeshare.
The other challenge, sponsored by Mayor Joe Hogsett's office, asked hackers to come up with a tool that helps analyze the interplay between mass transit, public infrastructure and crime rates.
"The intersection of transportation and technology is very important," said Mark Fisher, vice president of government relations at the Indy Chamber. The chamber, along with tech advocacy group TechPoint, are the hackathon's organizers.
"Technology can influence making smarter transportation decisions," Fisher said.
Both of this year's winners are groups of college students who are part of TechPoint's Xtern program, a tech-focused summer internship.
One of the winning groups came up with a data aggregation tool – a way to display data visually by plotting public data on a map of Indianapolis. In a demo, the team showed crime data on a map so that users could, for instance, see where assaults were reported in a given year.
"Our idea was to make it as easy as possible for users to draw visual correlations," said Marwan Nakhaleh, the team's leader and an Ohio State University student. Nakhaleh's team members are Brandon Moore and Jon Arnett, also Ohio State students.
Nakhaleh said his group hopes to do further work on the project, adding more crime data as well as other data sets like bus routes, sidewalk information, police beats, neighborhoods and abandoned houses.
The end goal, Nakhaleh said, is to come up with a tool that city leaders could use to help with planning and resource management.
"We just did it [the project] on a whim and sort of fell in love with it," Nakhaleh said.
"We're seriously interested in fleshing it out."
The hackathon's other winning team came up with a way to integrate IndyGo bus information and Pacers Bikeshare information into a single app.
Real-time IndyGo bus data just became publicly available this spring, said IndyGo's Director of Public Affairs, Bryan Luellen. The goal for the challenge, he said, is to encourage people to use both bus and bicycle in a single trip. Riders might take an IndyGo bus into downtown, for instance, and then hop on a Pacers Bikeshare bicycle to cover the last part of their trip.
The winning team for this challenge was Derek Schrag, a Purdue University student; Vincent Chang, a student at the University of Illinois Urbana-Champaign; and Denver Huynh, a student at IUPUI.
The team created a way for travelers to plan a combination bus/bikeshare trip within a single app, using real-time information to locate buses and bikes. Currently, users have to toggle between multiple sites to access this information.
"We wanted something that users wouldn't get frustrated using," Schrag said.
Schrag's team said they haven't made an official decision, but likely won't pursue future development of this project.
Both winning teams received prizes of $1,500, to be used as members see fit.
The hackathon includes time limits. Participants began working on their projects June 4, and they had to turn in their projects by June 13. So the winners have their concepts and prototypes at this point, but not necessarily a polished end product.
Those involved say the hackathon has value even if teams' efforts don't result in a full-fledged usable app, participants said.
Nakhaleh said the project helped him and his teammates develop skills that will be helpful in future projects.
And just seeing what the hackers come up with can be of value in itself, said Indy Chamber spokesman Joe Pellman. By soliciting outside ideas, sponsoring organizations may gain a new perspective or a fresh idea for tackling issues.
Previous Indy Civic Hacks have produced ideas including an app that identifies garbage can locations, and one that detects potholes as app users drive over them.
"A lot of times, this is a conversation-starter for some of these organizations," Pellman said.
In the larger picture, Pellman said, events like the Indy Civic Hack emphasize the role that technology can play in tackling public challenges.
"There's a lot of fringe benefits to this that are just beyond the straightforward," he said.
 
Please enable JavaScript to view this content.