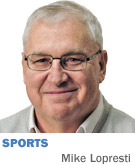 Ah, summer, and when it comes to sports in these parts, confidence is high, starting with Andrew Luck's accountant. Let's see if we have this right.
The Colts love all the offensive line beef the draft procured, and the fact it could lead to more touchdown passes for Luck and fewer trips to the MRI room. Plus, Luck is now safely signed into the next decade, even if—cha ching—it cost almost double what it took to build the Hoosier Dome. Presumably, this means fewer forced passes. Bring on the Texans!
The Pacers love their trade acquisitions, and figure they now have an offense that can make the scoreboard sing a cappella, instead of wheeze. Bring on LeBron!
Indiana basketball loves Thomas Bryant's and OG Anunoby's shunning the NBA draft. Had they joined Yogi Ferrell and Troy Williams, it might have looked like a leaking tire in Bloomington. Plus, the recruiting haul gets raves. Bring on North Carolina!
Purdue basketball loves Caleb Swanigan's willingness to spend another winter in West Lafayette. Also, there's a new graduate student, Spike Albrecht, who might make opponents' pressing defenses a tad less destructive. Bring on Little Rock!
The Indy Eleven loves having secured a North American Soccer League playoff spot in the fall by finishing first in the spring. The NASL obviously likes to plan ahead. Nothing like clinching a home playoff game in November, with a win in June. Bring on FC Edmonton!
Indiana football loves that it has earned enough respect for most early predictions to have the Hoosiers in a bowl for the second consecutive season. That might sound a little strange, since it hasn't happened in a quarter-century. Bring on Florida International!
Purdue football loves the idea that, after going 2-10 last season and 2-22 in the Big Ten the past three years, showing improvement is a pretty low bar. Bring on … anybody who is rebuilding!
The Indians love that Victory Field turns 20 on July 8 as an anchor to the west side of downtown—it and the orangutans at the zoo—and the honeymoon has never ended. The crowds keep coming. Bring on Star Wars Night!
Is this place one big wad of optimism at the moment, or what?
The Colts, for example. Jim Irsay— money is no object when it comes to his passions—spent a bunch on a new Prince guitar, not to mention his quarterback. And to think, Luck will only be 32 when this contract runs out. Then they'll just give him Rhode Island. Anyway, July is here, and all is well.
Same for the Pacers. Conventional wisdom holds that Jeff Teague and Thaddeus Young are just what was needed for a team that so often struggled to score at crunch time. Paul George is headed for the Olympics, and presumably will return with a gold medal, and not Zika. Myles Turner will make the jump that second-year players always do. That's the theory, anyway.
But here's the fine print. Expectations are often the most fun when they're being created. Living up to them? That can get a little dicey. And hell hath no fury like a disappointed customer who paid good money for box seats.
Come September, early struggles could always rock the Colts boat. The Denver trip is week 2, the chronic troublemakers from San Diego are here the Sunday after, and then comes the London trip, and Jacksonville. (By the way, in a clear malfunction by the NFL computer, the Patriots are not on the schedule). They have promises to keep. With a $140 million quarterback, missing the playoffs—or even a quick exit from them—is not an option.
The Pacers could be stymied by a drop in defense. Or just fail to take the leap upward that the recent moves seem to have promised. Larry Bird has gone back to being the deft personnel sage, but as he's seen before, that door swings both ways.
The Indiana Hoosiers are still waiting for a truly magical March. Tom Crean has gotten the blame when it didn't happen, and will again if it doesn't. Even though it should be noted that he got a lot of mileage from a team whose main man—Ferrell—was not even drafted. But March is fragile. Ask Michigan State.
Purdue is talking of a high ceiling, too. Matt Painter certainly needs no more Little Rocks. If all else fails, the Boilermakers can always talk about their divers.
But that's reality for you. It has a way of being annoying.
Indiana football can envision another bowl, but first, the Hoosiers have to find a new quarterback.
The Indians are in first place and hoping for a postseason in Victory Field's 20th birthday season, but the struggling Pirates keep taking their pitchers.
The NASL system is rather eccentric. The Eleven owned big mo in June, but how does a team keep that until November?
And Purdue football? It hasn't been easy selling tickets to Ross-Ade Stadium lately, but maybe a new slogan aimed toward the Indianapolis market could help: "Unlike IU, you don't have to drive through the construction on 37 to watch us play!"
In this summer of optimism, there are bright sides galore. But now comes the hard part.•
__________
Lopresti is a lifelong resident of Richmond and a graduate of Ball State University. He was a columnist for USA Today and Gannett newspapers for 31 years; he covered 34 Final Fours, 30 Super Bowls, 32 World Series and 16 Olympics. His column appears weekly. He can be reached at mlopresti@ibj.com.
 
Please enable JavaScript to view this content.