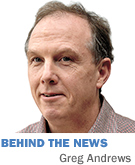 Finish Line Inc.'s chain of running-shoe stores—branded as JackRabbit last year—has been performing more like a tortoise.
Indianapolis-based Finish Line, which runs more than 900 athletic-shoe and -apparel stores in malls and in Macy's department stores, got in the specialty running-shop game in 2011 by buying an 18-store chain for $8.5 million.
Glenn Lyon, Finish Line's CEO at the time, called the diversification gambit "an important step in our strategic plan to drive growth outside of our core Finish Line business." The company has pumped tens of millions of dollars into the division for acquisitions and store openings, bringing the store count to 71 and annual revenue to nearly $90 million.
But so far, Finish Line has gotten little from the division beyond management headaches. It continues to lose money, and last year the company labeled the division a turnaround project and put the brakes on growth while it focused on boosting performance. Now, management is talking as though it might jettison the business if it doesn't sharpen performance quickly.
"We've got very specific metrics for that business that we're measuring regularly," Finish Line Chief Financial Officer Ed Wilhelm said on a June 26 conference call with analysts. "And we'll get to a decision point and either decide to invest in that business again, and that's where we're headed with that business."
Asked for clarification, Wilhelm said in a statement: "We have a solid management team in place that is working diligently to drive sales and, more importantly, improve profitability. While they have made progress, this isn't a quick fix. There is still a lot more work to do before we are comfortable reaccelerating expansion of this concept."

Wilhelm
Analysts say the chain, which just racked up its second straight quarter of same-store sales gains, might still hit its stride. They're hopeful it will help drive growth for Finish Line at a time when the company's stand-alone mall stores have largely reached a saturation point.
But the latest quarter showed continuing signs of weakness, including store inventories that rose at a much higher percentage than the 2.7-percent same-store sales gain the chain reported. Finish Line is projecting JackRabbit will lose money in the fiscal year that ends in February while racking up sales of $95 million to $100 million.
Morgan Stanley analyst Jay Sole said in a report that, if the running-shoe stores "essentially fail to deliver expected results, we believe JackRabbit is divested in this scenario."
Even before Finish Line began consolidating the mom-and-pop running-shoe-store industry, it had a checkered history in trying to diversify. In 2005, the company paid $12 million to buy hip-hop outfitter Man Alive before unloading the money-loser in 2009. In 2006, Finish Line launched an active women's concept called Paiva and opened 15 stores, then closed the concept a year later.
Lyon said in 2011 that Finish Line was getting into the running-store game because "it's a sizable market estimated at $1 billion and it's ripe for expansion." He said the new business would exploit e-commerce opportunities the regional chains had not yet tapped, and he predicted the division would be able to leverage many of Finish Line's strengths, including its strong relationships with shoe vendors.
"We are at the dawn of what we believe to be a very exciting opportunity in this business," Lyon said at the time.
But the running-shoe business—which relies on highly knowledgeable employees who provide free gait analysis to ensure proper fit—is not easy to scale. As Finish Line noted in a regulatory filing, "The stores are tightly connected to their communities, hosting regular neighborhood group runs and sponsoring local races, which typically begin and end near the store."
If Finish Line can get the formula right, JackRabbit will help reduce the retailer's reliance on mall stores, which are under pressure, in part because of continued growth in online retailing.
But analysts aren't expecting the division to grow explosively anytime soon. One of the more bullish forecasts is from Canaccord Genuity's Camilo Lyon, who projects JackRabbit will boost sales 21 percent, to $109 million, over the next two years. He estimates that by then the division will be generating 5 percent of Finish Line's sales.•
 
Please enable JavaScript to view this content.