It was an unusual expansion of Indiana's Medicaid program, championed by Gov. Mike Pence, that offered health insurance with strings attached to more than 300,000 low-income Hoosiers.

But now, as HIP 2.0 enters its second year, the Pence administration is brawling with federal officials, who want to conduct an evaluation of Indiana's conservative version of the program to see how well it is performing.

The two sides have traded sharp letters in recent weeks over how the program will be evaluated. Already, Indiana missed a key deadline last month in sending information on beneficiaries to the Centers for Medicare & Medicaid Services. The federal government says it needs the information to see who is in the program and what benefits they are receiving.

At the same time, the Pence administration is taking sharp issue with a survey CMS is preparing to send to people enrolled in the Indiana plan, calling the survey biased and inaccurate, which it said could distort the results.

The review comes as Republican governors in several other states, including Ohio and Kentucky, are considering implementing versions of the Indiana program.

"A lot of other states are saying: 'We want to try that too,'" said Judith Solomon, vice president for health policy at the Center on Budget and Policy Priorities, a nonpartisan Washington think tank.

"The real question then becomes how is this working in Indiana in the context of health reform, where you're really trying to make sure everyone gets covered. CMS wants to know a lot more about what's going on in Indiana, and wants to know quickly."

It's the latest wrinkle in an unusual deal the sides struck last year to expand health care coverage to Indiana's needy, using Medicaid funds provided under the Affordable Care Act.

The ACA dramatically expanded Medicaid eligibility—if states opted in—making coverage available to all non-disabled adults ages 19-64 who earn 23 percent to 138 percent of the federal poverty level. That's a maximum income of no more than about $16,000 annually for an individual and $33,000 for a family of four.

But officials in Indiana and several other states with Republican governors opted not to expand traditional Medicaid. Instead, Pence sought permission to expand the Healthy Indiana Plan, known originally as HIP and now HIP 2.0, to cover the new population.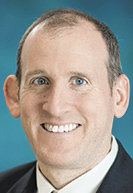 Fishman
Pence has hailed the program as a smarter way to provide health care to the poor. As with the original HIP—set up under former Gov. Mitch Daniels—the program requires enrollees to make contributions health savings-style accounts.

Supporters of HIP say the fundamental principle is that it's important for participants to have their own skin in the game.

But in return, the CMS insisted that Indiana cooperate with a federal evaluation of the program. Indiana officials, however, have balked for months at the federal review, saying they are conducting their own outside review.

"I am concerned that two evaluations being conducted at the same time has the potential to create contentious outcomes which can impede fair, impartial and empirical analysis of demonstration projects," Pence wrote in December to the U.S. secretary of health and human services.

To some observers, the conflict seems to boil down to this: Pence doesn't trust the federal government to do a fair evaluation.

"From the beginning, when Pence established this Medicaid expansion by using HIP, he has struggled to make it look like it's an Indiana plan, not a federal plan," said Sally McCarty, former Indiana insurance commissioner under Democratic Gov. Frank O'Bannon, and a former senior research fellow at the Center of Health Insurance Reforms at the Georgetown University Health Policy Institute.

"He probably doesn't want to relinquish ownership of any of it and give any control to the federal government," McCarty said.

Others say the struggle underscores an inherent conflict in Medicaid, a joint federal and state program established in 1965.

"All of the rules and most of the money came from Washington, so the states are really hamstrung in their ability to run the program as they see fit," said John Davidson, senior fellow with Texas Public Policy, a conservative think tank.

At stake is whether Indiana will be able to continue offering the program as currently structured or be required to make big changes. About 381,000 Hoosiers—nearly 6 percent of the population—are enrolled.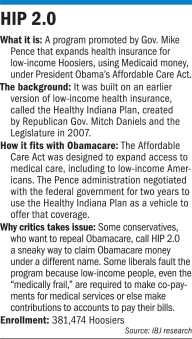 HIP's approval as an alternative to expanding traditional Medicaid has been controversial from the start. Conservatives criticized Pence for capitulating to an expansion of government programs, while liberals objected to using Medicaid for a program that requires users to pay.

The most recent flare-up between the Pence and Obama administrations came when Indiana missed a June 17 deadline for submitting data to the federal government on who was enrolled and what kind of benefits they were receiving.

The Pence administration said it wouldn't share information until the federal government agreed to require all the vendors involved to adhere to privacy protections.

Jim Gavin, a spokesman for the Indiana Family and Social Services Administration, which administers the HIP, didn't say in an email to IBJ how much longer it might take for state and federal officials to strike such an agreement—or whether the state expects federal officials to agree to the Pence administration terms.

CMS did not return several calls seeking comment. But the agency has pointed out that it sent a draft of a data use agreement to Indiana in April.

And the federal government is not letting up in its demand that Indiana cooperate with the evaluation. It said such an evaluation was part of a January 2015 agreement between the Pence and Obama administrations that led to a waiver that allowed Indiana to charge fees to needy Hoosiers for health care coverage.

"I would note that both the Medicaid transparency regulation and the state's special terms and conditions for the approved HIP 2.0 demonstration … require the state to cooperate fully with any federal evaluation," wrote Eliot Fishman, director of CMS' State Demonstrations Group, in a June 10 letter to Pence's office.

Indiana officials also are complaining that a federal survey about to be sent to Indiana enrollees is filled with confusing and inaccurate information. The results of the survey would be used to judge the program.

Tyler Ann McGuffee, Pence's insurance and health policy adviser, wrote a seven-page letter last month, listing dozens of examples of questions in the survey that showed "a lack of understanding" of how HIP operates.

She complained that questions were "phrased in a way that may be confusing to members."•