Two developments totaling $50 million are in the works on the western edge of Speedway as officials look to create a gateway into the town from Crawfordsville Road.

The projects, both near Interstate 465, each represent an investment of about $25 million and would help Speedway build on the success of its revitalized Main Street.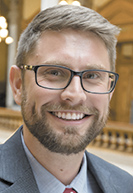 Nicolini
"With the completion of Main Street's infrastructure and the pace of redevelopment efforts under way, the council and redevelopment commission have made a conscious effort to focus on development on the town's west side to establish it as another economic bookend," Speedway Town Manager Ian Nicolini said in an email.

Indianapolis-based Paradigm Real Estate Investments is involved in both projects.

On 20 acres on the south side of Crawfordsville Road, the developer is starting construction on its Speedway Marketplace—an 11,500-square-foot retail center with five outlots, along with a 100-room Courtyard by Marriott hotel where a Dollar Inn once stood.

Paradigm so far has signed as tenants Chipotle, Verizon, Burger King and a GetGo gas station. The hotel will be developed by Indianapolis-based MHG Hotels LLC, whose holdings include nine local lodges that fly the Courtyard, Fairfield Inn & Suites, Comfort Suites, Comfort Inn and Quality Inn flags.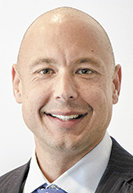 Benge
About 3.5 acres next to the hotel remain available and are drawing interest from a handful of prospects, Paradigm President Brent Benge said.

Paradigm began acquiring the land about nine years ago, hoping the improvements to I-465 would benefit development, and bought the Dollar Inn property from the Carl Ritchie estate in August.

"We saw that [INDOT was] realigning the interchange and thought it would be a good opportunity to buy the land because we knew everything was going to converge there," Benge said.

On 23 acres on the north side of Crawfordsville Road, Paradigm has partnered with Browning Investments to pitch a medical and health care project that still needs approval from the Speedway Redevelopment Commission. The commission could consider the project at its July 18 meeting.

Paradigm and Browning submitted the only response to Speedway's request for proposals for the site and would buy the land from the town if their plans are accepted.
The developers' submission said the two have procured several prospects, including Nashville, Tennessee-based D1 Sports Training and Therapy, a national sports performance and wellness organization.

Also showing interest are a "large regional grocery" and a "confidential health care tenant" that would occupy 10 acres and serve as an anchor, Browning and Paradigm said in their filing.

"We see it as a very attractive site and one that is important to Speedway, and to revitalizing Speedway," Dale Pfeifer, Browning's director of real estate, told IBJ.

The area along Crawfordsville Road near I-465 already boasts major retail activity. The Paradigm and Browning site sits just west of the Speedway Super Center, a 572,000-square-foot shopping center anchored by a Kroger grocery store. Other tenants include Kohl's, T.J. Maxx and Bath & Body Works.

Browning and Paradigm's response to the RFP said the project's strong health care anchor, the demographics of the area and access to I-465 will help draw more retailers and businesses.

Targeted retailers include "fresh food and healthy" restaurants that would serve as an amenity to nearby health care workers, as well as the surrounding neighborhood.

"We think it's a great site for a major health care company," Benge said. "That could work as a centerpiece of the development and help push additional demand for both sides of the street."

The health care component would include 60,000 square feet of medical office space, the anchor health care organization—for which the size of the building has yet to be determined—and the 25,000-square-foot D1 Sports training facility, according to the RFP response.

D1 Sports, which has 45 locations nationwide and partnerships with athletes such as Peyton Manning, has partnered with a National Basketball Association player and a local sports-medical organization to develop the facility, the RFP submission said.

Paradigm and Browning said they will need Speedway to contribute nearly $5.2 million in tax-increment financing money to fund site infrastructure. The developers could begin work on the project next spring if the redevelopment commission accepts their proposal, Pfeifer said.

Speedway, meanwhile, continues to focus on finishing development along Main Street. The strip near the Indianapolis Motor Speedway has attracted several businesses in recent years, including Big Woods and Sarah Fisher's 1911 Grill and indoor karting track.

"I'm really impressed with what Speedway has done," said Bill French, a retail broker at Cushman & Wakefield. "You've got Main Street, which is hot. People are actually going to Speedway."

Two properties on Main Street remain available for development. The sites, at 1346 Main St. and 1426 Main St., are on the west side of the street toward the north end.

The parcel at 1346 Main St. formerly housed a service station that remains standing, while 1426 Main St. is the former Speedway Family Physicians building.

Speedway's Redevelopment Commission sought proposals for both but didn't accept bids because purchase prices were less than what the town wants. Officials continue to work with the interested parties to determine what development opportunities might exist, Nicolini said.•