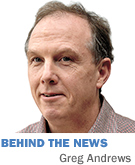 A juggernaut in direct-to-consumer retailing has its largest concentration of workers in central Indiana, most housed in a tucked-away, 750,000-square-foot building on Southeastern Avenue near downtown that has been humming with activity for more than a half-century.
You can be forgiven if the sign out front doesn't ring a bell. The company adopted the name Fullbeauty Brands only last year. Before that, it had stretches as OSP Group, Redcats and Brylane.
Plus-size women might not know all those names, but they know the company's catalogs, which include Woman Within, Roaman's, Jessica London and Swimsuitsforall—brands that collectively make Fullbeauty one of the top players in the niche.
Though officially headquartered in Manhattan, Fullbeauty has about 170 corporate employees working out of Southeastern Avenue, including those in finance, human resources and IT. Another 460 employees work at the distribution center there, and 40 others work at a 740,000-square-foot distribution center in Plainfield handling the large, bulky items sold by the company's Brylane Home home-goods division.
The Southeastern Avenue distribution center, which has 8-1/2 miles of conveyers, has received tens of millions of dollars in upgrades in recent years to boost efficiency and speed. Customers who want to pay extra even can get one-day delivery.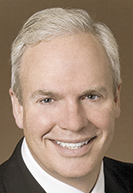 Edgington
The center ships out 16 million packages a year, said Chip Edgington, a 17-year company veteran who serves as executive vice president of operations. He said Indianapolis' location—within a one-day drive of 75 percent of the U.S. population—is uniquely suited to meet customers' appetite for speed.
"It is absolutely a perfect location for this supply chain business," Edgington said.
Twists and turns
The company's history dates to the early 1900s and, in a way, to the women's rights movement.
A pregnant New York socialite of the time had asked fashion designer Lena Bryant to make her a maternity dress—a gutsy move in an era when pregnant women were not supposed to be seen in public.
Maternity wear turned into a craze, and Bryant's husband, after anglicizing Lena's name, opened the first Lane Bryant in New York City in 1904.
The firm moved its headquarters to Market Street in Indianapolis in 1941, and 20 years later moved to Southeastern Avenue.
The Columbus, Ohio-based retailer The Limited bought the company in 1982—the same year it acquired the Roaman's mail-order operation in New Jersey and folded it into the Indianapolis headquarters.
Recent decades have been marked by a blitz of deal-making. The Los Angeles-based buyout firm Freeman Spogli bought majority ownership of the mail-order side of the business in 1993 (leaving The Limited with the brick-and-mortar stores) and took it public four years later.
It was snapped up by France-based Pinault PrintempsRedoute in 1999. Fourteen years later, PPR sold the business to the private-equity firms Charlesbank Capital Partners and Webster Capital—which, in turn, flipped it to Apax Partners last August.
Through the tumult, the Indianapolis operations have enjoyed relative stability, Edgington said. He noted that one-quarter of the workforce has been with the company at least 25 years.
"It really is a lot of experience at the table," he said.
Growth ahead?
Fullbeauty doesn't disclose finances, but Moody's Investors Service says it had $981 million in revenue in the 12 months ending in July 2015. Moody's tracks the company's debt, which swelled past $1.1 billion as a result of Apax's leveraged buyout.
Despite the company's high leverage, Moody's sees a lot of bright spots, including "the favorable demographic trends of overweight and obese people in the U.S. and breadth and mix of product offerings relative to many of its competitors." It says another strength is that the company's focus on affordable, basic apparel makes it less vulnerable to recessions and to the vagaries of style shifts.
Edgington, who joined the company when e-commerce was in its infancy, said most of the business today is web-driven. But that doesn't mean the ubiquitous catalogs that land in customers' mailboxes are losing relevance. He said those remain a powerful call to action.
"We look for something to be compelling on that cover, something that is going to awe her and cause her to look through the rest of the print media and find something she likes," he said.
He said he believes the future is bright for the firm, which bodes well for the city.
"As long as we continue to grow, we will continue to invest," he said. "We feel pretty good about where we are right now."•
 
Please enable JavaScript to view this content.