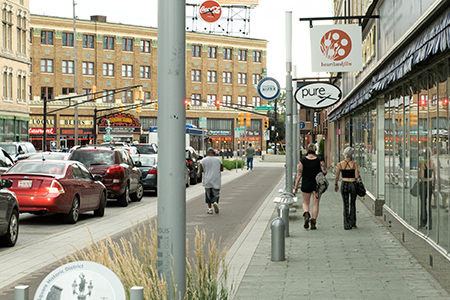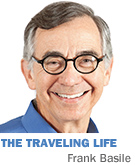 When anyone asks where Katrina and I have traveled lately, I tell them that, since starting my job as interim president of Heartland Film, "I travel to Fountain Square every day!" Katrina has been busy selling real estate and I have been busy with this job, so we haven't had time to travel elsewhere. So I hope you'll indulge me with a travel column to Indy's own back yard—a place I've found that too few locals have visited.
Just southeast of downtown and centered on the intersection of Virginia Avenue at Shelby and Prospect streets, this funky neighborhood is one of the oldest in the city, with buildings dating from 1870. It is home to working artists and entrepreneurs and is both an official arts district and a historic district.
Fountain Square has a strong sense of community. The people are proud of their neighborhood, walk the streets, sit on the benches along the Cultural Trail or at an outdoor restaurant, and visit or just hang out. No one seems to be in a hurry.
 The Heartland offices are in the historic Murphy Arts Center, formerly occupied by the G.C. Murphy Co. until it closed in 1998. The arts center fronts the Cultural Trail that connects Fountain Square with downtown. The building was originally constructed in the late 1800s as a commercial building with stores on the first level and lodging and a vaudeville movie house on the second level. One of the perks of the job: our small conference room with large windows looking out on the Cultural Trail. From here I can watch the Fountain Square action—walkers, runners, bicyclists. It's colorful entertainment. 
At lunch, Fountain Square is a great place to be. Ethnic cuisine abounds in the independent restaurants—Siam Square (Thai), NAISA Café (pan-Asian), Santorini Greek Kitchen, B's Po Boy (New Orleans), La Margarita (Mexican) and many more. Being from New Orleans, I can attest to the good Cajun flavor of B's Po Boy, including the requisite red beans and rice and beignets. 
And there's Peppy Grill, which, like just about everything else here, is not a chain. A classic hole-in-the-wall, it has good, basic food at reasonable prices. It's retro without trying to be retro. Bernie Sanders ate here when he was in town campaigning last month and you can see policemen eating day and night in this 24/7 restaurant. On the opposite end of the food scale is newcomer Marrow, along with two nationally recognized restaurants—Bluebeard and Milktooth—which are also on Virginia Avenue, just a couple of blocks north of Fountain Square in Fletcher Place.
Next to Bluebeard is the Calvin Fletcher Coffee Shop, a neighborhood gathering place, as is the Funkyard Coffee Shop and Art Gallery on Prospect. Funkyard serves coffee, ice cream and candy, which you can enjoy while viewing the art in their gallery. Or you can just hang out and work on your laptop at either place while nursing a cappuccino. Many Fountain Square restaurants and coffee shops have outdoor seating, which is a big plus on summer days. 
Fortunately, the developers in Fountain Square are striving to maintain its historic flavor, charm, uniqueness and village ambiance while resisting the tendency to become overrun with bars.
First Fridays are hopping, with people visiting the Indianapolis Museum of Contemporary Art, independent art galleries in the Murphy Building, and many of the one-of-a-kind stores that include an old-time barbershop, a music store, clothing boutiques and shops for bikes, flowers, comic books and games.
Folks can also visit my temporary home base Heartland Film headquarters, where they can buy beer and wine and eat popcorn while watching short films in the screening room. And if you are so inclined, you can stop in and meditate in the beautiful 150-year-old St. Patrick Catholic Church, behind the Murphy Building.
Of course, in the heart of Fountain Square by the fountain is the historic Theater Building, which houses the Fountain Square Theatre. It was built in 1928 as a vaudeville theater, with columned arches surrounding the stage and huge dance floor. A balcony overlooks the main level and creates a starlit courtyard that reminds me of the Indiana Roof Ballroom, though not so big nor quite so elegant. It features musical entertainment and a swing band each second and fourth Friday night, when the floor is packed with swing dancers. And if you haven't gone duckpin bowling recently (or ever), this is a place you must visit. 
On the third Friday of each month, live music plays in the public plaza at Shelby and Prospect streets. Bring a lawn chair or blanket and enjoy music provided by Arthur's Music Store. Inside, you can hear live music at many venues, including The HiFi, Radio Radio and the White Rabbit Cabaret, which also offers a range of comedy and variety shows.
Fountain Square, I've found, is anything but square. When you visit, stop in and say hi to me at Heartland.•
__________
 Basile is an author, professional speaker, philanthropist, community volunteer and retired executive of the Gene B. Glick Co. His column appears occasionally. He can be reached at FrankBasile@sbcglobal.net.
Please enable JavaScript to view this content.