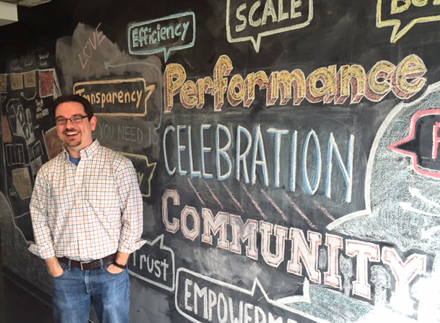 Indianapolis-based software firm TinderBox Inc. has changed its name and is planning an expansion that could create up to 272 jobs by the end of 2021, it announced Monday morning.
The company, which was renamed Octiv Inc., said it will spend $3.2 million to add more space to its downtown headquarters in the Lacy Building at 54 Monument Circle.
Indianapolis Mayor Joe Hogsett was scheduled to join state and company executives Monday for the announcement.
Octiv currently has 68 employees, including 60 in Indiana. It now plans to have 332 Indiana employees within the next five years, it said.
The company plans to increase its space in the building from about 8,800 square feet to 13,000 square feet. Renovations to the new space are already underway and are expected to be complete by late July. The company plans to add more space as employment grows.
New workers will be hired in account management, development and sales. The jobs are expected to offer average salaries nearly double the Marion County average annual wage of about $56,000, according to the company.
Tinderbox, which sells cloud-based sales-productivity software, was founded in 2010 by CEO Dustin Sapp, Kristian Andersen and Mike Fitzgerald in Broad Ripple-based entrepreneurial hub The Speak Easy. It moved to the Lacy Building in 2013.
The company sells solutions for managing, tracking, streamlining and automating sales proposals, presentations and contracts. The three founders, who have started multiple tech companies in Indianapolis, came up with the idea for TinderBox after encountering pains in their own ventures with sales proposals.
Tinderbox, which was honored as emerging tech company of the year at TechPoint's 2015 Mira Awards, says it has more than 400 customers across the world.
The Indiana Economic Development Corp. offered Octiv up to $5.1 million in conditional tax credits and up to $200,000 in training grants based on the job-creation plans. The incentives hinge on the company's ability to meet hiring goals.
The company reached a previous incentive agreement with the state in 2013 when it moved downtown. At the time, the company said it would grow local employment to 108 by the end of 2016.
The IEDC  said it would provide the company up to $1.37 million in tax credits if it met hiring goals. So far, the company has realized only $119,825 from that agreement, according to information on the IEDC's website.
Please enable JavaScript to view this content.