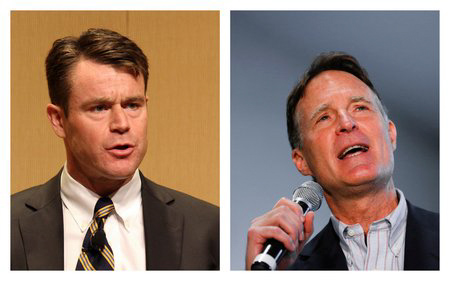 The battle for Indiana's open U.S. Senate seat could become the most expensive general election race in the state's history, political observers say—but only if Republican Todd Young proves he can compete with Democrat Evan Bayh.
Until two weeks ago, Young had been cruising to an easy victory against Democrat Baron Hill. He had raised nearly $5 million for the campaign, and independent groups had notched the race in the win column for Republicans, who are desperately trying to hold on to control of the U.S. Senate.
But then Hill—admitting he had no path to victory—dropped out. And in came Bayh, a political juggernaut who hasn't been on a ballot in a dozen years and yet still maintains favorability ratings above 60 percent.
In an instant, everything changed.
The University of Virginia Center for Politics' Crystal Ball, a site that predicts national races, immediately changed its race rating from "likely Republican" to a toss-up. The Rothenberg & Gonzales Political Report also has changed the race to a toss-up, tilting slightly Democratic.
Those groups are looking not just at Bayh's political experience (he's won statewide races five times: once for secretary of state and twice each for governor and U.S. senator) but also his campaign bank account. He has $9.4 million ready to spend—money he's been saving since he decided to drop out of politics six years ago.
At last report—in mid-April—Young had just $1.1 million cash on hand. He said in a statement earlier this month that he's raised more than $1.34 million since the last filing.
Stu Rothenberg, founding editor and publisher of the Rothenberg & Gonzales Political Report, said super PACs and other outside groups could easily help Young overcome that funding deficit.
But, he said, "Young's going to have to show that it is a race," in order to bring in big money.
Democrats argue it's not a race and it won't be. They're pointing to an internal poll that found Bayh with a double-digit lead.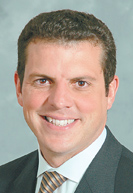 Oesterle
"I think outside money will hesitate" given the Democratic polling results, said Kip Tew, an Indiana strategist who coordinated Barack Obama's first presidential campaign in Indiana. "Republican outside money will go elsewhere."
But political observers say most outside groups will wait for their own polling or surveys from independent groups before deciding how much money, if any, they want to spend on the race. Polls that show a tight race would give Young leverage.
"If this seat is competitive, he's going to be able to sell that he's in a tough race and that it could be the one to decide control of the senate," said Ed Feigenbaum, a longtime Statehouse observer who is founder of INGroup.
On the other side of the isle, Democratic groups will want to see how Bayh, 60, performs after his break from the spotlight.
"What people have to remember is it's been 12 years since he's been on theballot," said Andrew Downs, director of the Mike Downs Center for Indiana Politics at IPFW. "Much of the organization he had throughout the state is likely gone."
Most expensive?
To become the most expensive race in Indiana history would be tough—although observers say it's possible given that the outcome could determine control of the U.S. Senate.
Democrats need to pick up four seats to win the majority—or five if Republican Donald Trump wins the presidency and Indiana Gov. Mike Pence, who is the GOP nominee for vice president, becomes the tie-breaking vote in the Senate.
The most expensive race so far was the 2012 Senate race between Democrat Joe Donnelly and Republican Richard Mourdock, when well more than$30 million was spent on the general election alone. Combined with more than$20 million spent during the primary (when Mourdock defeated incumbent Sen. Richard Lugar), race spending topped$50 million.
That's two-thirds more than was spent on the 2004 governor's race, when Republican Mitch Daniels defeated Democrat Joe Kernan. Since then, though, the U.S. Supreme Court's 2010 decision in the Citizens United case has opened elections to considerably more spending by outside groups.
"Things get more and more expensive every year because of Citizens United," said Dan Parker, an Indiana strategist and adviser to the Bayh campaign. "We have to be prepared for whatever. Your opponent in this particular case isn't even who you're running against—it's the super PACs. They can land in a race at a moment's notice."
During that 2012 Senate race, outside groups spent more than $30 million for and against the candidates. That included money from right-leaning groups like American Crossroads, which was formed by Republican Karl Rove, and left-leaning organizations including the Senate Majority PAC, a group that aims to put Democrats in the majority in the Senate.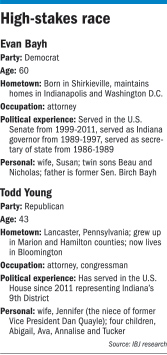 Outside spending unclear
So far, those groups and others have been tightlipped about what they plan to spend in Indiana this year.
Lauren Passalacqua, national press secretary for the Democratic Senatorial Campaign Committee, said "there have been a lot of surprises this cycle, so I think outside money is yet to be determined."
"It's very fluid," she said.
The U.S. Chamber of Commerce spent $1 million on ads supporting Young during his primary battle with U.S. Rep Marlin Stutzman, according to Federal Election Commission filings. A spokesperson for the group declined to comment on its spending strategy for the general election but said in an email to IBJ that "the chamber is all in forTodd Young" and to "stay tuned."
But the conservative political action committee Club for Growth, which endorsed Stutzman in the primary, said it will stay out of Indiana. "Club for Growth PAC has made no endorsement in the Indiana Senate general election, and we have no plans to do so," said the group's communications director, Doug Sachtleben.
Still, Bill Oesterle, the former Angie's List CEO who ran Mitch Daniels' first campaign for governor, said he's confident Young, 43, will raise the money he needs to compete and attract outside groups to the race.
Voters in 2010 first elected Young as the U.S. representative for the state's Ninth District—which spans 13 south-central and southeastern Indiana counties—and re-elected him in 2012 and 2014.
"He's young, he's articulate, he can raise money, he's a veteran," Oesterle said. "And Evan Bayh has never had an opponent like this. Everyone has sort of rolled out of the way for Bayh. He's never had a serious race and this will be a serious race."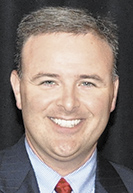 Parker
Oesterle didn't support Young during the Republican primary. He didn't even know him and was backing Eric Holcomb, who eventually dropped out when Pence appointed him to be the state's lieutenant governor.
Still, Oesterle said Young came to see him and talk about the race and public policy. They talked for an hour, even though he "knew I wasn't going to give him any money," Oesterle said. "He did beautifully. He was sincere and he was good at it."
So after Holcomb dropped out, Oesterle donated to Young's campaign and intends to give him more.
Pete Seat, a Republican strategist not involved in the Senate, said he saw similar tenacity from Young when the congressman would visit the Indiana Republican Party headquarters to make phone calls to donors.
"When it comes to fundraising, Todd Young is not going to hold back," Seat said. "He is a prolific fundraiser and knows how to make the ask, how how to make the pitch. There's no doubt he'll be able to raise the funds he needs."
And that persistence will attract national groups, Seat said.
But Parker said even if outside groups on both sides pour considerable money in the race, the super PACs will just neutralize each other.
"Then it comes down to Bayh and Young and Bayh starts with the advantage of name recognition, money and record of achievement," Parker said. "I think that's what will win the day. The Bayh brand is stronger and more potent than anything Congressman Young has established."•
Please enable JavaScript to view this content.