Five years after pledging an astounding $48 million to help Marian University build a medical school, an Indianapolis businessman has paid only about one-fifth of that amount, forcing the school to tap other sources to pay off millions of dollars in loans on the project.

The donor, Dr. Michael Evans, has struggled in recent years with financial and legal problems. The company he founded 26 years ago, AIT Laboratories, was the source of much of his wealth, but it has seen its revenue and profit shrivel, and has laid off hundreds of workers. Last month, AIT was sold to a Texas private equity firm, which immediately fired about 40 employees, or one-third of the remaining work force.

Now, leaders at the small Catholic university on the city's west side say they're unsure if they will ever see another dollar from Evans.

"The original plan to pay the entire pledge was based on the continued success of his business," said Daniel J. Elsener, Marian University president. "That has changed radically from when he made the commitment. … I don't know what the future holds, in terms of his ability to pay it off."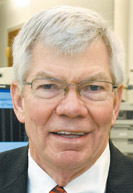 Evans
Meanwhile, the university is sitting on big debts that it took out based partly on Evans' pledge, which was the project's largest single donation. In 2011, the university sold $100 million in bonds and used much of the money to build and equip a 140,000-square-foot Center for Health Sciences.

The sprawling building included space for a College of Osteopathic Medicine, which became the first new medical school in Indiana in more than a century. The building also houses the university's existing nursing school and other health programs.

The outlay for the medical school included expenses for setting up labs, hiring faculty and training students. Total cost was about $50 million.

Altogether, it was a huge investment for the 2,500-student university, which at the time had net assets of just $99.4 million and annual revenue of $51.9 million, according to financial statements filed in its bond prospectus.

The university named the new center after Evans, held a big ceremony on the site, and issued a long press release praising Evans' generosity. The release called Evans' company a "life sciences success story" and praised his donation as a "great act of stewardship."

"This magnanimous investment Dr. Evans made will do much to provide health care resources that are needed in Indiana, especially by those most vulnerable," Elsener said at the 2011 ceremony.

Two years later, the medical school opened and welcomed its first class of 162 students. Those students are set to graduate next spring and start residency programs.

Local health and government officials hope many of them will remain in Indiana to help deal with the state's shortage of doctors, especially primary care physicians in rural, underserved areas.

And the program continues to flourish. Marian received 4,300 applications for the class that started last fall; the school accepted fewer than 200.

Awaiting more cash

But university leaders are in the uncomfortable position of wondering whether Evans will send another check. He had pledged to pay the full amount within nine years. So far, he has paid "just shy of $10 million," Elsener said, meaning the amount due stands at more than $38 million.

"We're thankful for what he did," Elsener said. "He was very, very generous when the income was in."

Marian leaders say they are not facing a financial crisis. The university is solvent, and it has not missed a payment to bondholders. The debt service on the bonds is $8.1 million a year through 2041.

And other fundraising efforts are exceeding expectations, which is helping to make up the shortfall from Evans' pledge. Last year, the university raised $24 million, more than double its goal of $10 million. And annual tuition for the medical school, at more than $40,000, has generated millions more, covering the school's operating costs, university officials said.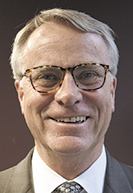 Elsener
To be sure, Evans is not the project's only donor, although he is the largest. The university received donations from a who's who of Indiana institutions, including St. Vincent Health, Community Health Network, the Eli Lilly and Company Foundation, medical device company Hill-Rom, Roche Diagnostics and Suburban Health Organization. Hundreds of individual donors have kicked in millions more.
But Evans' delay in paying his pledge has had other effects, such as slowing growth in the endowment fund, which is used for scholarships and endowed chairs. It now stands at a modest $80 million.

"The mark of excellence in higher education often is endowment growth, and ours has slowed a little bit," Elsener said.

Evans, 72, now retired, could not be reached for comment. His attorney, Andrew McNeil of Bose McKinney & Evans, declined to answer questions about whether Evans plans to pay the balance of his pledge, or to comment about his finances generally.

"He just wants to move on," McNeil said.

Year of strife

Without question, it has been a tumultuous few years for Evans. In May, he—along with his bank and insurance companies—agreed to pay back more than $3 million to employees who bought AIT from him six years ago.

That settled a lawsuit the U.S. Department of Labor filed in August 2014 that claimed Evans sold the company to employees in 2009 for far more than it was worth. Employees had agreed to buy the company for $90 million, just three months after it was appraised for less than one-fifth that amount, according to the lawsuit.

Evans owned nearly 88 percent of the shares when it was sold to an employee stock ownership plan, or ESOP. He did not cash out that entire stake at the sale, but instead it was to be paid over time as AIT employees made contributions to the ESOP, which functions as their company retirement plan.

The lawsuit claimed Evans had been paid $16.3 million when the suit was filed.

That was just the latest in a long roller-coaster ride for the company and Evans.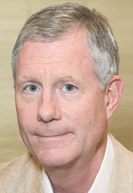 Neff
In the past three years, AIT has cut more than 300 jobs, or two-thirds of its workforce. It did that to cope with a huge downturn in revenue, primarily caused by deep cuts in Medicare reimbursements.

In 2011, just about the same time Evans made his huge pledge to Marian, the Medicare program cut reimbursement rates 47 percent for testing urine samples of patients receiving prescription painkillers.

Such tests made up about 90 percent of AIT's revenue, which was $55 million in 2012. Revenue had fallen to $25 million by 2014. And it was poised to get worse. Last year, Congress passed a bill that will allow Medicare in coming years to significantly reduce the amount it pays labs, perhaps as much as 75 percent.



During that time, Evans left the company twice. In 2012, he stepped down voluntarily, but came back in a few months when he became dissatisfied that his successor was not turning the company around fast enough.

But just a year later—juggling AIT, newborn twins and a contract-research firm he had launched—he was forced out by AIT's board, which said the company needed someone who could give it better leadership. He was replaced by Matt Neff, the outside chairman and a local venture capitalist.

"My mission was to stabilize the company, try to find a new business approach that was going to be more successful, and then ultimately liquidate it," Neff said in an interview.

The company was coping with declining revenue and staggering debt. In 2009, it had borrowed $90 million to finance the ESOP. It was able to reduce the debt over the next few years, but was still highly leveraged, limiting its ability to borrow more money for operations or to develop new technologies.

Neff declined to say whether the company was profitable in recent years. IBJ previously reported it lost $9 million in 2011. That forced it to renegotiate its bank debt with M&I Bank to reduce interest payments.

In turn, Evans was forced to accept only interest payments on the tens of millions AIT owed him.
That decision stretched his own finances, forcing him to alert Marian University that he would have to delay payments on his pledge.

If Marian officials were alarmed, they did not show it.

"We have full confidence it'll all be paid, just at a different rate," Elsener told IBJ at the time.

Last in line

An ESOP expert told IBJ it can be difficult for a seller to ever collect what he's owed if the business goes into distress or gets resold.

"You have to look at who has priorities on the collateral," said Mark Flinchum, a partner at Katz Sapper & Miller, an Indianapolis accounting firm. "In a liquidation, the bank is going to get everything they're collateralized to, up to full payment of the loan. The seller is going to be the last guy that gets paid."

In the past year or so, AIT has been quietly shopping around for a buyer or new investors. But it had trouble generating interest, Neff said, because of the ongoing Labor Department lawsuit. Even though the company was not a party, it was forced to indemnify Evans and several others for an unlimited amount of possible damages and legal fees.

But when the suit was settled, the indemnification was lifted. AIT found a buyer in the Dallas-area-based private equity firm Ancor Capital Partners, which had recently bought toxicology lab Pacific Labs, also based near Dallas, and renamed it HealthTrackRx.

Ancor agreed to buy AIT for an undisclosed amount and merge the two operations. Ancor's first move was to close down AIT's biggest division, its clinical labs, and fire about 40 workers. Doug Brenner, operating partner at Ancor, said his firm first offered the Indianapolis workers positions in Texas, but all refused.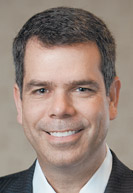 Flinchum
Some longtime employees were stunned. Anastasia Stohr, a chemist and laboratory team leader who had been with the company since 2010, said she was let go without a reason—and without an offer to move to Texas.

"They gave us paperwork on separation packages and vacation pay, and said our health insurance was going to be stopped on midnight of the day we were let go," said Stohr, 35, who lives in Speedway. She has since found a job managing lab equipment at Eli Lilly and Co.

Ancor said that, despite the disruptions, it is committed to keeping certain businesses in Indianapolis and trying to expand them. One is a small division of AIT called GuideMed, which conducts opioid monitoring on patients for hospitals and clinics, using proprietary software.

"The GuideMed program has recently won a number of significant contracts, so the growth prospects in Indianapolis for that are quite promising," Brenner said.

Another division, which specializes in forensics lab work to help criminal investigations, was sold to a startup, Axis Forensic Toxicology Inc., which hired 38 former AIT workers and is keeping that operation in Indianapolis. That company is led by two former AIT executives.

It's unclear how much the AIT sale netted, and how much might have gone to Evans.

"Some of the proceeds went to the bank, some went to the ESOP, and some went to Dr. Evans," Neff said. "But I don't want to be any more specific than that."

Marian officials say they keep in regular touch with Evans to update him on the medical school's progress. So far, he hasn't shared whether he is in any position to make good on the balance of his pledge.

The university has no plans to take Evans' name off the new brick and limestone hall that houses the College of Osteopathic Medicine and Leighton School of Nursing.

"We will continue to show our gratitude to Mr. Evans," Elsener said, "by proudly displaying his name on the building."•