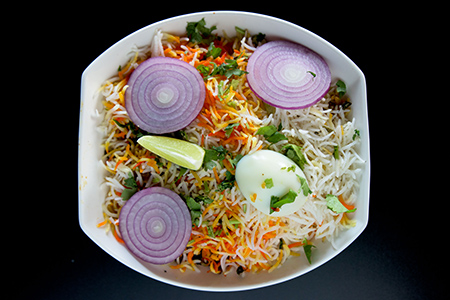 When a restaurant is within eyesight of a highway entrance/exit, patron caution is usually justifiable. When a location has gone through three names while serving the same genre of food, a bit of cynicism should be a given.
Combine those two situations and, well…
But sometimes surprises happen.
Such is the case with Hyderabad House (8840 N. Michigan Road, 559-4221), which has transitioned from Curries and Chutneys to India Gate to the new moniker in just three years—and now under new ownership.
Here's hoping it wasn't the location that caused the demise of the previous two incarnations, because Hyderabad House offers a welcome variation to the Indian food category without alienating those looking for the familiar. It's a chain, to be sure, but one with a staff eager to answer questions. With a small dining room, the Texas-based operation's first Indiana restaurant has a mom-and-pop feel. And it's a worthy alternative to other, more familiar chains that dominate this stretch of Michigan Road.
The first surprise is the extent of the menu—a four-panel lineup of more than 100 dishes, making one wonder how the kitchen can keep track, let alone stock all the necessary ingredients.
At least one person in your party should try the biryani, the specialty of the house. But even then, there are choices for the dish, which features marinated spiced meats and/or vegetables cooked with basmati rice. Hyderabad House serves 16 varieties, ranging from Veg. Dum Biryani ($9.99) to Gongura Shrimp Biryani ($16.99) with all available in family- or jumbo-size as well. I was glad to see two versions—the vegetarian and the Chicken Dum Biryani—on the lunch buffet ($13.99, with 10 percent off if you pay cash) during my visit.
There's plenty more on the buffet, too, including such standards as Tandoori Mix Grill and Butter Chicken, both satisfactory. Newcomers might have trouble distinguishing soups from sauces, but by all means ask. This way you won't miss the delicious Sambar (normally $4.49), a dark, lentil soup with broth made with tamarind. There's likely to be more debate over the Beetroot Halwa, which at least makes clear that American tastes aren't driving the choices.
Of course, some people judge an Indian restaurant almost entirely by its naan. Here, the addictive clay-oven-baked bread is served hot at the table. You can't pile up at the buffet—and you might have to ask at the counter for a reload—but what you get is likely to make you ask for more, whether it's to eat straight or to sop up whatever delicious sauces are still on your plate.•
Please enable JavaScript to view this content.