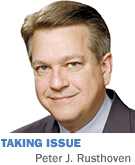 In 1976, the nation was focused on the Indiana primary, as Ronald Reagan battled Gerald Ford for the GOP presidential nomination. Reagan's victories that night, here and in North Carolina, revived his challenge, leading to a national convention that came within a whisker of tipping his way.
This year, our primary had trouble generating even local attention. But political junkies always find a race or two worth following. Can't help it; that's why we're junkies.
Two races on my 2014 watch list were challenges to GOP state representatives Bob Behning of Indianapolis and Jerry Torr of Carmel. The issues differed, but each race showed continued erosion of union political power.
Behning was opposed for the second time by Michael Scott. No, not the guy from "The Office," and not the Atlanta Hawks forward who kept burying threes in Game 5 of the Pacers' first-round playoff series.
No, this Michael Scott is an electrician backed by the Indiana State Teachers Association. The ISTA despises school vouchers, which create competition ISTA doesn't want. It despises Behning, who chairs the House education committee, for supporting them.
In 2012, Behning defeated Scott 63 percent to 37 percent. This year, the ISTA used its affiliate Hoosiers Organized for Public Education (HOPE—get it?) to flood the district with mailings attacking Behning as archenemy of teachers and public schools.
Behning fought back, airing TV ads saying Michael Scott is no conservative—which you may have seen, and may have left you wondering, "Who's this Michael Scott?"
Wiser Democratic strategists—I'm fortunate to know a few—warned that targeting Behning would just make the ISTA look weak when he won. Too late. This time, Behning won with 59 percent.
Torr was surreptitiously targeted by different unions, in the kind of race that proves politics makes strange bedfellows.
Torr's primary opponent was Don Meier. Meier's theme was that mass transit legislation sponsored by Torr would waste taxpayer money. A group called Believe in Indiana backed Meier, sending a wave of mailers saying Torr's bill would yield massive tax hikes.
You might infer that Believe in Indiana is an anti-tax group. Wrong. Checking its contributors reveals a list of unions that reads like the roll call at an AFL-CIO convention. They all love the idea of mass transit projects creating lots of construction jobs.
But what they truly hate—and hate a lot more than they love public works—is right-to-work laws, which free workers from compulsory union dues. Torr's leadership in making Indiana a right-to-work state put him at the head of their hit list.
So a group of unions that support Torr's mass transit proposals spent tons of money telling taxpayers to vote against Torr because of those proposals. Interesting. Didn't work. Torr won with 63 percent of the vote.
I didn't expect Behning or Torr to lose. But it was far from clear that either would win so convincingly.
Time was when being a prime union target could make an incumbent sweat, particularly in off-year, low-turnout elections where anti-incumbent voters—more easily motivated to get to the polls—form a higher share of the electorate.
This year, the ISTA's charge at Behning reduced his 2012 vote share only 4 percent. Unions couldn't stop a landslide win by Torr, even while hiding behind an anti-tax mask in an anti-tax district.
Union power in American politics keeps trending downward. The downward slope will only get steeper.•
__________
Rusthoven, an Indianapolis attorney and graduate of Harvard College and Harvard Law School, was associate counsel to President Reagan. Send comments on this column to ibjedit@ibj.com.
Please enable JavaScript to view this content.