A corporate shakeup at the parent of WJJK-FM 104.5 has paid big dividends for the local classic-hits station.

Fifteen months ago, Atlanta-based Cumulus Media Inc. hired radio newbie Mary Berner as CEO. Berner, who came from the world of print, quickly ended the company's tradition of trickle-down leadership and handed decision-making back to local stations.

Cumulus hired its first Indianapolis market manager in 3-1/2 years, and the succeeding tweaks in WJJK's playlist and on-air presentation have vaulted the local station to the No. 1 spot.

As media buyers this month make their annual buys, broadcast experts said WJJK is in position to see significant revenue growth in 2017 in an industry where growth has been hard to come by for several years.

WJJK had traditionally been a steady performer, usually ranking just outside the top five. But in 2016, the station became a powerhouse, ranking first in four of the last eight months and second—behind WZPL-FM 99.5—the other four.

WJJK saw its share of listeners age 6 and older increase 34 percent—from 5.8 in November 2015 to 7.8 this November, according to Nielsen Audio, a division of New York-based Nielsen Media Research. Each share point represents 1 percent of people listening to radio.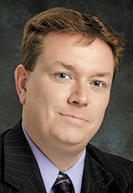 Uecker
"Gaining two [share] points is a huge jump," said Scott Uecker, a University of Indianapolis communications instructor and general manager of WICR-FM 88.7. "What WJJK has done is very difficult to accomplish in just one year."

WJJK is also doing well in the 25- to 54-year-old demographic coveted by advertisers, ranking in the top three in that category each of the last three months, according to Nielsen.

While Cumulus officials declined to discuss WJJK's revenue, Uecker said a strong single-digit-percentage increase in ad revenue in 2017 is possible for the station.

"Double-digit percentage increases in this industry are tough, but [WJJK is] definitely in a strong position heading into 2017," Uecker said.
Stemlar
Cumulus' first step in the going-local movement was hiring former television executive Tom Stemlar in October 2015 as Indianapolis market manager. Before, Cumulus had dictated programming from corporate headquarters.

"It just made sense for people working locally—who are more in touch with the local audience's likes and wants—to make programming decisions instead of someone sitting in Atlanta," said Stemlar, 56, who worked a stint for Indianapolis-based Emmis Communications Corp. when it owned TV stations.

Stemlar joked that Cumulus executives interviewed him only because they saw he formerly worked for Emmis and thought that meant he had radio experience.

But when Stemlar explained his thoughts on connecting local stations to the community, they were sold.

"I really wanted to be a part of the community, and I think that's important for the stations, too," he said.

Radio and TV actually have more business similarities than differences, Stemlar said.

"It's about trying to put compelling content on the air," he said. "That's the simple way to look at it."

One difference surprised him.

"I've found radio is easier to sell than TV, and that's certainly not what I expected," Stemlar said. "People listen to radio in the car. And in the car, people don't have a tablet in their hands or other distractions like they do with TV. We have a captive audience."

Of course, WJJK's ratings jump hasn't hurt, either.

"People like winners. When you have one of the top stations in town, you have more people who want to do business with you," Stemlar said. "Our position is drastically different than it was a year ago."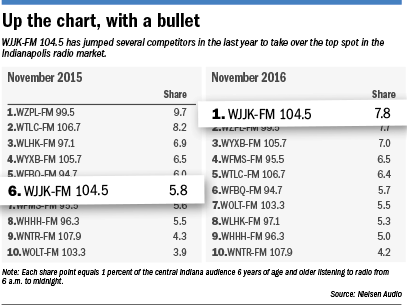 Unleashed

The station's success starts with programming, he said, and he credited his staff for that improvement.

"We unleashed the talent in this building," Stemlar said from Cumulus' Shadeland Avenue studios near East 71st Street. "Our DJs are as good or better than anyone in this market."

WJJK Program Director Jay Michaels and disc jockey Nikki Miller program the station. Stemlar called Michaels, who also programs Cumulus' local hip-hop station at 93.9 FM, "a genius musical director."

Small changes—in both the music mix and its presentation—have made all the difference, Stemlar said.

"I wish it was as easy as playing the right music," he said. "You have to have the talent to present the music and other programming all while having fun. We've found that the key is talking less but saying more."

Stemlar also gave credit to Local Operations Director Stephen Giuttari, who joined Cumulus as program director of its Indianapolis country station, WFMS-FM 95.5, about the same time Stemlar came aboard. Impressed with Giuttari's contributions of "structure, leadership and creativity," Stemlar promoted him to operations manager in February.

Nighttime DJ Laura Steele joined WJJK in June—"a big coup" for the station, Stemlar said. Steele previously worked for WFBQ-FM 94.7 and for WISH-TV Channel 8 covering the Indianapolis 500.

Stemlar, who has a background in sales, also addressed the advertising side of the local Cumulus cluster. He trained ad representatives to learn advertisers' goals and objectives in relation to their ad campaigns and sell accordingly.

"We feel if we discuss those things upfront, we have measurable [metrics] in terms of the ads' effectiveness," Stemlar said.

Staff morale was boosted, he said, when Cumulus turned on its local-control strategy, and that has translated to gains beyond WJJK. WFMS saw its audience share among listeners 6 years old and up climb from 5.8 in November 2015 to 6.5 this November, according to Nielsen. And it has climbed past Emmis' country station, WLHK-FM 97.1, in recent months.

Having two top-five stations in this market makes combination buys from the local Cumulus cluster more attractive, ad buyers said.

On the radar

But the big news is WJJK, with one local media buyer saying, "The station is on all [advertising] agencies' radars who buy radio time for their clients," because of its "growing audience base and attractive demographics."

The classic-hits format is a little broader than classic rock, generally playing more songs by a wider range of groups and artists. As a result, it draws more female listeners than classic rock.

WJJK's audience is 58 percent men and 42 percent women. The audience for a classic rock station, like WFBQ, is likely to be more than 80 percent men. Classic hits is also different from the adult contemporary format, which often draws more than 65 percent women.

"Classic hits right now is really doing well as a format nationally," said Tom Taylor, publisher of a national broadcasting newsletter. "It draws more women than classic rock and a younger audience than straight oldies, both of which makes it more attractive to advertisers."

WJJK plays music from the 1960s, '70s and '80s, but right now, Stemlar said, the bulk of its playlist is from 1976 to 1985.

"That's our main lane. That's the good stuff," he said.

WJJK "is doing all the right things," Uecker said, but "there are also other factors in the marketplace" that could be shifting market share.

He pointed out there have been station format changes over the last year—including iHeart's 98.3 FM from country to hip-hop—which could have affected local ratings, along with on-air-personality changes, including the retirement of Bob Kevoian last December from WFBQ's "The Bob & Tom Show."•