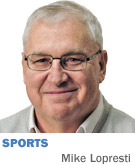 Not to hurry us through the always-riveting preseason, but the real stuff starts pretty soon in the NPMFL. Which, of course, is the National Peyton Manning-less Football League.

You can tell because the Kickoff 2016 guide from the league office is now up and running, with various tidbits. The fine this year for throwing a football into the stands: $6,076. Of the 29 most-watched shows on TV since last September, the only one that wasn't a pro football game: a Republican presidential debate. Which just goes to show that a Donald Trump rant can occasionally even outdraw a good quarterback.

So maybe we should spend some time with the numbers to see how the horseshoes at Lucas Oil Stadium stack up in various ratings.

Hmmm. Guess they're not exactly the rage with the red carpet set. The favorite teams of 78 various celebrities are included. Only one chose the Colts: David Letterman.

They're not quite the hot item with online jersey purchases, either. The recent top 25 on NFLShop.com are listed, starting with—for whatever reason—Ezekiel Elliott of the Cowboys at the top. Seventeen teams are in the ranking, but not a Colt among them. None of them could even beat out NaVorro Bowman of the 49ers.

Ah, but there are other rankings. Proudly raise your arms and shout, "We're No. ...

■ 12 in the league in travel miles this season, clocking in at 18,960. Thanks, London. The Los Angeles Rams are the traveling sales force of the league, booked for 35,952. At the bottom are the Pittsburgh Steelers. Just a bunch of puddle-jumpers at 5,142.

■ 6 in starting-quarterback winning percentage, for Andrew Luck, at 62.2, or 38-23. Just ahead of Joe Flacco and just behind Andy Dalton. Up at No. 1 is Tom You-Know-Who.

■ 3 in regular-season record over the past 10 years, at 104-56. Just behind New England and Green Bay, just ahead of Pittsburgh. Those are the only four franchises above .600 the past decade. But only one has a 2-14 season in that stretch.

■ 2 in division titles since realignment in 2002. Nine of them. The only team with more is—you might notice a trend here—the Patriots. By the way, 28 of the 32 franchises have won at least one division title since realignment. Jacksonville, Detroit, Buffalo and Cleveland still wait.

■ 11 in Super Bowls hosted. Tied for 11th, anyway, with a bunch of other places that also have hosted only one. Indy is likely to be stuck on that number awhile.

■ 1 in individual scoring. Yes, there he is, with 2,253 points to lead all active players—Adam Vinatieri, nearly 600 ahead of anyone else. His leg is not quite like Paul George's jump shot in terms of points produced, but it's remarkably potent, not to mention ageless.

■ 26 in total defense last season. That's pretty lousy, but the really unfortunate thing is the offense was even worse, at 28th.

■ 22 in strength of schedule this year, using 2015 records as criteria. Colts opponents had a 47.7 winning percentage last season, so no complaints about their assigned road. Atlanta and San Francisco have the toughest schedules, Green Bay the softest.

■ 27 in national TV markets. Five ranked above Indianapolis don't have NFL teams. Orlando is the largest non-NFL market in the nation at No. 19. But, hey, it gets the Pro Bowl this season.

■ 20 in Luck's passer rating among active quarterbacks, with 1,000 attempts, just behind Shaun Hill. Shaun Hill? Yes, Shaun Hill. Aaron Rodgers is at the top.

■ 5 in youthfulness of stadium. Seems as if Lucas Oil has been around awhile, but it is still one of the kids in the league. By the way, there's a new geezer back in the NFL with the Rams returning to the Los Angeles Coliseum.

■ 10 in coaching seniority. Actually, Chuck Pagano is tied with Jeff Fisher, each starting his fifth season. The longest-tenured coach should be as plain as the scowl on Bill Belichick's face. But No. 2 is a little trickier. Marvin Lewis of Cincinnati, who has been with the Bengals since 2003. Not bad for a guy with an 0-7 playoff record.

■ 2 in rushing yards allowed the opening weekend. That would be 2010, when Houston's Arian Foster shredded the Indianapolis defense for 231 yards. To find No. 1, you have to go back to 1973, and O.J. Simpson's 250.

■ 16 in winning percentage on the first weekend, at 33-30. Yeah, it's only one game, but consider this: Since the schedule expanded to 16 games in 1978, teams that won their opener ended up in the playoffs 52 percent of the time. Teams that lost, only 24 percent. The Colts have a two-year losing streak the first weekend. Matter of fact, they've started 0-2 the past two seasons. Changing that would seem to be first on the to-do list.•

__________

Lopresti is a lifelong resident of Richmond and a graduate of Ball State University. He was a columnist for USA Today and Gannett newspapers for 31 years; he covered 34 Final Fours, 30 Super Bowls, 32 World Series and 16 Olympics. His column appears weekly. He can be reached at mlopresti@ibj.com.