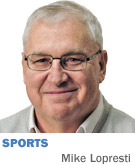 The skinny guard who became immortal at 17 turns 80 on Sept. 9. The Milan story might never grow old, but time has moved along for Bobby Plump.

It is autumn now for the kids from 1954, and the most famous of them all sat in his office the other day and talked of life as an imminent octogenarian. He has come so far from the house in Pierceville with no running water, or—until he was 13—electricity. The shy kid who figured anybody from the big city had to be smarter.

"I guess the best thing I can say about being 80 is, I'm still here. There's been a lot of pleasures, a lot of good times, and a lot of bad times," he said. "When you come from a background like I did, you appreciate things. I've been fortunate enough to be able to appreciate an awful lot of things. Hitting 80, I honestly don't think about death. I'm not afraid of it; it doesn't scare me. I've seen enough of it."

In his office are the trappings of a fairy tale. A huge team picture of the 1954 Milan state champions, a poster from "Hoosiers," the working tools of his career in insurance and financial advising. Symbols of a life richly lived. If there were an Indiana basketball Mount Rushmore, Plump would be on it, staring at us from between Oscar Robertson and Larry Bird.

But there has been more than the legendary jump shot and what followed it—the million autographs, handshakes, stories retold and smiles eagerly flashed. It has not all been Hollywood fantasy and clear-blue skies. The core of Bobby Plump's identity is victory, but there is also heartbreaking loss.

"A lot of things have happened," he said. "None of them were easy."

One brother was gone at 53, another at 55, his father at 66. Bobby is the last male in the family standing.

"I thought when I reached 70, I'm on free time," he said. He was only 5 when his mother died. He helped bury a sister two weeks ago, leaving only two of the eight—he and 85-year-old sister Ginny—from the Plump family of Pierceville.

His marriage with Jenine—the girl he met by chance at a dance when both were with other dates—has lasted 58 years and produced three children. He was in Evansville on business in 1991 when she called to tell him she had just returned from the doctor's office, and the diagnosis was breast cancer. Jenine vowed to beat the disease, which she did.

"She came up with a thing that I've used with a lot of people who faced cancer. I'll never forget it," he said. "She said, 'Cancer is a word, it's not a sentence.'"

A lot of personal trials are on that list. Plump had one more to add, in a halting voice.

"Joshua ... the grandson ..." Then he paused and took off his glasses and fought the tears that still come to a mourning grandfather. "I've found that, the older you get, the emotions aren't as stable."

Five years ago, he lost his grandson to depression and suicide. In a life so brightly lit, there has not been a darker day.

"It's harder to talk about it now than it was then. I think the thing that got me through that was just realizing how my father dealt with things in general. I never heard him raise his voice. I never heard him cuss. He just kept things even.

"When my dad died, I could get through the funeral, but it was more difficult to talk about it later. I don't know what it is about emotions."

But no somber moment lasts for long. Soon enough, there is the smile again, the easy laugh. Bobby Plump being Bobby Plump. After all, that's been his mission since 1954. To so many, he will forever be the fearless Milan Indian, delivering a Cinderella story for the ages.

He was once on a business trip with a colleague and after three days of watching strangers come up and glow at meeting Plump—"Are you THE Bobby Plump?"—the man said it was no wonder Bobby was always happy, amid such lifelong adulation. All those people who never forgot, they're everywhere.

"I had never even thought about that, but I think that is the thing that has helped me," Plump said. "People have gotten me through a lot of things, even though they didn't know me. They didn't allow me to get down. If I would have been a recluse and shut up, I probably couldn't have survived.

"One of the worst things that happens to people is, when tragedy strikes, they have a tendency not to want to talk to anybody. And I never had that option."

So in a way, the state championship game from so long ago is a gift that keeps on giving. That and the family he cherishes have made the fairy tale last, even on days it didn't feel like it would.

Now 80 beckons. Maybe he can't cut down trees or fish or work around the house like before. Too little energy and too much back pain. Maybe he still has to take eight prescriptions, going back to the heart attack and open-heart surgery in the 1990s.

But he is still in the office every day, even on weekends. He is still Bobby Plump, taking an incandescent look at life. He knows he has many blessings to count: That he double-dated with a friend who brought Jenine to a dance. That he chose Butler—partly because bigger schools scared him—and earned an important supporter and adviser in Tony Hinkle. That he found insurance and financial advising so fulfilling (he sold his first policy on his 27th birthday; the insuree is still alive and still has the policy).

And that the shot in 1954 went in. It meant the spotlight for life, and his teammates have never begrudged him for it. Another blessing.

He has shared his life with a gazillion strangers, even though he was once terrified of public speaking. He was invited to give his first talk only weeks after the '54 championship, and was so fearful, he asked a couple of Milan teachers for help. They advised him to open with a joke. He didn't know any, so they gave him this one:

Two guys were playing golf, and one's ball came to rest on top of an ant hill. He took a swing and whiffed, while wiping out a third of the anthill. Swung again, same thing. Swung again, same thing. That left two ants, and one asked the other what they should do to survive. The other ant answered, "We need to get on the ball."

The joke bombed, and he never told it again. Twenty years later, he was at a corporate function in California listening to a $10,000 motivational speaker. Halfway through the talk, the high-priced orator began a joke: "There were these two guys playing golf ..."

Plump laughs deeply when he retells that. He laughs deeply at most things, and why not? "I don't know how anybody could have had a better life," he said. He pulled out a folder with index cards and aging papers—notes from all the talks he has been asked to give going back to the 1950s. Testament to a public affection that has never died.

An 80th birthday seems a good time to ask a man what he hopes his legacy will be. Something more than being the player who gave the world Jimmy Chitwood.

"I'd like for people to say, 'He lived a good life, and anybody who has met him was maybe a little happier for the fact he has been in their life.' I hope they say that I cared for people and tried to help where I could. But it's important for them to know luck has an awful lot to do with this. It's not something that I set out to do. It just happened."

And some of it has been a lot harder than that jump shot against Muncie Central.•

__________

Lopresti is a lifelong resident of Richmond and a graduate of Ball State University. He was a columnist for USA Today and Gannett newspapers for 31 years; he covered 34 Final Fours, 30 Super Bowls, 32 World Series and 16 Olympics. His column appears weekly. He can be reached at mlopresti@ibj.com.