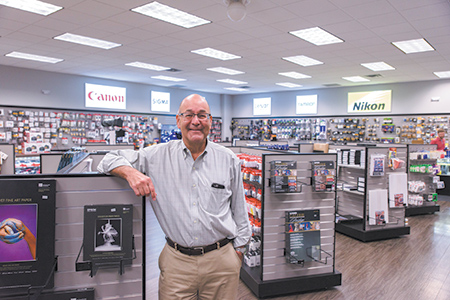 Roberts Camera moved in 2014 from its longtime downtown location on South Meridian Street to a larger building on East St. Clair Street to accommodate its growth in online sales.
Owner Bruce Pallman, 64, said the move has benefited the company amid fickle times in the camera business.
How did Roberts come to be founded?
My father managed a retail jewelry store called Barney's Jewelers. He was going to buy into that business. The day before they were going to close on that deal, the owner came to him and said, "My brother-in-law says I shouldn't do this." At which time, my father said, "I'm going to have to leave."
I think he had $10,000 in the bank and this concept of discount everything. There were people in the jewelry business that extended him credit, and he was able to open up a jewelry store. That was in 1957. It started as a jewelry store and ended up as a camera store, morphing along the way.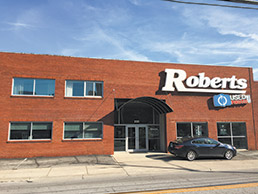 (IBJ photo/Greg Andrews)
What led you to leave the location on South Meridian Street?
Things had changed quite a bit around there, and we weren't getting the walk-in business that we had once gotten. Along with the internet business that we were developing, where we needed better shipping facilities and more square footage to handle a new business we were getting into called usedphotopro.com … it became a necessity to get more square footage and to get on one floor. We were working on three floors before.
How would you describe the camera business today and how has it changed through the years?
It's a digital age. The selling of camera equipment is very online-oriented. We try and be relevant in terms of what we're showing, what we're offering. We try to be, and we are, very competitive on the internet, as we sell on the internet all the time. We try to be more than just a showroom, for customers to come in and see and buy on the internet.
The format used to be, the photo lab was a very profitable area and there were all these camera stores that could afford to be in malls. The photo-finishing business is a business of special orders and large-format prints and custom stuff as opposed to printing 4×6 prints. It's not the profit center it once was and the availability of this type of store is not what it once was. The internet's done this. Those that have adapted can figure out where they fit.
How have built-in cameras on smartphones changed the business?
The point-and-shoot business, on the low end, is almost non-existent. Go walk into a Costco or a Best Buy—and Best Buy does 35 percent of the camera business—and you look and see what they're offering and it's pretty bleak on the low end. On the step up to the long zooms, the business is still there, but the phones are going to catch up with that, too. So we look at our business as a business of higher-end equipment. That's where we're going to fit.
Who is your main customer now?
I still like to think of it as everybody. There are lots of things we sell. We sell Bluetooth speakers, we sell hard drives, we sell photo-finishing still. I think our customer is still everybody. On the hardware business, it's going to be that higher-end person. That's where we're going to get our sales.
How much of your sales are derived from online orders?
I think our online business is 50 percent. They've slowly grown. We sell as a third-party marketer on Amazon. Our Amazon business is good, our eBay business is good, our regular website business is growing. We can see it working better every day. But it's nowhere near our eBay business and Amazon business.
How has the move helped that arm of the business?
The move made it. We could never have had done it in the facility we were in. We could have never handled the equipment, the merchandise, the shipping. We're shipping 300 packages a day on an average basis.
Georgia Street has a weight limit on it. That was the only access to our alley. When we started, Georgia Street was available [to trucks]. When we ended, it's an event street. The good news is, it helped get us out of there. It's quite an upgrade.
What is the future of the camera business?
We'll see quick change. Not the rapid change we've seen to date, but I still think we'll see quick change. It's a technology business now.
In the film days, a camera might have a 10-year life. The typical life span of a [digital single-lens reflex] is two to three years and the point-and-shoots are gone. It's still viable, but it's viable depending on where you're marketing and how you're marketing. What we've seen with consolidation, there probably aren't 15 stores in the country like this, and probably if you talk to our vendors, we're easily a top 10 and maybe a top five in terms of our relevance.•
Click here for other interviews.
Please enable JavaScript to view this content.