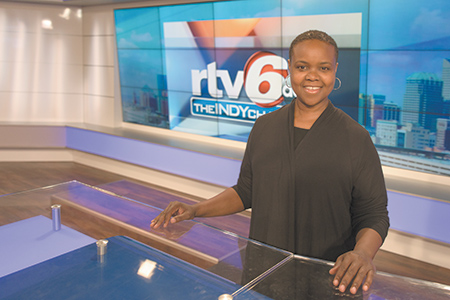 Terri Cope-Walton became a broadcast journalist almost by accident. After working three jobs simultaneously, she left her first profession—teaching—to give television a shot. Cope-Walton, who turns 44 on Sept. 29, has never looked back.
A Georgia native and graduate of Central State University, a historically black college in Ohio, she joined WRTV-TV Channel 6 in 1998 as a weekend-morning associate producer. She climbed through the ranks quickly and became Indianapolis' first black television news director in 2013—a historic fact she was unaware of until the late radio personality Amos Brown informed her weeks after her promotion.
While she says she takes her job seriously, she has retained a sense of humor. She laughs about her last name, which is a product of an email snafu. She was born Terri Cope and her legal name is Terri Walton. But after her marriage, the company wouldn't recognize her email using her new last name.
"McGraw-Hill hyphenated it" to Cope-Walton, she said with a laugh. "It's not even real. Once the horse got too far down the road, I couldn't change it because I was afraid no one could find me and I wouldn't get any emails."
How many hours a week do you work?
Generally 60, and that includes trying to get some things done on Sundays.
Do you have time for hobbies?
I love to spend time with my family when I'm not working. We love game night. I'm very competitive.
What made you go into journalism?
I always enjoyed writing. When I got to college, I was really more interested in becoming a teacher. I wanted to teach English—even though I really enjoyed the news—because I enjoyed writing so much.
How did you end up in broadcasting?
In college, I entered a speech contest and one of the communications professors asked me if I would consider being on the radio because he thought I had a good voice. While I was doing radio for Central State, one of the commercial stations heard me and had me come audition. So I was working there on weekends while going to college.
Later, I went to work for a radio station that also owned a TV station and one of the [executives] there asked if I ever considered doing TV. So for a while, I had three jobs. I was doing radio and TV and teaching language arts to seventh- and eighth-graders. That didn't last too long. I thought, "I'll see where the TV thing goes."
What's the biggest challenge for broadcast journalism?
Keeping up with the customer. There are so many places and ways for people to consume news and get information. Trying to keep up with that demand is the biggest challenge. You can't just tell a story anymore. You have to assume by the time your newscast comes on, people come with some level of knowledge of the story and you have to determine a way to move it forward.
What does it mean to you to be the first black news director in the city?
I was a little shocked by that. Having been in Indianapolis for a while, I saw the city was so progressive. I would have thought that would have been a barrier that would have already been conquered here.
On the flip side, I'm happy it happened so it's not a thing. I certainly appreciate the opportunity to walk in that space. The state's first black federal judge is my sister-in-law; Judge Tanya Walton Pratt is my husband's sister. I had just experienced the excitement and celebration of her being elevated to the federal bench a couple of years prior to my being named WRTV news director. So to learn that there had been another space that had not received that, I was honored to be a part of it.
How much does diversity in the journalism industry matter?
It's more important than ever that we truly reflect in the newsroom the communities we serve if we're going to be able to give them the best content. I joke with the team, but it's true that every day is a picnic and everybody needs to bring something to the picnic.
I always bring macaroni and cheese because that's the one dish I make and it's really good. [laughter] But I can't have everybody else show up with macaroni and cheese. Ericka Flye is going to bring something different from Kevin Gregory, who's going to bring something different from Rafael Sanchez, who's going to bring something different than Mike Pelton and Marc Mullins.
I'm not only talking diversification by race, by any means. We have to be diversified in age, gender and background and where you grew up in the country. All those things really help make that pitch-in real and robust so you have choices.
So if we're putting together a picnic every day for our viewers, the more different ideas and more different places people live and spend their off-time and can get good community-based story ideas, the better off we are in serving up what the viewer really wants.
Does some of WRTV's coverage on race hit close to home for you?
I wouldn't be truthful if I didn't say it has. I have a son who is a freshman in college and it makes me examine his choices, his decisions and his well-being.
We all bring unintentional biases to the table. But as journalists, it's our job not to let that drive how we tell a story. But I think it allows us to be mindful of the different stories that need to be told and to really open up the possibilities.
I certainly have opinions, but myself and the team, we're not in the business of giving opinions. However, that background and association certainly allows us to be very intentional about being as fair as we can be with a story and also being open to the different avenues a story can go.•
Click here for other interviews.
Please enable JavaScript to view this content.