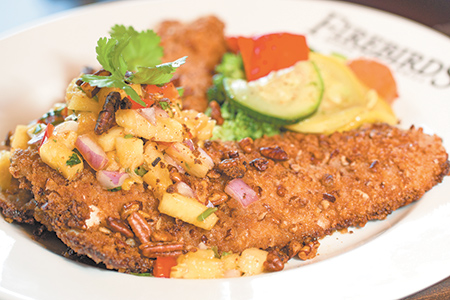 From the outside and on the inside, Firebirds Wood Fired Grill (9611 N. Meridian St., 564-3042), could easily be mistaken for District Tap, Granite City, or a fictional restaurant on a TV series where a bunch of friends exchange witty banter over burgers and wings. Handsome bar with bold lighting? Check. Big, comfortable booths? Check. Visible kitchen? Check. Food choices that require no explanation? Check. Servers who seemed trained to emit a little yelp of joy at each of our selections, assuring us we've chosen brilliantly and surprisingly? Mmmmm … check.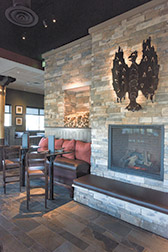 Firebirds has big booths and a comfortable, friendly atmosphere.
(IBJ photo/Eric Learned)
The newcomer just off the Meridian Street/Interstate 465 ramp and adjacent to the Drury Inn (you enter the restaurant parking lot via 96th Street) is one of those perfectly fine restaurants that does everything in the same perfectly fine way as other perfectly fine places. You happily eat everything on your plate but, two days later, have little or no memory of the meal and struggle to even remember the place's name.
Ranch Rings ($8.95), panko-breaded onions with roasted garlic ranch dressing, avoided the greasiness of lesser hoops. The care put into the breading was noticeable without overpowering the onion (or vice versa). Chicken Tortilla Soup ($5, $6), available daily with a different second choice offered each day of the week, was more broth and tortilla-strip-focused than most.
The Firebird Chicken Pasta ($11.85—I'm quoting the lunch pricing here and elsewhere) offered a strong bite in its spicy Asiago cream sauce and flavorful inclusion of Applewood-smoked bacon, green onion and tomato. I'm hoping that kick is part of the recipe (this is a chain, after all) and not just an enthusiastic chef upping the kick.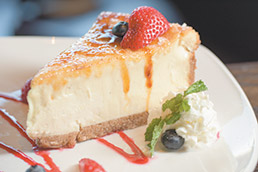 The Creme Brulee Cheesecake, right, proved to be the highlight of the meal at Firebirds, which has big booths and a comfortable, friendly atmosphere.
(IBJ photo/Eric Learned)
Served on a bed of rice, the Pecan Encrusted Trout ($13.40) boasts of featuring "sustainably farm-raised" fish topped with a pleasant pineapple salsa and tortilla slaw. The entree lineup also includes wood-fired steaks and burgers, along with salads, meatloaf, ribs and seafood.
Dessert happiness came, for us, in the form of Creme Brulee Cheesecake ($7.95). My brain knows not to eat a whole piece of cheesecake, but the creme brulee added a new accent flavor and—maybe more important—a texture I haven't built up any defenses against. It proved the highlight of the meal.
Now what was the name of that place again?•
—Lou Harry
Please enable JavaScript to view this content.