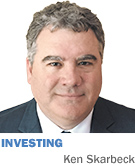 Cracks are widening in the growing student loan crisis. The closure of ITT's 136 campuses puts 29,000 indebted students into limbo. Since students of colleges that fail while they are enrolled are eligible to have their federal student loans canceled (under certain conditions), taxpayers could be on the hook for almost $500 million in losses. Consequently, the Department of Education is frantically trying to limit debt cancellations by encouraging ITT students to transfer credits to other schools.
Some 43 million Americans carry $1.4 trillion in student loans, with over 90 percent backed by the federal government (taxpayers). More than 42 percent of federally backed student loans aren't being repaid on time.
To help solve the problem, Purdue University President Mitch Daniels has proposed using income-share agreements, which were introduced by the late economist Milton Friedman in 1955. Under an ISA, students agree to pay an investor a slice of their post-graduation income for a set number of years. While the terms can vary among providers, students may pay 5 percent to 10 percent of their income for 10 to 15 years.
Daniels wrote about ISAs in an August 2015 Washington Post op-ed, "Best of all, they shift the risk of career shortcomings from student to investor: If the graduate earns less than expected, it is the investors who are disappointed; if the student decides to go off to find himself in Nepal instead of working, the loss is entirely on the funding providers, who will presumably price that risk accordingly when offering terms. This is true 'debt-free' college."
Alternatively, successful graduates could end up paying back more than the funding they received. The Purdue Research Foundation is now offering ISAs through its Back a Boiler program.
Also championing the issue is Sheila Bair, the head of the FDIC from 2006 to 2011 and now president of Washington College.
Early in Bair's tenure at the FDIC she was credited with sounding an alarm about dangerous mortgages, which fell on the deaf ears of federal regulators. Today, Bair compares the massive level of student loan debt to the pre-crisis era mortgage market. She notes that a bank would never get away with what the Department of Education is doing as the lender for student loans; there is no underwriting to check whether borrowers will be able to repay their debt.
Like Daniels at Purdue, Bair has frozen tuition and is exploring ISAs. Another idea developed from brainstorming sessions gives grants to graduating students—a form of back-end scholarship. Washington College has funded the program with unrestricted donations. Last year 119 graduating students received an average $2,640, which helped reduce the recipient's debt by 10 percent.
Bair argues government policies encourage students and families to borrow instead of save for education. For example, students who earn summer incomes are often penalized when receiving financial aid. Bair recently announced that Washington College will shave $2,500 off tuition if payments come from tax-advantaged college 529 savings plans.
Borrowers saddled with student loans are delaying marriage, putting off home-buying, and are not starting small businesses, all of which are necessary to keep our economy growing.
While the U.S. remains a country of opportunity, we must take action now on student loan debt.•
__________
Skarbeck is managing partner of Indianapolis-based Aldebaran Capital LLC, a money-management firm. His column appears every other week. Views expressed are his own. He can be reached at 818-7827 or ken@aldebarancapital.com.
Please enable JavaScript to view this content.