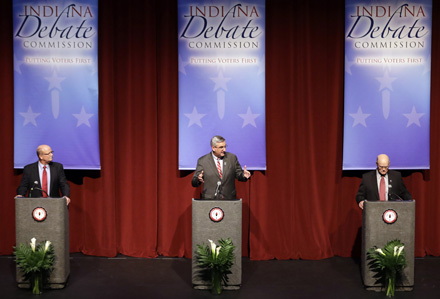 At Indiana's gubernatorial debate Monday night, the Republican and Democratic candidates painted two different pictures of Indiana's economy.
Republican Lt. Gov. Eric Holcomb tried to make the case that Indiana's economic policies under Govs. Mike Pence and Mitch Daniels had set the state on the right course over the past 12 years that he would continue, and that he was "so proud" to serve with those leaders.
"The jobs are coming here in record numbers," Holcomb said. "We need to continue to do what we're doing, on steroids."
But Democrat John Gregg worked to paint himself as a candidate that would upend the "status quo" that isn't working for Hoosiers who are in economic distress and earning low wages.
"Hoosiers are working harder and harder and getting less and less," Gregg said. "Talk to your neighbors. You'll see that many of them are working two jobs."
The debate between Holcomb, Gregg and Libertarian Rex Bell at the University of Indianapolis, hosted by the Indiana Debate Commission, was the second matchup between the candidates. Gregg and Holcomb are in a relatively close race for governor, with Gregg having a five percentage-point lead over Holcomb—40 percent support to 35 percent support— in an early September poll, with Bell amassing 6 percent of Hoosiers' support.
Holcomb touted Indiana's 4.5 percent unemployment rate and AAA credit rating, and said there are more people working in the private sector than in any time in Indiana's history. That's technically true, but experts say it isn't so much a testament to good leadership as it is a function of the state's population being higher than it's ever been.
Gregg, however, said the state has "lost again" when it comes to per-capita personal income, and that it ranks 39th in the nation. The reality is not as bleak: The U.S. Bureau of Economic Analysis just published an analysis that found Indiana's per-capita personal income of $41,940, ranking the state 36th in the nation. Income grew 3.7 percent in Indiana from 2014, the same as the national rate.
Holcomb said it's important to keep in mind that "our dollar goes further in Indiana than some of the states you're comparing us to."
The candidates appeared to agree on several economic issues, including both of them supporting Pence's Regional Cities program that directed tax dollars toward regional projects to spur economic development across the state, and their belief that broadband internet access needs to be expanded in rural areas. They also said they would help to diversify the state's economy and to focus on attracting jobs that traditionally bring high wages.
On road funding, which is sure to be a major topic during next year's budget-making session of the Indiana General Assembly, Holcomb defended Indiana's investment, touting $11 billion spent on roads in the last 10 years.
"We started projects that were sitting on the shelves for years and years," Holcomb said.
Holcomb said that he'd be willing to "put everything on the table in order to pay" for future road improvements.
Holcomb touted studies, including a CNBC ranking stating that Indiana ranks No. 1 on infrastructure quality in the country, to which Gregg responded that he would be glad to take the people who make those ratings on a tour of Indiana's roads to see the problems.
"Indiana is falling further and further behind," Gregg said. "This is a huge economic hindrance we've got in Indiana."
Gregg again tried to make Holcomb out to be the status quo candidate by talking about Indiana's hesitancy on preschool funding.
Gregg has proposed an optional universal preschool plan available to every child, while Holcomb has said he wants to take a more measured approach and expand the state's current pilot program that was approved under Pence in 2014.
"Let's quit studying it," Gregg said. "Let's do it. … There's only 1,500 students being served by that pilot program. There's 80,000 4-year-olds. … The current administration turned down $80 million of federal money because they were upset with the president. I don't want to look that parent in the eye and say your kid can't go to pre-kindergarten."
Holcomb said he's in favor of expanding the pilot program "methodically" in a cost-efficient way, and to focus the funding on poor children instead of offering it to anyone.
"We need to move the folks that are in the back of the line, the folks who need the extra help the most … to the front of the line," Holcomb said.  He said he's talked to some school officials who say they're not ready for universal pre-kindergarten and "don't just throw a $500 million program on us and ask us to comply."
The contentious Religious Freedom Restoration Act supported by Pence—which sparked another statewide debate about gay rights in Indiana—came up several times throughout the debate.
Gregg said he'd seek to sign an executive order if elected to make sure that LGBT state-level employees had protection from being fired if they're gay, and that he'd support a legislative effort to pass a statewide nondiscrimination law. He said the key to attracting workers to the state was to make people feel welcome.
"We have to be a welcoming state and we're not right now," Gregg said. He told reporters later that Holcomb wants to "ignore it or talk around it" but he believed it was something that businesses, as well as people of both political parties, cared about.
Holcomb said the state had a "record tourism year after we got through this" and said that since the opposing sides of the issue can't come up with a consensus, the current balance on the issue is that Indiana cities who wish to can seek to pass local nondiscrimination ordinances and those that don't want to, don't have to.
Holcomb told reporters after the debate that he believed that young people were attracted to Indiana despite its lack of a statewide nondiscrimination policy.
He said ideas like opening up more co-working spaces and encouraging high schools to do more science- and math-focused programs to support the jobs of the future is what would attract investment and employees to the state.
The debate was moderated by John Ketzenberger of the Indiana Fiscal Policy Institute. The final debate between the gubernatorial candidates will be Oct. 25 in Evansville.
Please enable JavaScript to view this content.