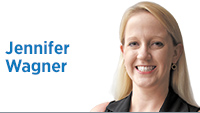 Debate season is upon us.

Chances are, you were one of the 84 million viewers who tuned in for the first presidential debate last month between Hillary Clinton and Donald Trump. But I want to write about the debate that happened the day after the Rumble for the White House.

On a quiet Tuesday morning at Lawrence North High School, the three candidates for Indiana governor met for the first time in an official debate setting to discuss the topic of education.

Full disclosure: I am a member of the all-volunteer Indiana Kids' Election planning committee that brought students to the event to listen and ask questions of the candidates. IKE is a statewide civics program that takes place in Indiana's K-12 schools in presidential election years; it's administered by the Indiana State Bar Association in conjunction with the Indiana Department of Education and the Indiana Secretary of State.

The debate was pretty tame, with both major-party candidates in "do no harm" mode because the stakes are high and the polling is close.

What's important is that it happened at all.

You may never have heard of the Indiana Debate Commission, the not-for-profit group that pulls together state-level debates watched by far fewer than 84 million people. The commission, which is the oldest incorporated and independent state-level debate group in the nation, has hosted televised debates in contested primary and general election races since its birth. All of the debates are broadcast by a live statewide feed as they happen and then archived on the commission's website.

It's true that these events don't create the ratings bonanzas that a television station gets from its most popular shows. The audience for these debates is largely comprised of political junkies, journalists and nervous campaign staffers hoping their candidate performs well.

The candidates, for their part, spend a lot of time practicing with mock opponents to deliver the perfect message in 90 seconds without giving the opposition anything to use.

Practice makes better, but these events provide an opportunity for spontaneity. After all, you can't fully predict what someone is going to say on stage—or when a moderator will ask a tricky follow-up question.

Just ask former state Treasurer Richard Mourdock, who unseated former U.S. Sen. Richard Lugar in the 2012 primary and was locked in a close general election race with then-Rep. Joe Donnelly. In the last few minutes of the last debate—just two weeks before the election—Mourdock fielded a question about whether a woman should be permitted to have an abortion in cases of rape and incest. His response is now legend: "I think even when life begins in that horrible situation of rape, that's something God intended to happen."

Within 48 hours, the airwaves were flooded with TV ads using the comment. Donnelly went on to win, and political insiders argue to this day whether that comment or other factors cost Mourdock the race.

I don't know if we'll experience another Mourdock moment—this year or ever. I do know, though, that the debate commission deserves a round of applause for working together to bring us events where candidates face tough questions, and unexpected things sometimes happen. The reality is our democracy depends far more on those conversations than talking heads screaming over each other on cable news.•

__________

Wagner is a lifelong Indianapolis resident and founding principal of Mass Ave Public Relations, a local public relations and publicity firm. Send comments on this column to ibjedit@ibj.com.