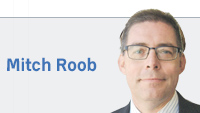 Is our capital city failing? Income tax increases targeted to augment the police force have failed to keep pace with the cost. Today Indianapolis has materially fewer police officers than it did a decade ago.
City employee salaries have increased only 5 percent over the same period, an effective decline in pay. This is a symptom of a city in which median income dropped by 5 percent between 2007 and 2014. For a local government that has become reliant on income taxes rather than property taxes to finance operations, it represents an unsustainable economic condition.
In the 1990s, when I worked for Mayor Steve Goldsmith, costs grew at 4 percent per year, while revenue was growing at only 2 percent per year, meaning we needed to find operating efficiencies of at least 2 percent to plug the hole. Today the task is much harder. The easy projects are already done, and some say we are deficit-financing operations.
Despite honest, bi-partisan leadership over 40 years, despite an amazing transformation from a manufacturing-based economy to a service and innovation economy, despite keeping the Pacers and luring the Colts, Indianapolis faces the seeming inevitable decline that has overtaken so many Midwestern cities.
In the 1970s, '80s, '90s and perhaps even into this millennium, new development of commercial, office, retail and residential property flooded the government with increased property taxes from locations that demanded few if any services. Better yet, the suburban parts of Indianapolis provided a steady growth of income taxes to prop up an inner core that was losing wealth and income.
This formula worked until all the farm land was gone. Now, the new development is happening outside of Marion County. Firms and families are formed in the donut counties or move there as they mature.
Without the work of Indianapolis' mayors, it is unlikely that Carmel, Fishers, Zionsville, Westfield, Greenwood, New Palestine or Brownsburg would have seen the growth that has marked the last 30 years in those communities. Good schools, safe streets and low taxes make living near a vibrant city an extraordinary deal, with residents enjoying most if not all of the benefits but having few if any of the costs. But you cannot be a suburb of nothing.
Is it time for the suburbs to subsidize the city? Is there any practical way for the city to meet its long term operating obligations and remain a vibrant location, a place where people who have choice, chose to live?
I do believe it is time for the next governor to undertake a financial review of central Indiana. To make recommendations to the legislature about how local government may be empowered to become more efficient and about how revenue might be shared across jurisdictional lines.
Let us not forget that if revenue is to be shared, those "donors" will rightly demand some say in the manner that "donation" is spent. Taxations without representation has never gone down well in this country.
In 2016, we are not yet at a crisis. Perhaps we might plan for our future without a fiscal gun to our head. Most of the Midwest has failed this test. In the 1960s and 1970s central Indiana found governance solutions that have worked until now. It is time to discuss and find the next innovation.•
__________
Roob, president of HealthCare Anywhere, has run Indiana Economic Development Corp. and Family and Social Service Administration. Send comments on this column to ibjedit@ibj.com.
Please enable JavaScript to view this content.