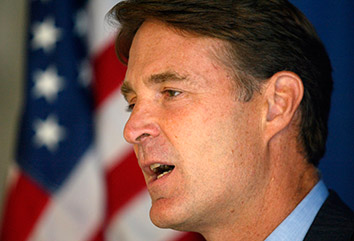 Correction: A earlier version of this story had the wrong time frame in which Bayh had made $6.2 million.
Democrat Evan Bayh saw his net worth soar after leaving the U.S. Senate in 2010, a personal financial disclosure report filed with the U.S. Senate late Sunday night reveals.
The report said Bayh has made $6.2 million since January 2015 while his net worth rose as high as $48.5 million.
Bayh and Republican U.S. Rep. Todd Young are in a tight race that could determine which party controls the U.S. Senate. A recent poll shows Bayh's once-sizable lead over Young has dwindled to one-percentage point. The financial report was released during last night's presidential debate between Donald Trump and Hillary Clinton.
Bayh and his wife Susan reported they had between $13.84 million and $48.5 million in assets, according to their financial disclosure.
Comparatively, at the end of 2010, the Bayhs had between $2.1 million and $7.7 million in assets, according to a report from Politico. He had a salary of $174,000 at the time. Susan Bayh had stocks and stock options from two firms worth at least $1 million each.
According to the financial report, Bayh received a salary of a little more than $2 million from New York City-based private equity firm Apollo Global Management, where he became a senior adviser after leaving the Senate. He also earned a salary of $1.95 million as a strategic adviser at Richmond, Virginia-based law and lobbying firm McGuire Woods LLP.
In addition, he earned $440,033 as a commentator on Fox News, a job he left earlier this year.
His board compensation fees amassed him income of nearly $1.8 million, including $600,000 from Marathon Petroleum; $400,000 each from Fifth Third Bank and Berry Plastics Group; and $360,000 from RLJ Lodging Trust.
Since January 2015, Bayh also earned more than $80,000 in various speaking fees, including $30,000 from Becken Petty O'Keefe & Co., $20,000 from American Multi-Cinema Inc. and $20,000 from Canada-based Bruce Power.
Bayh has faced numerous questions during the race about whether he is beholden to special interests, including a recent AP report that analyzed Bayh's 2010 Senate schedule and found he spent considerable time during his last year looking for a private sector job and meeting with recruiters. The report also said he cast votes on issues of interest to his future corporate bosses.
Young's campaign has seized on those questions, promoting the tagline "Bayh is bought."
"We now know why Evan Bayh has avoided answering questions about what he's been doing the past six years, and we now know why he delayed releasing his public financial disclosure: He didn't want Hoosiers to know that he spent his last year in the Senate making votes on behalf of his future employers, and his employers rewarded him handsomely," the Indiana Republican Party said Monday in a written statement.
Bayh's spokesman Ben Ray told IBJ Monday morning that it is "deeply ironic that Congressman Young is attacking Bayh for having success in the private sector."
"Evan Bayh has consistently fought for middle class Hoosiers, from passing the toughest Wall Street reforms since the Great Depression, protecting Hoosiers from credit card companies and ending 'too big to fail' banks," Ray said. "Congressman Young would repeal all of that, and his desperate effort to smear Evan's private sector success working with Indiana companies that employ thousands of Hoosiers, like Berry Plastics, will fall flat."
Please enable JavaScript to view this content.