A tsunami of change is headed toward the decades-old, largely unchanged system for calculating television ratings.
And that change—spurred by the entry of ComScore, a new ratings provider—has station operators and ad agencies locally and nationally hyper-nervous about the upheaval.
"It's a sea change, and it could turn this whole industry upside down," said Bruce Bryant, president of Indianapolis-based Promotus Advertising. "People in the TV industry are using terms like disruptive and paradigm-altering. It could be all of that."
The subject is so sensitive, numerous station operators and ad agency media buyers refused to comment on it. Some said they didn't want to tip their hand to competitors while others admitted they did not want to upset the goliath in the ratings industry—Nielsen Media Research, which they rely on heavily for TV viewership data.
For 66 years, New York-based Nielsen has calculated viewership numbers.
And since Arbitron Inc. got out of the TV ratings business in 1993, Nielsen has been pretty much the only player. Nielsen numbers have been arguably the sole basis on which local and national TV ad rates are calculated, using a ubiquitous cost-per-point formula.
"Nielsen has been the sun [around] which the TV ratings world has revolved," said Frank Friedman, a former Indianapolis advertising executive who is now CEO of New York-based Zenith Optimedia Group, one of the nation's biggest media buyers. "But that world is changing."
The disruptor is Reston, Va.-based ComScore, which initially made a name for itself culling internet data usage. ComScore last year bought RenTrak, a Portland, Oregon-based firm that made its mark tracking movie box office sales and more recently has gone into TV data collection.
ComScore officials say the combination of the two firms now—for the first time—offers TV station operators and ad agencies a legitimate option for viewership data. ComScore officials say their data is better because it comes straight through the hardware of cable companies and satellite providers. ComScore also uses data from the U.S. Census Bureau, Experian and other agencies to offer its clients something Nielsen does not.
"We can not only tell you who's watching what programs, but also tell you what kinds of cars those viewers buy and drive, their spending habits and lifestyle tendencies," ComScore President Bill Livek told IBJ.
The problem for stations and ad buyers, according to broadcast veteran Scott Uecker, a communications instructor at the University of Indianapolis, is that Nielsen and ComScore use "dramatically different methodologies" to calculate their ratings results.
"It could compromise all of the numbers," he said. "It makes it very difficult to credibly set advertising rates so stations can sell and ad agencies can buy confidently."
More measuring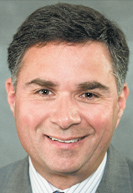 Delia
But ComScore has won some local fans. WTHR officials in July subscribed to ComScore because its ratings are based on data from 245,000 homes in the Indianapolis market—more than 40 times Nielsen's sample size.
"We've been watching the development of ComScore, and it's gotten to the point that their data is too robust to ignore," said WTHR General Manager Larry Delia.

For now, WTHR is subscribing to Nielsen and ComScore, but Delia said that continues to be evaluated.
These decisions aren't cheap. Stations often pay Nielsen a mid- to high-six-figure sum annually to monitor TV ratings in multiple markets. Sources said ComScore's subscription fee is slightly lower but is still a hefty investment. While ad agencies—especially local ones—usually pay a lower fee for fewer markets, they still pay a high-five-figure to low-six-figure sum to subscribe to Nielsen, sources said.
"This is not about economics. This is about reliable data we can share with our customers," Delia said. "The days of Nielsen as the only currency in this industry are ending."
Tribune Broadcasting, which owns WXIN-TV Channel 59 and WTTV-TV Channel 4, also uses the service, sources said, and Irving, Texas-based Nexstar Broadcasting Group, which is in the process of buying the parent of WISH-TV Channel 8, uses ComScore exclusively.
Also, WRTV-TV Channel 6's parent, E.W. Scripps Co., doesn't use ComScore in Indianapolis but does in other markets.
Local ad agencies also are jumping in, with Williams Randall Marketing about to sign on. The market's biggest media buyer—Young & Laramore's EchoPoint—already is using the service.
"EchoPoint Media continually explores and vets media resources in order to provide our clients with data-driven plans and executions," said Shannon Quinn, the agency's associate media director. "Adding ComScore Rentrak ratings data to our arsenal of subscription-based resources has given our buying team yet another tool to inform the media planning and buying process."
Friedman said media buyers are attracted to ComScore's larger sample size as compared to Nielsen. "What we've found is that larger sample size leads to more stability in ratings and that allows [media buyers]—and stations—to do better forecasting," he said.
Nielsen, Friedman said, measures viewing in less than 1 percent of households nationwide, whereas ComScore measures viewing in nearly 13 percent of homes. Further, WTHR's Delia said, Nielsen has no measurement devices in some less-populated ZIP codes in central Indiana; that's not the case with ComScore.
The disparity in Marion County, Delia said, is also notable.
"ComScore has 92,000 households in Marion County," Delia said. "Nielsen is in 155 Marion County homes."
Another factor is driving clients to ComScore. Station operators are ticked off by a methodology rolled out by Nielsen last year called "viewer assignment." In that system, mirror households in markets such as Pittsburgh and Detroit are used to calculate ratings in Indianapolis. Stations like WISH-TV Channel 8 and WTHR-TV Channel 13 that produce a lot of local news and programming have complained the viewer-assignment method has hurt them, although WISH officials declined to comment for this article.
"We've invested a lot in our news and local programming," Delia said. "We're not doing that to be homogenized by an algorithm."
Methodology flaws
ComScore's methodology is a long way from perfect.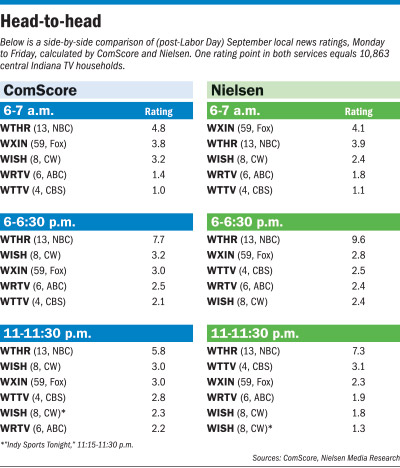 While ComScore has agreements with a number of cable and satellite providers, it has not struck a deal to track live viewing through one of central Indiana's biggest providers, Comcast Cable. It does track on-demand viewing through Comcast, but Livek declined to comment on the possibility of signing an expanded deal with the cable giant.
He told IBJ that ComScore is closing in on a deal with Brighthouse Cable—another major central Indiana provider—but doesn't have one yet. So no Comcast nor Brighthouse subscribers are used in its calculations.
"That's a huge chunk of the market—more than 10 percent," said Uecker, the University of Indianapolis instructor. "I have a huge problem with that. That speaks to the very core of their data's validity and reliability."
Uecker has another problem with ComScore: its difficulty tracking TV viewers who don't subscribe to cable or a satellite service.
"The number of cord cutters who watch with an antenna or by other means is increasing every day," Uecker said. "They have to have a viable and reliable way to account for those viewers, and I'm not convinced they do."
Several media buyers also shared Uecker's concerns.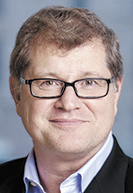 Livek
ComScore's system can determine which households are watching which TVs, and can tell you who lives in the household. But unlike Nielsen's system—which in some cases requires TV watchers to log into their devices—ComScore's system can't tell who in the household is watching and who isn't. So everyone is counted as watching.
"ComScore is using hardware that simply isn't designed for gathering and calculating TV viewership," said Kelly Abcarian, Nielsen's senior vice president of product leadership. "Nielsen is using equipment designed for just that purpose."
It's difficult to tell if any one station benefits from the ComScore rankings compared to Nielsen's. While the companies use different methodologies to gather data, 1 rating point in either company's rating system equals 10,863 central Indiana households, or a little more than 1.1 million across the country in the case of national programming.
But some ad buyers say ComScore ratings tend to be higher than Nielsen's, and they're concerned that could inflate the cost of TV ads under the cost-per-point system.
Despite the questions surrounding its services, ComScore's growth is undeniable. Company officials said they have deals with 685 TV stations and 140 ad agencies. Most of those have been signed over the last couple of years.
"That's a serious chunk of business," said Promotus Advertising's Bryant. "They're serving notice. They're for real."
Nielsen responds
That growth, said industry sources, is causing Nielsen to make rapid changes.
Already in the Indianapolis market, Nielsen has retired the old pen-and-paper diary system that many derided as wholly inaccurate. Nielsen officials said that, by the end of next year, the diary system will be retired in all markets.
Nielsen is also promising to grow the number of households it's in with a proprietary electronic measurement system. Nielsen officials told IBJ they plan to soon double the number of central Indiana households they measure. The company also is working—through its market research subsidiary Scarborough Research—to provide clients more and better demographic data and also include viewers' buying habits in its offerings.
And last year, Nielsen rolled out Total Audience Measurement to track viewing on all platforms, including the internet, video-on-demand and devices such as gaming systems that double as Netflix receivers.
"Nielsen has been the trusted name that represents the entire marketplace for many years," Abcarian told IBJ. "There's a lot more involved than mere data collection. There's a big difference in using numbers for analytics as opposed to using them to make ad buying and [TV] programming decisions. Nielsen has long been the currency on which the TV industry has traded, and we are confident that we will continue to bring that kind of rigor to the marketplace across all platforms."
Despite Nielsen's recent advances, ComScore's Livek compares the firm to the American automaker of the 1970s and 1980s. "They were dumb, fat and happy," he said.
"The incumbent—until pushed—rarely innovates in anything," he added. "There was an unmet need in this market and we met the unmet need. … We're here to change the way this market thinks and acts."•
Please enable JavaScript to view this content.