Fishers resident Catherine VanHorn, 68, is a self-described political junkie. She watches both Fox News and MSNBC, considers herself an independent, and is "offended by anybody who would be so ill-informed" as to cast a straight-ticket ballot for either party.

But as of Oct. 8, VanHorn still wasn't sure for whom she'd be voting in the U.S. Senate race between Republican Rep. Todd Young and Democratic former Sen. Evan Bayh.

VanHorn had just attended a question-and-answer session with Young at her neighborhood clubhouse and she didn't much like what she called Young's "wishy-washiness" on a few issues, including on gun control and his plans for Medicare and Social Security.

But she also had concerns about Bayh's connections, through his wife, to large health care companies, which she viewed as a "conflict of interest."

"We have no statesmen," VanHorn said. "And I'm looking for a statesman. Do they exist?"

With less than four weeks to make their case to voters, Bayh and Young aren't just vying for VanHorn's vote. They're in the throes of one of the most competitive U.S. Senate races in the country, one that could decide whether the chamber has a Democratic or Republican majority.

And a WTHR/Howey Politics Indiana poll released earlier this month shows Bayh just 1 percentage point ahead of Young, with 9 percent of voters still undecided.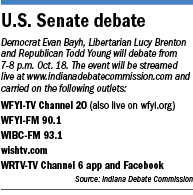 The race—which has been flooded by at least $15 million in outside spending by Super PACs from both sides—has gotten ugly quickly.

Young's camp has attacked Bayh as an out-of-touch Washington elite who has been "bought" by the companies he went to work for after leaving the Senate in 2011.

And Bayh's camp has answered with attacks on Young for "looking out for Mexico and China" instead of soon-to-be-laid-off Carrier Corp. workers by accepting campaign contributions from company executives and for his opposition to federal assistance for those workers.

The two will face off at an Oct. 18 debate sponsored by the Indiana Debate Commission. Libertarian Lucy Brenton will also participate.

The candidates are seeking to win over those undecided voters.

"Evan Bayh has to continue to remind people why they voted for him before," said political analyst Andy Downs, director of the Mike Downs Center for Indiana Politics at Indiana University-Purdue University in Fort Wayne.

"And Todd Young is the sort of Republican who should be able to do quite well statewide as well. He is somebody who recognizes every now and then government needs to be able to get things done."

IBJ recently interviewed the major-party candidates about the race. Here's where they stand on key issues.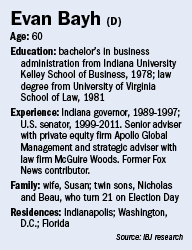 Trade

The effects of international trade hit home this year with Carrier's decision to move 1,400 Indianapolis manufacturing jobs to Mexico, which quickly became a campaign issue nationally. Carrier's decision attracted the ire of Republican presidential candidate Donald Trump, who blamed free-trade deals such as NAFTA on the decision. That has put him at odds with free-trade supporters, including his running mate, Gov. Mike Pence. Democratic candidate Hillary Clinton has also criticized trade deals she once supported—including the Trans-Pacific Partnership—hoping to shore up her party's liberal base.

Bayh told IBJ "we need to take a pause" on the TPP, which is supported by President Obama, and "make sure the rules currently in place are enforced."

"We have to trade, but we have to make sure that everyone plays by the rules," Bayh said. "So often, we have but our trading partners have not."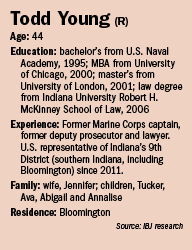 The issue has been tricky for past ardent free-trade supporters such as Young.

Young said he opposes the TPP as negotiated by Obama, particularly because of its "lack of protection for the intellectual property of our life sciences industry."

Young said he thought he shared "great agreement" with Bayh over trade issues but he said the Democrat has taken his opposition too far.

"I'm for good deals as opposed to bad deals," Young said. "But to erect walls around our country and just oppose selling to 95 percent of the world's consumers seems like pandering to me."

Bayh criticized Young for his campaign's past statement that he was "philosophically opposed" to Trade Adjustment Assistance, a federal program that helps offset costs for laid-off workers who are affected by trade.

Young said the assistance program "should be reformed to not only provide immediate-term assistance for displaced workers, but also provide workers with the training and assistance to find stable, long-term careers that match prior incomes."

Medicare and Social Security

Young's campaign website says he wants to "reduce waste, fraud and abuse" in the Social Security program. On Medicare, Young's proposed program would use Medicare dollars to pay insurance premiums, instead of making payments to medical providers as it currently does.

But he's taken a lot of flak from Democrats on his plans. They are quick to point out that he once called Social Security a "Ponzi scheme" and stated that he wants to "privatize" the programs.

Young, speaking to a group of older Fishers residents, said he recognizes the programs are popular, and he believes they need to be reformed to make them viable long term.

He said "the status quo is just fine, but we're headed off a cliff" if we don't reform them.

"We need to elect adults to these offices that are prepared to be honest," Young said.

Bayh said that, instead of changing the programs, the United States need to grow the economy to pay for them.

"By far and away, the best thing we can do to preserve Social Security and Medicare is to grow our economy faster," Bayh said. "Less revenue comes in when the economy is growing at the anemic pace it's been at."

Health care

Young has been on a mission to repeal the Affordable Care Act for several years, and he's continued to carry that torch in this race, calling out Bayh in TV ads for "casting the deciding vote for Obamacare."

He said the changes that have come from Obamacare have sent the country into "a death spiral." Young proposed a national marketplace, "making insurance companies vigorously compete for your business" across state lines. He also proposed medical malpractice reform, saying we should "crack down" on frivolous lawsuits that raise the price of malpractice insurance, which he said "drives up the cost of care."

Bayh said he supports changes to the health care law that would benefit small businesses, including changing the definition from being a company with 50 employees to 100 employees, and changing the definition of a work week from 30 hours to 40 hours.

"We need to keep the things that are working and fix the things that need fixing," Bayh said. "I don't think we want to go back to the days when insurance companies would charge women more than men. I don't think we want to go back to the days when you couldn't get insurance if you'd been sick. That's not right."

Gun issues

The NRA has targeted Bayh in political ads, criticizing him for voting to confirm what it calls liberal Supreme Court justices and saying, "If Evan Bayh wins, you can kiss your gun rights bayh bayh."

Bayh said he "supports closing the terror gap" by passing legislation that would restrict those on the No Fly list from buying guns. He also would support background checks "to keep guns out of the hands of criminals and the mentally ill."

Young said he is a supporter of the Second Amendment, and that judges have determined that gun ownership is an individual right. His campaign website states Young believes "gun control laws only disarm law-abiding Americans."

"If people think the Second Amendment is written too rigidly, they should argue for an amendment to that provision," Young said.

College costs

Rising college costs are a key issue in the presidential race, especially among the millennial generation. Clinton has proposed a debt-free college plan in which students could eliminate borrowing for tuition at public colleges, refinance their student loans and attend community college tuition-free.

Bayh said he has not read Clinton's plan, but "one of my top priorities will be making college more affordable." He touted the 21st Century Scholars Program he signed into law as Indiana governor and said it should be expanded.

Young authored a bill that would encourage the use of income-share agreements, a new idea in which private companies or lenders would provide money to students for college in exchange for a percentage of their future incomes. Young said he "has been a leader in Washington when it comes to helping students graduate debt-free."

Former Gov. Mitch Daniels at Purdue University has championed income-share agreements. The idea is somewhat controversial and has been compared to indentured servitude.

Last word

Bayh has been deluged with questions about his job-searching efforts in the last year of his term and whether he let his impending employment at a private-equity firm affect his votes. But the Democrat said his private-sector experience after leaving the Senate gave him "a chance to see firsthand the effects that government regulation can have in driving up costs and making companies decide not to invest in new jobs.

"I think we should be very cautious about new regulations other than those that directly affect health and safety," Bayh said.

He urged voters to "ignore the negative personal attacks [and] focus on who will work with both parties to take practical steps to address the challenges we have—creating jobs, making college affordable, protecting Social Security and Medicare, those bread-and-butter things."

Young—author of the proposed Reins Act, which would give Congress an up-or-down vote on all proposed federal regulations—had a big lead in the race when the general election season began. But then the Democratic nominee, Baron Hill, dropped out, with Bayh stepping in to replace him and immediately becoming the race favorite.

Still, Young said his approach to campaigning hasn't changed and that he's "running to represent all Hoosiers."

"I'm still running to make sure every Hoosier has access to a quality education that turns into a good-paying job that leads to a meaningful career and they have access to affordable health care," Young said. "I'm still running as a U.S. Marine to make sure we stay wisely and judiciously but actively engaged in the world because that leads to lasting safety and security for Americans."

Young said "it's regrettable that so much negativity does surround this race, and I'm trying to inject some positive ideas amidst all that negativity."•