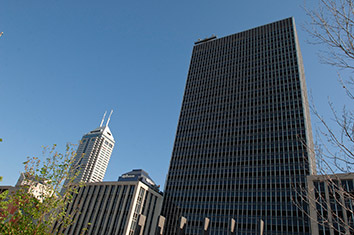 The most significant change required to move the state's largest court system from paper to electronic filing has nothing to do with new hardware, data storage or any other major systems upgrade.
"The biggest change is mindset," Marion Superior Civil Division 14 Judge James Osborn said in discussing the switch to e-filing in Indianapolis courts, which begins Friday, Oct. 28. "It's very difficult for me to convert how I do things from writing things down, from reading paper, flipping through paper, to reading on a computer," he confessed.
Sometimes, he said, he still just wants to reach for a paper file. "I struggle with that."
But he's getting there, and he said the advantages of going digital are indisputable. "It requires, first of all, the willingness to jump in and do it and not being afraid to operate in a system that's completely foreign in a lot of ways. And I think everybody has done a really good job with that so far," Osborn said.
Amitav Thamba, chief technology officer for the courts, said the change has already begun with a soft opening in which paper submissions have been digitized for the past couple of months. Judges, lawyers and those who file pleadings in the clerk's office may continue to file by paper for a couple of months, but e-filing will become mandatory Dec. 27 in all but pro se cases.
"This is a huge shift," Thamba said. "You're moving away from something you can physically touch and see in front of you to something that's going to show up on the screen, and that's where it's a major change, because you can no longer reach out and touch it." Judges and lawyers temporarily will continue to be able to file and fall back on paper files, but they should be trying to break the habit.
"What's going to happen as we get to that December date, and there's no paper? That's truly when the real change starts to happen," Thamba said. Nevertheless, he still receives the occasional question, "Are you actually going to do this?"
Taking the plunge
Marion Superior Criminal Division 2 Judge Marc Rothenberg acknowledged that it's difficult for some longtime judges and even younger people who aren't particularly technologically inclined to wrap their heads around a digital docket. Some feel like they will mess up something if they aren't exactly sure what they're doing.
"I grew up in a point where I had a computer since I was in third grade," he said. "So I was always comfortable with it. … The e-filing system that's been put into place is very intuitive. Once you dive in, as Judge Osborn said, it feels very comfortable. It's just sometimes getting people to make that plunge."
To help with the switch, Marion County received Indiana Supreme Court grant money to place 27-inch touchscreen monitors in each court. Thamba said judges also now have or soon will have access to their cases on their mobile devices, giving them the ability to rule on motions or take other actions anytime, anywhere.
"We have a lot of judges who are excited about the opportunity to work remotely, check their queues, clean out their queues, instead of taking home a bunch of files," said Marion Superior Court Administrator Emily VanOsdol. "You sort of take your entire workload with you" via smartphone, iPad or other digital device.
Rothenberg said some of the features he likes in the new system on the bench include the ability to use a split screen so he can, for example, bring up an electronic calendar on one part of the screen and view orders on another. "It's very nice, very easy, very clean," he said.
"I can't stress enough the efficiency aspect that I've seen," he said, adding his court staff loves the system for a very basic reason: "They don't have to waste their time going to search for a file."
Training days
The staff of the Marion County Clerk's office will be most directly impacted by the switch. Thamba said the staff will receive training from the Office of Judicial Administration during the last week of the month. Russell Hollis, deputy director in the clerk's office, said part of that training will involve what to do about people who haven't adapted.
"They will learn how to handle a situation where an attorney after Dec. 27 tries to file a paper copy," Hollis said. He urged lawyers to get information on e-filing through the state court's e-filing website and through the Indianapolis Bar Association.
For its part, IndyBar has hosted several e-filing related events, and several state-approved vendors are scheduled to provide continuing legal education events through IndyBar that will include demonstrations before electronic filing becomes mandatory. Tyler Technologies, which provides the state's free e-filing system and is the contractor for the Odyssey case management system, will conduct two CLEs on Nov. 8. E-filing service providers Doxpop and Neat Filing will offer CLEs on Nov. 22 and Dec. 13, respectively.
IndyBar President-elect Nissa Ricafort said most lawyers are ready for e-filing and are cautiously optimistic for a smooth transition.
"E-filing has been successful in our surrounding counties and many attorneys have experienced firsthand how time-saving and efficient electronic filing can be for a law practice," she said. "With the volume of cases in our Marion County judicial system, I am sure that attorneys anticipate some bumps in the road during this transition. But I believe that most attorneys are welcoming this change."
Behind the scenes
Thamba said many people may not realize that Marion County has been handling some electronically filed cases already. Its asbestos case docket, civil collections and mortgage foreclosures have been e-filed under pilot projects for years.
With such cases, he said, "We've been e-filing since 2010, and we have not lost a single electronic file. There's no good way of losing an electronic file."
He said the system is essentially a state cloud-based network maintained by the Office of Judicial Administration. Every document scanned into the system or e-filed is updated to the state server, which is refreshed every five minutes.
Based on recent averages, Thamba estimated Marion County courts process about 12 million pages of documents every year. Those pages will be converted to digital files going forward. And in the future, cases that were filed on paper also will be scanned and put into the system.
"Every piece of paper in this building we eventually want to get scanned," Rothenberg said.•
Please enable JavaScript to view this content.