Large political advocacy groups have emerged as the top donors in the Indiana gubernatorial race, far outpacing the size of donations from individuals.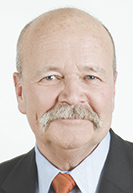 Gregg
Unions and the Democratic Governors Association are fueling Democrat John Gregg's campaign, while Republican Lt. Gov. Eric Holcomb has been helped primarily by the Re-publican Governors Association and a large donation from Gov. Mike Pence's stalled campaign.

The fundraising dynamic has changed since 2012, when Gregg unsuccessfully took on Pence.

Gregg's campaign said it's having success picking off some moderate Republican donors who in 2012 gave to Pence but are now having "buyer's remorse."

"People have given John a second look," said Gregg campaign spokesman Jeff Harris. "We've been very pleased with … the receptiveness on the other side of the aisle to John's message."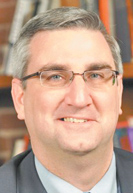 Holcomb
Meanwhile, Holcomb is barely relying on the support of the top individual donors who propelled Pence's 2012 campaign to success, but has drawn in a couple of new big-dollar supporters.

Holcomb spokesman Pete Seat said some of Holcomb's new donors—such as Illinois Gov. Bruce Rauner and Roger Penske—speak to the power of Holcomb's individual relationships and his strength as a candidate. Holcomb has served in the past as an aide to Republican politicians and as chairman of the state Republican Party.

"There's old hands and new hands who are certainly a part of this," Seat said. "Roger Penske is a new one, someone who Eric has known along the way, and a relationship he was able to cultivate over the years."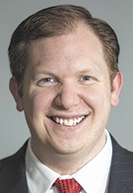 Seat
But going into the last five weeks of the campaign, Gregg has a significant fundraising edge over Holcomb.

Gregg had $4.8 million in the bank to spend compared to Holcomb's $2.8 million war chest, according to the campaigns' most recent state filings that covered the three months ending Sept. 30.

Gregg appears to have a polling advantage, too, with a Monmouth Poll conducted Oct. 11-13 showing the Democrat with a 12-point lead over Holcomb, while an Oct. 6 WTHR/Howey Politics Indiana poll showed him with a 2-point lead.

Gregg's campaign said he has raised more than $13.1 million this cycle, more than double the $6.47 million he raised four years ago.
"We feel confident we'll have the resources necessary to drive this home," Harris said. "This is still a Republican state and we're not taking anything for granted."

But Holcomb's campaign said the Republican raised more than $7.7 million throughout the course of his compressed campaign, which started July 26 when he replaced Pence—the Republican candidate for U.S. vice president—on the gubernatorial ticket.

Seat called Holcomb's fundraising "a remarkable feat by any measure."

Gregg has "been stockpiling money for months and months, whereas we're running a cash-flow operation," Seat said. "We're not here to have a $5 million war chest at the end of this thing. We're here to spend our resources, get our message out, and win."

Get out the vote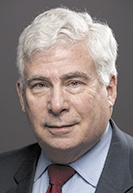 Lenkowsky
Though Holcomb has less money and lower name recognition than Gregg, Indiana University emeritus professor Leslie Lenkowsky said Holcomb's advantage is that the Republican Party's dominance in the state could mean a strong get-out-the-vote effort.

What matters at this stage of the race, Lenkowsky said, is "how well organized and how many volunteers you can mobilize on Election Day."

Holcomb's war chest is "enough to compete," said Lenkowsky, who specialized in public affairs and philanthropy at the IU School of Public and Environmental Affairs.

"The Republican Party in this state has had a very strong position for the last decade, so they are well organized," Lenkowsky said. "Democrats are less so. Will that offset the disadvantage in money? It's hard to say."

The key question for Holcomb when he jumped into the race was whether he'd have quick access to the cash raised by the Pence campaign during the preceding months. But after a $1.25 million contribution from Pence on July 29, the governor hasn't contributed any more from his campaign stash.

Seat said the Holcomb camp was "grateful" for the money from the Pence campaign and said he "can't speak to how the Pence campaign did their accounting." In other words, it's not clear which donations to Pence made it to Holcomb's campaign.

Holcomb's largest donor by far is the Republican Governors Association, which has given him $4.25 million.

But he hasn't relied so much on former big-time Pence donors. The top 25 donors to Pence's 2012 campaign, which gave Pence $2.3 million that year, have given Holcomb only $173,600 this year.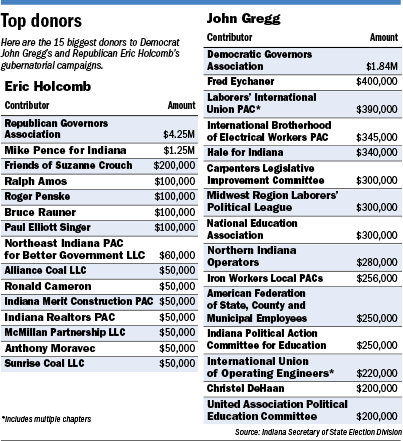 "I can't tell you how donors make their decisions," Seat said.

IBJ reported earlier this spring, before Holcomb got into the race, that those big-time donors had seemed to cool to Pence. Some members of that group have also died, including northwestern Indiana hotel magnate Dean White.

That group gave Pence $708,500 combined this cycle before Holcomb jumped into the race. It's unclear whether any of those donors' dollars were part of the $1.25 million Pence transferred to the Holcomb campaign.

For instance, Fred Klipsch, Pence's campaign treasurer, gave Pence $35,000 this cycle before the Republican dropped out of the race. He later gave Holcomb $10,000.

When asked whether he expected that his contribution to Pence had been transferred to Holcomb's campaign, Klipsch said, "I normally do not discuss details of my political contributions."

But Klipsch said he has "belief in Eric Holcomb's ability to follow Gov. Pence," who he believed improved "life in Indiana for all of its citizens."

On the phones

On the Democratic side, unions have given Gregg substantial support this cycle. Eleven of Gregg's biggest contributors were unions, with those groups donating more than $3 million. But his largest single donor was the Democratic Governors Association, which has contributed $1.8 million.

Harris said Gregg's ability to double the contributions he received in 2012 comes from a more focused and disciplined fundraising effort. Gregg and running mate Christina Hale "are on the phones every opportunity they get."

"John's a more experienced candidate and understands the incredible amount of work and hours it takes to raise the dollars we need to be competitive," Harris said.

And the campaign is relishing the support of donors who once leaned Republican.

Indianapolis philanthropist Christel DeHaan has given Gregg $200,000 this cycle. And West Lafayette businessman Mark Holden, who gave Pence $132,500 in the 2012 cycle, has given Gregg $10,000 this time around.

Gregg's team touted his popularity with small donors as well. Of his more than 6,000 donations during the third quarter, 63 percent were less than $100.

Seat said the Holcomb campaign hadn't tabulated the impact of small-dollar donations, but that the team was pleased with donors' response to its "pretty robust email fundraising plan," which typically nets those smaller amounts.

But he said attracting small-dollar voters isn't necessarily critical to succeed in a state race.

"One person could close a gap with a single check in a state race," Seat said, as opposed to federal races, which have a $2,700 contribution limit per person. There is no such limit in Indiana.

For the remainder of the race, the Gregg team plans to continue running commercials on radio as well as cable and broadcast channels. It's also focused on digital ads, Harris said. The campaign's "get out the vote" effort includes identifying supporters and making sure they head to the polls on Nov. 8 or vote early.

Gregg is also embarking on a statewide bus tour for the last week of the race, with rallies and stops in about 60 cities.

Holcomb's campaign is also planning a bus tour as part of its voter-turnout effort.

Besides continuing television, radio and digital ads through the rest of the race, Seat said the goal is "getting out to people, encouraging them to vote, reminding them and making sure they're informed of what Eric Holcomb plans to do to take Indiana to the next level."•