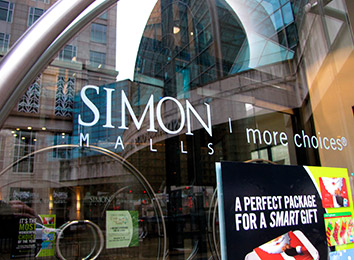 Indianapolis-based Simon Property Group Inc. boosted its annual earnings forecast Wednesday while reporting higher occupancy and rental rates at its shopping malls in the third quarter.
The real estate investment trust also reported higher revenue and profit in the quarter ended Sept. 30.
Funds from operations, or FFO, for the latest period were $976 million, or $2.70 a share, compared with $918.7 million, or $2.54 a share, a year ago.
The results topped the average estimate of $2.68 per share by 11 analysts surveyed by Zacks Investment Research.
FFO is a closely watched performance measure in the REIT industry that takes net income and adds back items such as depreciation and amortization.
Simon Property said it now expects full-year FFO to be in the range of $10.85 to $10.87 per share, up from $10.77 to $10.85.
Profit rose to $504.7 million, or $1.61 per share, compared with $420 million, or $1.36 per share, in the third quarter of 2015.
Revenue rose to $1.36 billion, up 2.8 percent over the same quarter of 2015, topping analyst expectations of $1.35 billion. 
Occupancy at Simon's U.S. malls was 96.3 percent at the end of Septmber, compared with 96.1 percent the previous year. Base minimum rent per square foot rose 4.5 percent from a year ago, to $50.76.
Total retail sales per square foot at Simon malls and premium outlets were $604 compared to $616 in the prior-year period.
Simon shares were down 3.5 percent in midday trading, to $190.23 each.
Please enable JavaScript to view this content.